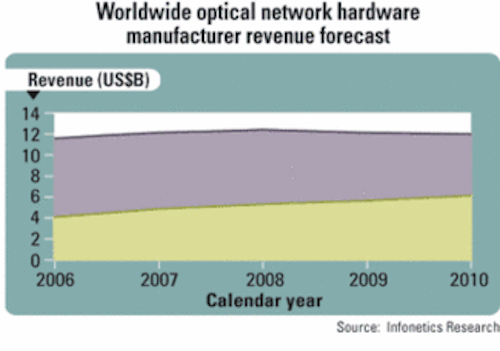 Quarter over quarter, the worldwide optical network hardware market is down 8% to $3 billion in 1Q07 from 4Q06, but it is up 24% year-over-year from 1Q06 to 1Q07, say Infonetics Research analysts in their latest "Optical Network Hardware" report.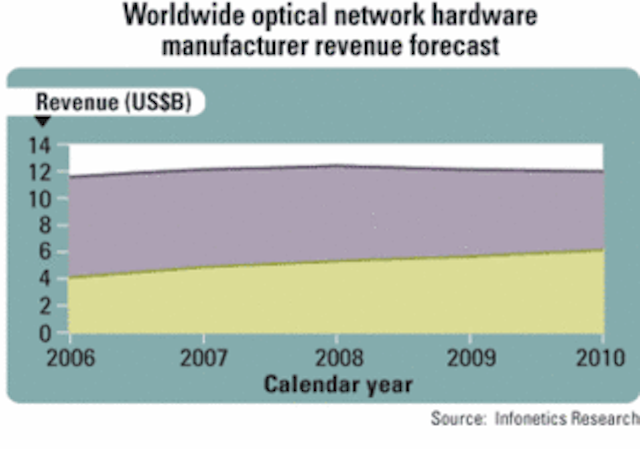 The down quarter was expected as SONET/SDH equipment makes up 61% of worldwide optical equipment sales and is steadily declining in share, while its replacement-bandwidth-rich, more flexible WDM equipment-continues to increase in share.
"Many factors are driving service providers to spend on optical equipment, especially WDM equipment, including the need for more bandwidth for broadband and IP video, revenue-generating and opex-savings projects, and upgrades to metro and long haul networks," explains principal analyst Michael Howard. "In addition, mergers and acquisitions resulting in the merging of large carrier networks need larger core capacities."
The report says worldwide optical manufacturer revenue will grow incrementally to $12 billion in 2010.
Alcatel-Lucent continues to lead overall with 22% of the worldwide optical network hardware revenue market share (which is down two points from 4Q06), followed by Huawei and Nortel. Siemens leads the fast-growing long-haul ROADM switch market with 41% worldwide revenue share, followed by Infinera and Alcatel-Lucent. Cisco leads the worldwide metro ROADM switch market, followed closely by Fujitsu.
In 1Q07, 36% of all optical network hardware revenue came from EMEA, 35% from North America, 24% from Asia Pacific, and 6% from CALA, say Infonetics analysts.
For more information, visit www.infonetics.com.