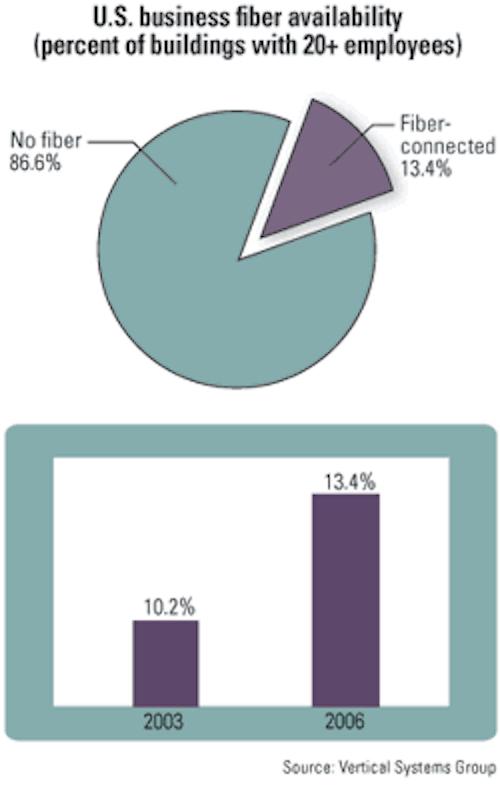 by Rosemary M. Cochran
Millions of fiber route-miles have been deployed throughout the US in the last decade, so how can there be a fiber gap? The short answer is that the bulk of installed fiber is for infrastructure that ensures high-capacity transport across carrier backbone networks to support the delivery of metro, regional, or nationwide services. Fiber maps for nationwide providers look very similar, interconnecting major hub cities and covering high-density traffic routes across the country. Maps for regional providers highlight fiber rings that encircle major metropolitan business centers. The gaps in this vast fiber footprint are in the last miles between Ethernet service provider points of presence and business customer sites.
Optical fiber is the preferred access technology used by service providers to deliver native business Ethernet services to customers at access rates of 10 Mbits/sec and higher. Business customers located in fiber-connected buildings are able to take advantage of on-net Ethernet offerings like dedicated Internet access (DIA), virtual private lines, virtual LANs, and virtual private LAN services (VPLS). In this case, "on-net" refers to sites that have ready access to facilities, including fiber, that are owned and managed by an ILEC, IXC, CLEC, MSO, or other provider offering Ethernet services to business customers. Conversely, "off-net" locations are sites that are not served by a provider's network.
Most business sites in the US are not fiber-connected, which is a key inhibitor for customers evaluating the purchase of Ethernet services. Vertical Systems Group ranks scarcity of fiber, along with speed and pricing, as the "Big 3 Market Gaps" or challenges to growth of business Ethernet services in the US. Vertical's latest research quantifies that fiber penetration increased from 10.2% in 2003 to 13.4% in 2006, based on commercial buildings in the US with 20 or more employees.
Today, new fiber deployment is primarily targeted at connecting the hundreds of thousands of small and medium enterprise (SME) sites that aren't fiber-connected. The fiber gap between large enterprise sites and SME sites is striking. Less than 3% of buildings with 20 to 50 employees are fiber-connected, as compared to nearly three-quarters of buildings with more than 250 employees.
In larger multitenant buildings, several providers are often colocated, so enterprises at these sites have the benefit of competitive Ethernet service choices. Businesses located in smaller buildings and less densely populated areas are most likely not to have on-net access to Ethernet services. It is important to note that smaller buildings accommodate not only SMEs, but also thousands of remote locations for large nationwide and global enterprises.
How do business Ethernet service providers fill gaps for customers located in the 86.6% of buildings that are not fiber-connected? One option is to build out fiber to bring a customer site on-net, which is a selective decision due to the capital expense for construction plus the timeframe to build. Other key considerations are the site's proximity to a provider's network, the value of the customer contract, and the potential for incremental business within the same building.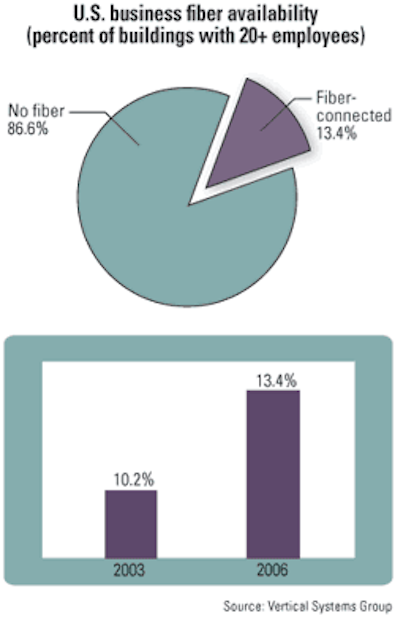 The number of business buildings in the US connected to fiber has grown slowly but steadily over the last few years. However, the total remains only 13.4% as of last year.
To fill geographic coverage gaps throughout the US or globally, leading Ethernet providers have established business agreements with multiple preferred partners. In this case, Ethernet providers lease dark fiber or purchase services from their partners and backhaul customer traffic. Fiber gaps are also being filled with technology alternatives like Ethernet over TDM and Ethernet over copper, particularly to address sub-10-Mbit/sec applications. For sites where wireline connections are not workable, some providers employ broadband wireless technologies such as WiMAX.
The on-net versus off-net distinction is important for Ethernet service providers as well as for enterprise customers. For providers, on-net fiber-connected sites typically are less costly to operate than sites without fiber. As a result, service pricing for customers is typically lower for fiber-connected sites. In addition, on-net fiber sites may have services (e.g., VPLS) or features (e.g., range of access speeds) that are not available at locations not served by fiber.
Business Ethernet service providers with a mix of on-net and off-net sites must allocate additional resources for service provisioning, network management, troubleshooting, and billing. Ethernet network-to-network interface (NNI) and operations, administration, and maintenance standards are in various stages, so technical agreements between providers are necessary to establish service demarcation points. Off-net sites may have different demarcation capabilities than on-net sites, affecting an Ethernet service provider's ability to manage those locations and offer consistent service-level agreements (SLAs) to customers. Challenges also extend to how well a service platform that relies heavily on off-net sites can scale to handle more customers, new features, or additional services.
Fiber to every business site is the ultimate goal. However, while today's fiber gaps are being filled, business Ethernet service providers need to offer standard Ethernet interfaces to customers, regardless of the access technology. The chief technology officer of a major consumer goods manufacturer stated it succinctly: "Availability is the biggest drawback to Ethernet." Enterprise customers require business-class Ethernet services with dependable application performance and consistent SLA guarantees for all of their networked sites-connected via fiber or not.
Rosemary M. Cochran is a founder and principal of Vertical Systems Group (www.verticalsystems.com), a market research and strategic consulting firm specializing in defensible quantification of the networking industry. Figures contained in this article are from the firm's ENS Markets + Migration Research Program.