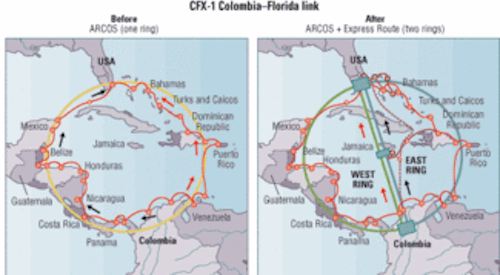 by Meghan Fuller
At the last SubOptic Conference, held in the Principality of Monaco in 2004, the undersea networking industry was in the midst of what Tyco Telecommunications president David Coughlin called "a financial crisis. We spent much of that week in Monaco wondering how it happened," he recalled.
Today, the picture is rosier, with the demand side appearing far healthier that it was in the post-bubble collapse. The last six months, for example, have seen $1 billion (yes, billion) in new system launches to provide connectivity to "late bloomer" markets where there is little or insufficient capacity and to fill gaps in existing capacity with new regional systems. That said, the submarine optical networking industry is notoriously cyclical, and many of the 600+ attendees of this
year's SubOptic Conference spent the week wondering if such an upswing in demand is sustainable given the industry's now limited resources. For all the optimism attendees exhibited, still they wondered: Are we on the cusp of boom-bust redux?
But first, the good news. In his presentation, "Blips on the Radar Screen: The Case for Sustained Stability in New Subsea Systems Development Market," Thomas A. Soja, president of T. Soja & Associates (www.tsoja.com), reported that a total of 67,000 route km have gone under contract thus far this year. An additional 131,000 km are expected in the next six months, and an another 85,000 km "exhibited positive movement in 2006" and may go under contract as well. But for Soja, the good news extends beyond the numbers. "New systems development has become more broadly based with projects representing a wide variety of sizes, motives, and means of funding," he wrote in a paper to accompany his presentation. (See "New Submarine Systems Announced" on page 32 for an overview of recent submarine network activity.)
Moreover, average Internet traffic has increased thanks to the deployment of high-speed broadband networks via FTTH and other technologies, the adoption of real-time applications like gaming, and the expansion of research and education networks at the wavelength level. This traffic increase is outpacing capacity growth, resulting in higher utilization of existing submarine networks. According to Alan Mauldin, research director at Telegeography (www.telegeography.com), average network utilization in Asia is 44%; in the U.S. and Canada, it's 38%; and both Europe and Latin America are experiencing 31% average utilization, for a global total of 34%.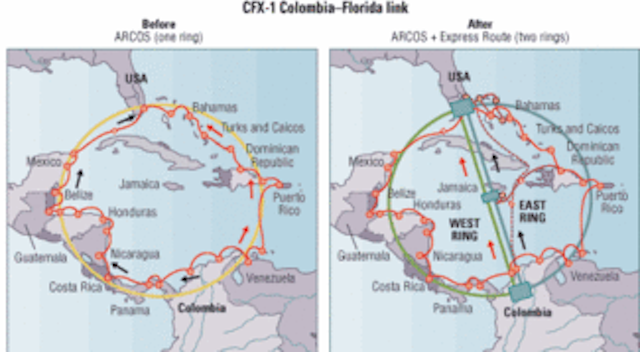 Figure 1. Columbus Networks' CFX-1 is illustrative of carriers' recent attempts to add redundancy and protection to their undersea infrastructures. The CFX-1 Colombia-Florida link will connect to the existing ARCOS-1 network to form two large sub-rings for alternate routing and redundancy.
Mauldin noted that considerable potential capacity remains on most cables, and this will lead to an active upgrade market. Furthermore, concerns about supplier and route diversity, particularly in the aftermath of the 2006 Taiwan earthquake, will spur new construction. (See "Lessons Learned from Taiwan Quake" on page 34 for more information.) That said, the risk of oversupply remains, said Mauldin.
Transatlantic routes, for example, suffer from oversupply, resulting in "an unattractive situation in the Atlantic," in the words of Jayne Stowell, independent nonexecutive director on Apollo Submarine Cable Systems Ltd.'s board of directors. (Jointly owned by Cable & Wireless and Alcatel-Lucent, Apollo stretches from London to New York and from Paris to Washington, DC.) Stowell said there is demand-she cited the rush to upgrade systems from 2.5 Gbits/sec to 10 Gbits/sec and even multiple 10Gs-but there still exists "a fundamental mismatch" driven by "an unnecessary price war." It is neither rational nor healthy to upgrade systems when margins are so low, she noted.
Herein lay another challenge facing the submarine cable industry: The supply side is simply not profitable. And prices are likely to decline further as cable fill rates increase, said Mauldin. Competition will remain fierce on major routes, and new cable systems could accelerate price erosion. Moreover, prices vary drastically by region. For example, $15,000 per month buys you just 3×London-Mumbai E1s, 1×Los Angeles-Shanghai DS-3s, or a whopping 1×London-New York City 10-Gbit/sec wavelength.
While it may seem counterintuitive, part of the industry's problem is the recent surge in new submarine optical networking contracts. In his discussion, "The Market for Marine Maintenance and Installation: How to Optimize Resources in a Changing Environment," Ove Smidt, senior sales manager at Alcatel-Lucent (www.alcatel-lucent.com), highlighted the problem of dwindling resources.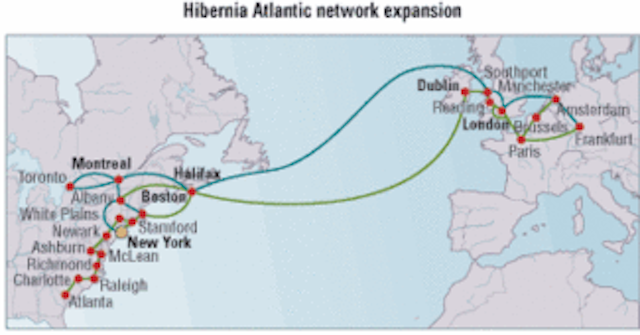 Figure 2. Even in the transatlantic region, where there is a glut of capacity, system upgrades are in the offing. Hibernia Atlantic recently selected Huawei Technologies to expand its network to 80 wavelengths at 10 Gbits/sec.
During the height of the bubble when the industry was deploying an average of 200,000 km of fiber per year, huge capital investments were made in new cable ships. By the end of 2002, there were more than 83 vessels around the world dedicated to submarine cable installation and maintenance. All that changed when the market dried up, forcing many underutilized vessels to find alternative sources of revenue. By 2004, only eight vessels remained dedicated to installation and 37 focused on maintenance. Three vessels were laid up, while 35 found work in other industries, including the offshore oil and gas marine market. Since then, said Smidt, the number of cable ships available to the submarine industry has radically declined, and this trend is likely to continue as the oil and gas industry offers more lucrative contracts.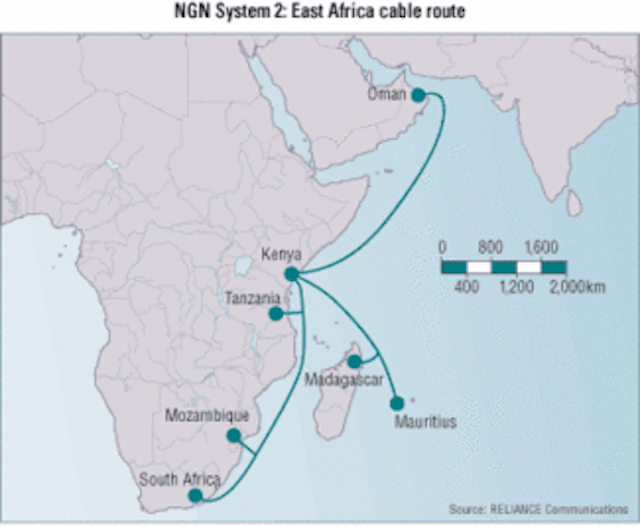 Figure 3. FLAG Telecom's East Africa cable route will supply much needed capacity to an underserved market. The 2.56-Tbit network will connect 840 million people in Kenya, Mozambique, the Republic of South Africa, Tanzania, Madagascar, and Mauritius.
For his part, Smidt offered two possible scenarios to ease the resource burden of today's cable fleet. First, he suggested cable ships adopt what he called a "mutual assistance scheme" in which two or more under­utilized ships combine resources. In certain geographies, one vessel could be sufficient for all to maintain activities in the region. Smidt's second plan, which could be undertaken in conjunction with the mutual assistance scheme, calls for maintenance vessels to store a minimum amount of "universal spare cable" on board. This would eliminate the need for vessels to return to base port for additional cable, said Smidt. Because there has been no additional investment in new vessels over the past five or six years and because the escalating prices of steel and fuel render such an endeavor cost-prohibitive in the near-term, the market will have to make do with the resources currently available, he concluded.
At other industry events, such as OFC/NFOEC or NXTcomm, technology discussions abound, but this did not appear to be the case at SubOptic. When asked about the lack of technology-focused discussions, George Krebs, general manager of Alcatel-Lucent's submarine networks division, noted that the first several SubOptic Conferences-the first was held in 1986-were entirely technology focused. Then, during the bubble, vendors focused on pushing more capacity per fiber pair to satisfy the tremendous upswing in demand. Now in the post-bubble world, vendors have refocused their R&D efforts once again, this time on economics-namely how to reduce total system costs.
Today, the standard system supports 64 wavelengths of 10 Gbits/sec each. However, Krebs admitted that folks like Alcatel-Lucent can achieve higher densities and faster speeds in their labs, but the market is simply not ready for it yet. Nor is it economical, said Krebs. A 40G system, for example, is currently more expensive than one that supports 4 (wavelengths)×10 Gbits/sec.
Though there were several conference sessions on higher-speed networks and new modulation rates, the current market environment is far more pragmatic. Today's vendors are concerned with reducing their time-to-market, improving reliability, and lowering total system costs, said Krebs, who noted that technology has always been a little bit ahead of market demand anyway. He confirms that Alcatel-Lucent's R&D team is always "playing," and he anticipates that, at some point in the future, the industry will once again invest more heavily in increasing the amount of capacity per fiber.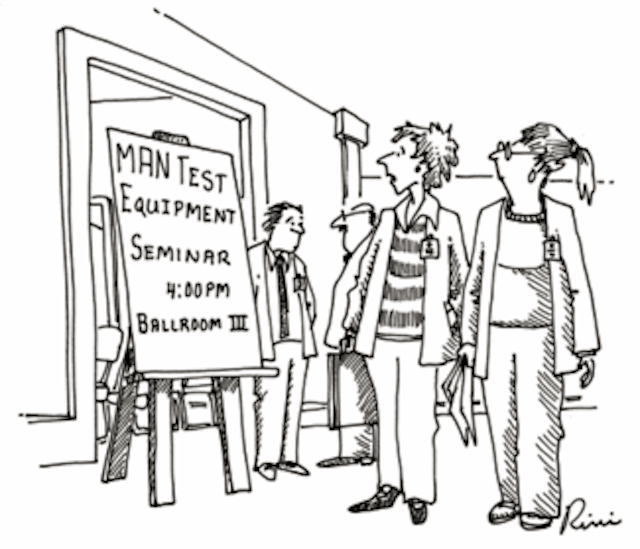 "I know what it means. I was just wishing it was a breakthrough in another field."
---
New submarine systems announced
In the last several months, the submarine optical network industry has seen robust growth-and not just for small, regional systems. According to Thomas A. Soja, president of T. Soja & Associates, one of the strongest signs that the industry is in recovery is the return of the transoceanic cable projects. Here are just a few of the new projects undertaken in the last 12 months.
Last December, Reliance Communications-owned FLAG Telecom (www.flagtelecom.com) announced a $1.5 billion investment over the next three years to lay 50,000 additional kilometers of undersea cable, which will cover 60 countries. Dubbed FLAG Next Generation Network (FLAG NGN), the network will comprise four systems:
System 1: Asia, covering India, Malaysia, Singapore, Indonesia, Vietnam, the Philippines, Brunei, and Hong Kong
System 2: Africa, covering Kenya, Mozambique, the Republic of South Africa, Tanzania, Madagascar, and Mauritius
System 3: Mediterranean, covering Greece, Cyprus, Turkey, Malta, Libya, and Lebanon
System 4: Transpacific, covering the U.S. West Coast, Japan, China, and Hong Kong.
Upon completion, the FLAG NGN will span more than 1 million km and cater to the telecommunications needs of five out of every six people in the world, say Reliance representatives.
The Asia-America Gateway (AAG), owned by a consortium of 10 network operators, will provide the first ever direct link between Southeast Asia and the U.S. Alcatel-Lucent and NEC (www.NEC.com) will share responsibility for the $500 million project in an effort to meet the consortium's aggressive timeline. The 20,000-km network should be completed by late 2008.
The Eastern Africa Submarine Cable System (EASSy), also slated for completion at the end of 2008, will deliver much needed optical connectivity to the East Coast of Africa. The 10,000-km network will link eight countries from the Sudan to South Africa and will deliver a regional capacity of 320 Gbits/sec.
Telstra, meanwhile, has contracted a 9,000-km link between Sydney and Hawaii to provide high-speed regional and international connectivity for its 5 million customers. Alcatel-Lucent has been tapped to provide equipment for the project, which will deliver a total capacity of 1.28 Tbits/sec. The Sydney-Hawaii network should be complete by the second half of 2008.
Columbus Networks (www.columbus-networks.com) recently announced a multimillion-dollar submarine link between Colombia and Florida designed to provide improved network redundancy, reliability, performance, and bandwidth availability throughout the Pan-Caribbean and Americas Region. Dubbed CFX-1, the 2,400-km link will be connected to the Americas Region Caribbean Optical-ring System (ARCOS) to form two large sub-rings for alternate routing and redundancy. Tyco Telecommunications (www.tycotelecom.com) will build the new link, which is currently underway.
Even in the Atlantic, which is plagued by overcapacity and extremely tight margins, there is activity.Hibernia Atlantic (www.hiberniaatlantic.com), for example, recently announced an upgrade to its 24,530-km submarine and terrestrial network throughout the U.S., Canada, Ireland, and the U.K. Hibernia says it will expand its network to 80 wavelengths at 10 Gbits/sec to support SONET/SDH and LAN-PHY services. Huawei Technologies USA has been named Hibernia's provider of choice for the submarine segments of the network.
The SubOptic planning committee typically spends more than a year fashioning the lineup of conference sessions and speakers. But this year, the committee decided to leave an afternoon keynote address open, knowing that some topic or other might emerge in the months leading up to the conference that would warrant a special session. And they were right.
At exactly 12:26:01 on the morning of December 26, 2006, a 7.1-magnitude earthquake struck the coast of Taiwan-followed by multiple aftershocks-which disabled six cable systems. In his Wednesday afternoon keynote address, "Observations on the 2006 Taiwan Earthquake: An Event that Defines the Challenges and Opportunities in the Asia Pacific Region," Asia Netcom chief executive William Barney described the communications chaos that ensued.
Seven active cables cross the Luzon Strait at the southern tip of Taiwan, and the massive earthquake and its multiple aftershocks disabled six of them. According to Barney, the event affected an estimated total bandwidth of 600 Gbits/sec. He puts the total estimated Internet capacity affected at 500 Gbits/sec. Taiwan, China, and Hong Kong lost connectivity.
The Taiwan earthquake really brought into focus the supply/demand issue, he said. In an attempt to minimize cash burn and maximize profits, many carriers were buying nonredundant capacity. There were no restoration rings. All traffic was dependent on the Japan Hub, a 65-km stretch through the Luzon Strait. In fact, said Barney, the ratio of lit capacity to used in the Asia-Pacific region is 3:1, and he expects the region to consume all of the currently available bandwidth-between EAC, APCN2, RNAL, and C2C, there are 15,360 Gbits-by 2012.
Because so much of the region's traffic was dependent on those seven routes, the six severed cables caused severe outages. Packets bounced. Applications timed out. E-mail access was disabled, slowing businesses across the Asia-Pacific region. And in Taiwan proper, all air traffic was delayed. Eighty percent of the Asian population was effectively cut off from the rest of the world, recalled Barney.
But Asia Netcom survived, thanks to its multiring, diversified structure, which includes three points of entry into Taiwan. According to Barney, Asia Netcom's system was down for a total of 15 minutes. In the four hours following the earthquake, Asia Netcom began provisioning its unused capacity to help other carriers whose networks had failed.
For his part, Barney said he learned three critical lessons in the 24 to 36 hours after the earthquake. The three most important elements required for protection are 1) route diversity, 2) backup bandwidth, and 3) a network platform with built-in protection. Asia Netcom already has made a move to bolster the first item on the list; the carrier has purchased the C2C cable system to diversify its route. Following the acquisition, "no one will have as much diversity," noted Barney. The carrier also is looking into a transpacific cable that will run not north to south but east to west.
In summary, Barney urged other submarine network operators to focus on protection and restoration. "The winners in the next decade need to make the right choices today," he said.