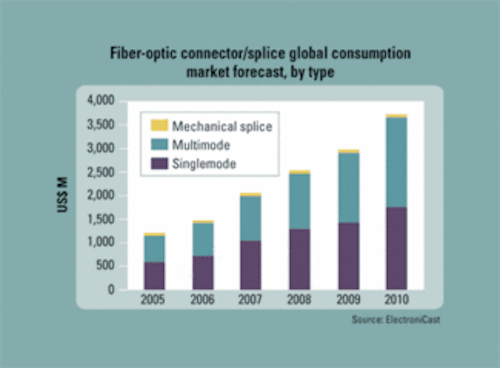 By Stephen Montgomery
As optical fiber use migrates closer to the end user, where cable lengths are shorter and fiber counts higher, the requirements for joining fibers becomes more critical. Global fiber-optic connector/mechanical splice consumption is driven by a dramatic increase in bandwidth demand beyond the limits of copper.
Splicing and connecting play a significant role in a network's cost and performance. Typically, mechanical splices are used where the need to frequently connect and disconnect is not a requirement, generally limiting their use where fast and inexpensive restoration is critical. Connectors are used in applications where flexibility for routing or reconfiguring is necessary.
Connectors/mechanical splices are used in three locations in a fiber-optic link:
On either end of a cable in a point-to-point link.
As part of optoelectronic modules or devices, such as sources or receivers and other components such as couplers, switches, etc.
In patch panels and associated jumper cables and pigtails in premises or central office (CO) facilities. For example, fiber distribution cabinets can accommodate both connector patching and pigtail splicing for premises wiring.
The global fiber-optic connector and mechanical splice consumption back in 2005 was $1.2 billion. The consumption value will increase in the future with strongly rising quantity growth partially offset by declining average prices. According to a recent study by Electronicast Consultants, by the year 2010 the worldwide consumption value is forecasted to reach $3.7 billion.* Domestic consumption includes imported connectors (not embedded in equipment or higher-level assembly when shipped), as well as connectors produced in domestic facilities for end use by that country or used in equipment/components produced for domestic consumption or export.
Global singlemode connector use is forecasted to grow from $581 million in 2005 to $1.75 billion or 47% of the relative market share by 2010 (see figure). Telecom networks dominate the consumption of singlemode connectors. Private LAN/WAN use of singlemode connectors will be expanding fast as data rates go beyond 1 Gbit/sec and as distances between nodes also increase.
Early in December 2006, I had the pleasure to visit Adamant Kogyo Co. Ltd. in Tokyo to hear the executives' impressions of fiber-optic connector market trends. According to the Adamant Kogyo team, "Although U.S. fiber-optic connector use was flat in the last months of 2006, as well as in Europe-especially after the World Cup event-both the US and Europe will experience a 'dramatic increase' in early 2007. Conversely, Japan will experience relatively flat growth in early 2007 after 'healthy' increases in the later part of 2006."
Based on the Electronicast report, multimode connector use is forecasted to increase to $1.9 billion in 2010. North America's share is significantly higher compared to other world regions, due to an earlier start of fiber optics use in private enterprise and the subsequent rapid expansion into horizontal interconnects, as well as internal use in equipment such as switches, etc. Parallel optical interconnect components, including multifiber connectors and vertical-cavity surface-emitting laser diodes (VCSELs), are driving the migration of fiber closer to the end user.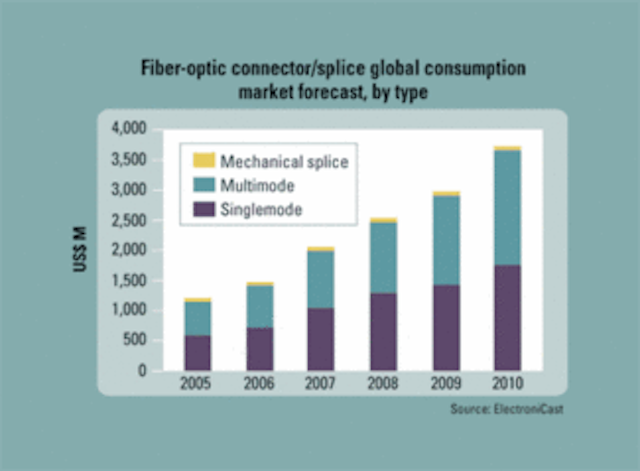 The rapid expansion in the number of singlemode and multimode connector units will be offset by declining prices. Multimode connectors will continue to hold the quantity lead, slightly ahead of singlemode, through 2010, as optical fiber penetration in private data networks grows at an accelerated pace. Singlemode connector growth will be primarily driven by the aggressive deployment of fiber and associated equipment in the metro/access networks.
As a consequence of connector volume expansion, prices will decline throughout the 2005-2010 forecast period. These prices represent unterminated connectors, which are shipped from the factory before termination. Another party packages some of these in piece parts for further assembly work. Because of higher performance requirements by high-speed data networks where these connectors ultimately get deployed, the fiber stubs are prepolished and pretested to guarantee premium performance before they leave the factory. Prices are dependent on volume, application, and performance requirements.
Use of mechanical splices will decline in percentage of global market share from 4% in 2005 to 2% by 2010. Telecom applications, particularly emergency restoration, are the predominant uses of mechanical splices. However, fusion splicing, mainly used in large-fiber-count cable installations, has expanded in use for smaller-fiber-count installations, as smaller and lower-cost fusion splicers become available.
*All values and prices are at factory as-shipped levels and are in current dollars, which include the effect of a forecasted 5% annual inflation rate over the forecast period.
Stephen Montgomery is the director of the Fiber Optics Components and Network Communication Products groups at Electronicast Consultants (www.electronicastconsultants.com) and heads the Tokyo office. He is also a member of Lightwave's editorial advisory board.