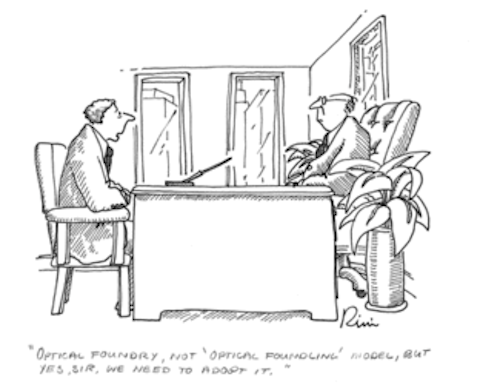 By Stephen Hardy and Meghan Fuller
It wasn't the best of times; it wasn't the worst of times. But 2006 certainly provided its share of interesting times, particularly for companies attempting to squeeze a profit from the optical communications field. Naturally, some did a better job than others. With a little bit of distance to provide perspective on the year, Lightwave's editors are ready to embark on their annual exercise in chutzpah, in which we name our Top 5 companies in the component/subsystems and systems spaces. Sure, we looked at sales figures-we always do. We also talked to some analysts, reviewed press releases, and thumbed through the hundreds of pages of notes we took over the course of the year from scores of interviews.
What did we come up with? As always, we present here a pair of lists that are largely subjective, but based on careful research and consideration. Since they aren't based purely on who sold how much (or even who made a profit, regardless of how much they sold), our opinions certainly could be subject to debate. But we believe that sales alone don't make a top company. Vision, momentum, market position-these and similar factors also should be taken into consideration, we believe.
On such points reasonable people can disagree. If you do-or you don't, but just want to add your two cents-please feel free to contact us.
Just to extend the conversation, we've also offer our picks of companies to watch in 2007, plus some of the trends that should shape the market over the remainder of the year.
Margins still weren't great, unit prices continued to decline overall, new competition emerged, and the burden of R&D increasingly fell into their laps. Even with these not-so-encouraging trends in place, 2006 wasn't all that bad a year for optical component and subsystem companies. As Giorgio Anania, then of Bookham (www.bookham.com), and Giovanni Barbarossa of Avanex (www.avanex.com) told attendees at OIDA's annual forum last November, customer emphasis has finally shifted from further compressing the prices they are willing to pay for legacy technology toward an interest in how new technology can help carriers solve problems. That means an opportunity to sell higher-margin devices and modules.
Meanwhile, there were a few signs that at least some of the long-awaited consolidation in this space may have begun. Interestingly, it wasn't the giants who led the way; companies such as NeoPhotonics (which scooped up BeamExpress, LightConnect, Optun, and Paxera in 2006; www.neophotonics.com) provided most of the momentum as they worked to achieve broader product lines-perhaps with an eye toward going public. MRV/LuminentOIC's (www.luminentoic.com) acquisition of Fiberxon and IPO announcement in January indicates this trend may continue throughout 2007.
The shift in customer thinking, forecasts for growth, and companies with the cash and the will to create more M&A activity means that 2007 will be a year of decision for a lot of component/subsystem company CEOs. The following companies, in our opinion, did an admirable job of positioning themselves to take advantage of the new environment and remain major forces this year and beyond. As mentioned previously, we've combined sales numbers (for which we thank Daryl Inniss of Ovum-RHK; www.ovum.com), input from analysts (such as, among others, Inniss and Lawrence Gasman of CIR; www.cir-inc.com), and our own perceptions based on interactions with the companies in this space and the systems houses and carriers they attempt to serve in creating this list of the top component/subsystem companies.
Once again, JDSU (www.jdsu.com) tops the list with the broadest product line and the biggest market share. The company has put its marketing muscle behind the concept of "agile optical networks"; the fact that Meriton Networks began touting a similar slogan almost simultaneously means that either the two companies are equally attuned to the market zeitgeist or there's a communications pipeline between them that warrants scrutiny. Regardless, network flexibility is just the thing that Anania and Barbarossa described to the OIDA audience. JDSU articulated this strategy to the market first, and Ovum-RHK recognized the company as a "top innovator." JDSU also reached a milestone in the second quarter of its 2007 fiscal year (ended December 31, 2006) when it finally broke into the black, led by the Acterna-bolstered test and measurement group. The company advanced the consolidation cause slightly in 2006 with the acquisition of Metconnex's IP. However, the financial community would prefer that companies such as JDSU do more in this area, rather than see distressed companies merge with each other.
The company that started a brief run on optical component/subsystem stocks in 2006 rises one place from last year to number two on our list. Finisar's (www.finisar.com) two quarters of profit in fiscal 2006 weren't enough to end the year in the black but were a good step in the right direction; they earned notice from stock pundit Jim Kramer and helped float a variety of optical communication stocks. The end of the fiscal year also saw the company increase revenue in 11 consecutive quarters-a trend that continued through the first two quarters of fiscal 2007, which saw the company set a quarterly revenue record in the second quarter. Like JDSU, the company also supplies test instruments-although it doesn't rely as heavily on them for revenue. Unlike our number one company, however, Finisar didn't participate in any M&A activity in 2006.
After dropping off our list last year, Sumitomo, which does business in the US under the ExceLight (www.excelight.com) name when it comes to components and subsystems, reappears thanks to strong sales internationally (third largest market share worldwide, according to Ovum-RHK). Sumitomo Electric Industries Ltd. (www.sei.co.jp) specializes in optical transceivers, laser diodes, and FTTX components; the Japanese giant also has its fingers in optical fiber and cable, connectors, and splicers (marketed under the Sumitomo Electric Lightwave brand in the US). Meanwhile, Sumitomo Osaka Cement (www.soc.co.jp) offers a line of lithium niobate modulators.
We stray from just aping sales figures with Opnext (www.opnext.com). The company had the sixth-highest market share last year, but it has significantly more momentum than companies four and five on Ovum-RHK's sales lists. The company listed net income of $3.23 million in the last three months of 2006 (versus a net loss of $4.09 million a year earlier) in filing for its IPO. That venture launched last month at the top end of its target share price ($15 a share), raising $254 million; the stock opened trading on NASDAQ the next day at $17. The company said it will use the windfall for capital expenditures, R&D, sales and marketing, and debt repayment. Opnext currently offers transceivers/transponders, TOSA and ROSAs, laser diodes, transmitter and receiver chips, transceiver and receiver modules, plus LEDs for the commercial and industrial markets. Perhaps it will have some loose change left over after the IPO to expand its capabilities with a choice acquisition.
Avago Technologies (www.avagotech.com) drops three spots from last year. In part this is a delayed effect from losing the No. 3 market share spot in the middle of 2005. Still, the fourth largest share of the optical component/subsystems market (Bookham was fifth, according to Ovum-RHK) isn't a bad place to be-particularly when you describe yourself as "the world's largest privately held semiconductor company." As this self-characterization implies, the company offers products for a wide range of applications, including industrial and automotive, wired infrastructure, wireless communications, and computer peripherals. Its optical communication strength lies primarily in datacom, although it also offers devices for ATM/SONET applications.
The worldwide optical networking market topped $3 billion in 4Q06, its best performance in nearly 5 years, according to Ovum-RHK. And while many system vendors experienced solid growth in 2006, recent carrier and vendor consolidation has created some uncertainty in the market.
Not surprisingly, the newly merged Alcatel-Lucent (www.alcatel-lucent.com)captures the top spot on our annual Top Five list. According to Ovum-RHK, the company is the first to control more than 20% of the annual optical equipment market. (It netted a 24.2% market share in 4Q06.) Alcatel-Lucent was successful across the board in 2006, winning contracts in every business from undersea optical networking to fiber-to-the-x (FTTX). It will be interesting to watch how the company's integration strategy plays out in 2007.
Thanks to a particularly strong showing in EMEA and China, Huawei (www.huawei.com) jumped up to second on our list, besting its third-place showing last year. Huawei maintains that overseas business accounts for 65% of its total revenue, and the company certainly took strides in '06 to solidify its international presence when some of its optical and datacom products received Metro Ethernet Forum certification. Huawei also launched its Terabit SmartAX FTTx System, which supports both GPON and VDSL2 and likely signals the company's intention to capture a slice of the growing GPON market. Still, we pose the same question we posed in our 2005 list: What is Huawei's strategy for increasing its presence in North America?
Nortel (www.nortel.com) drops from two to three on our list, though its Metro Ethernet Business Unit was particularly active in 2006. Nortel jumped on the Provider Backbone Transport (PBT) bandwagon early on, and the move has paid off; the vendor was named one of two PBT suppliers (Siemens was the other) for the Carrier Ethernet component of BT's 21st Century Network. The vendor's OME 6500 platform netted contracts from Shanghai Telecom, COLT, Golden Telecom, and Southern Cross this year as well. Nortel also fared well in the worldwide WDM market; Dell'Oro ranks the vendor second with 3Q06 revenues of $120 million to Alcatel's $124 million.
Due to its continued strong presence in the worldwide SONET market and its role as one of Verizon's three GPON suppliers, Tellabs (www.tellabs.com) has moved up a notch to capture the number four spot on this year's list. Tellabs also nabbed Verizon's ROADM contract; the carrier will deploy Tellabs' 7100 platform to converge its FiOS traffic onto a DWDM network. That said, the vendor reported a 13% decrease in revenue in 4Q06, which its president and CEO Krish Prabhu attributes to "temporary uncertainty around carrier consolidation in North America." If AT&T decides to adopt a more aggressive fiber-to-the-node approach in the former SBC territory, then Tellabs, which hoped to sell the carrier on its fiber-to-the-curb architecture, may find its numbers declining even further.
Finally, Fujitsu (www.fujitsu.com) found its way into our Top 5 list this year (besting Siemens, due to lingering uncertainty about how the Nokia Siemens partnership will affect its optical networking business). Leveraging its existing GEPON technology, Fujitsu used 2006 to debut its GPON strategy, including the product launch of the FLASHWAVE 6100, which marries GPON and CWDM technology to deliver higher capacity than the standard GPON system. Fujitsu's announcement that it already is looking ahead to some variant of WDM-PON signals its intention to remain relevant in the access space going forward.
Here are our picks for companies that we'll be watching closely this year because they're coming, going, or just paddling around in circles.
Luxtera:You've got to have at least one company with cool technology on this list, and Luxtera has captured a lot of attention for its work in silicon photonics. Of course, the days of being successful just because you have a cool technology are long over. We're going to be watching to see if Luxtera can transform its potentially exciting technology into an actually exciting product.
Bookham:They've changed CEOs but the question persists: Are they in or are they out? We should know by this time next year.
The IPO Generation:Optium's successful IPO has other companies ready to make the leap. Opnext opened play on an equally up note last month, LuminentOIC has announced similar intentions, and NeoPhotonics and Santur could be preparing to follow. How these companies fare-and how many others decide to join them-will indicate whether optical communications is officially off Wall Street's pariah list.
Infinera:While the company has yet to parlay its success among Tier 2 and 3 carriers to the Tier 1 community, there's no doubt Infinera has caught the industry's attention. The systems house inked contracts with Interoute, Global Crossing, XO Communications, Internet2, and Broadwing (recently acquired by existing Infinera customer Level3 Communications) and is playing a proactive role in the emerging 100-Gigabit Ethernet market. But will it finally land that coveted Tier 1 in '07?
NEC: According to Ovum-RHK, NEC had a blockbuster third quarter, increasing its revenue a "stunning" 55% sequentially and 34% year-over-year. Look for NEC, which announced a GPON strategy and saw increased traction for its ROADM portfolio, to make noise in 2007.
Carriers choose their ROADM vendors: Some of the major Tier 1 carriers, such as Verizon, have already started this ball rolling. As others follow this year, we'll see who will have a major customer and who will be fighting for table scraps.
Farewell, SONET/SDH?:The death of SONET/SDH has been greatly exaggerated for years. Is this the year spending finally shifts away from SONET/SDH devices-and, if so, to where? Ethernet? IP/MPLS? PBT/T-MPLS?
Battle for the access network: The competition is usually portrayed as EPON versus GPON, with the U.S. a GPON stronghold and Korea and Japan in the EPON camp. The major Chinese carriers will make up their minds soon, while European incumbents such as France Telecom are finally getting into the game as well. But don't forget about active Ethernet approaches. They're already big in open access networks in the US and Europe and could play into a service provider's Carrier Ethernet strategy.