Steady growth is expected for telecom equipment spending
Jun 1st, 2004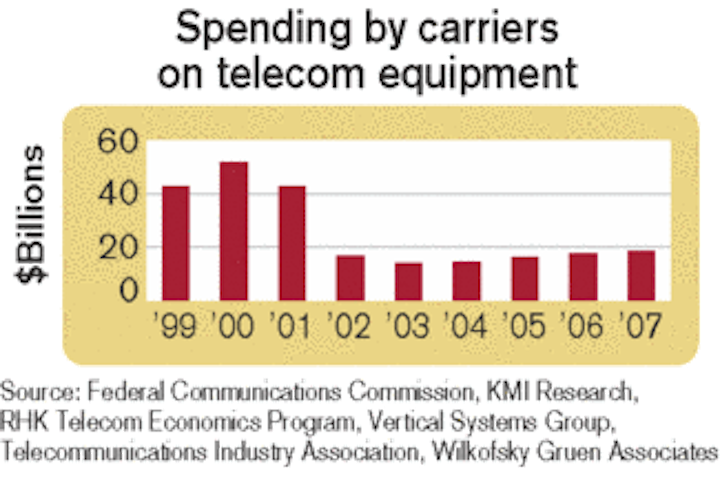 Buoyed by a rebound in fiber and optical networking and a modest increase in ATM, the telecommunications equipment market will expand 2.3% this year, offsetting a double-digit decline in other central-office equipment and a 1.1% drop in Frame Relay, reports the Telecommunications Industry Association's annual "Telecommunications Market Review and Forecast."
An increase in fiber demand, continued double-digit growth in optical networking, and a return to double-digit growth in ATM will boost spending by 13.5% in 2005. Growth will taper off in 2006 (8.1%) and 2007 (4.5%). During 2004-07, equipment spending will experience a 7% CAGR to reach $18.5 billion by '07. While an improvement over the $14.1 billion spent last year, the '07 value is still just 36% of the 2000 spending level.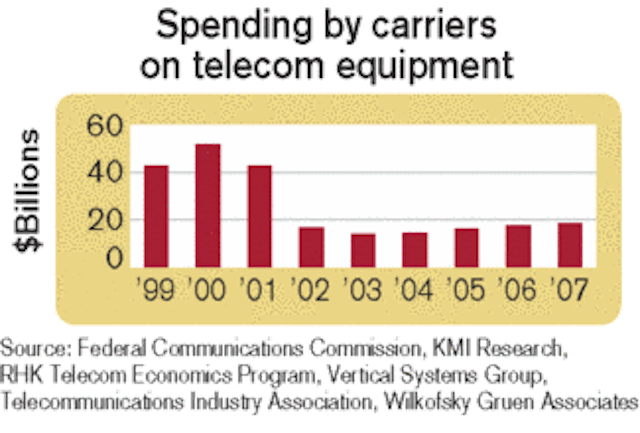 Cable deployment is seen totaling 5 million miles between '04 and '07, barely more than the total deployed in 2001 alone, says the report. IXCs are expect to deploy 901,000 miles during that time, while CLECs should deploy an estimated 1.2 million miles, both well below their 2001 deployments.
Fiber deployment in private campuses and buildings rebounded last year with a 4% increase. ILEC fiber deployment likewise improved, suggesting that the overall network equipment market may have finally bottomed out, say TIA analysts. The RBOCs in particular will need to invest in fiber to support long-distance, data, and TV initiatives. ILEC fiber deployment is expected to increase 26.2% this year and 41.5% next year, before tapering off in 2006 and '07, when ILECs are projected to deploy 4.6 million fiber-mi, the highest of any year except 2000 and 2001, notes the report.
For more information about the report, visit www.tiaonline.org.