Broadband is now a mainstream service, with nearly 27 million U.S. business and residential subscribers at the end of last year, details a new report from high-tech market researcher In-Stat/MDR (Scottsdale, AZ). Analysts predict the mainstreaming of broadband will be huge, as the existence of a significant subscriber base opens up markets for other services looking to take advantage of the broadband connection, including home entertainment/networking, voice over IP, and online gaming.
"This starts a cycle where growth in both broadband and applications feed the growth of each other," explains senior analyst Daryl Schoolar. "This applies equally to the business subscriber. Broadband growth should also improve service-provider operations as well."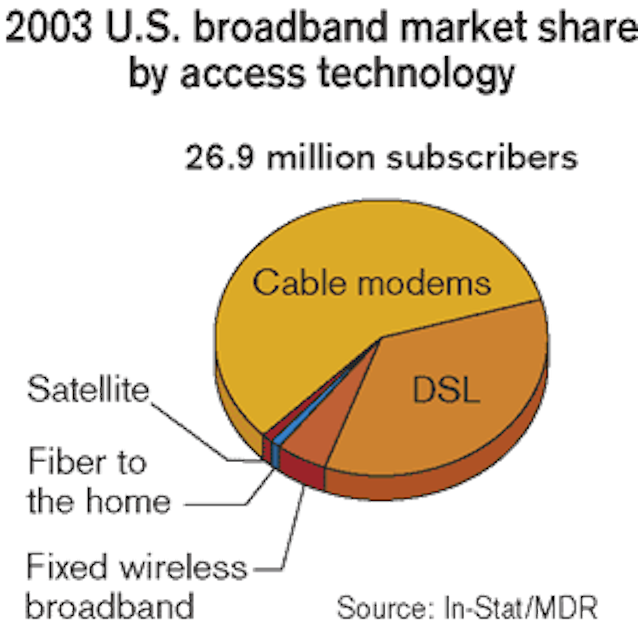 The most critical challenge facing the future provisioning of broadband may come from a less tech-savvy subscriber. "As broadband moves into mass adoption, newer subscribers will be less experienced with computers and the Internet," notes Schoolar. "They will expect all of the benefits of the Internet but will have less patience for dealing with its technical issues. When their service goes down, they are going to be less likely than early adopters to perform self-diagnosis and more likely to just pick up the phone and call customer service." While their lower level of technical knowledge will make communicating with these subscribers more difficult, Schoolar believes the opportunities will outweigh the challenges.
The report also finds that by the end of last year, one in every five U.S. households subscribed to a broadband service. In the U.S., cable modems continue to be the most common broadband access technology, followed by DSL. Also, fiber to the home continues to be hindered by cost and regulatory concerns. At the end of last year, Comcast and Time Warner accounted for the majority of all cable-modem subscribers—overall, six cable operators held 91% of the U.S. cable-modem market.
For more information about the report, "Reaching Critical Mass: The U.S. Broadband Market," visit www.instat.com.