Gigabit-speed FSO network serves Istanbul's business district
Jul 1st, 2004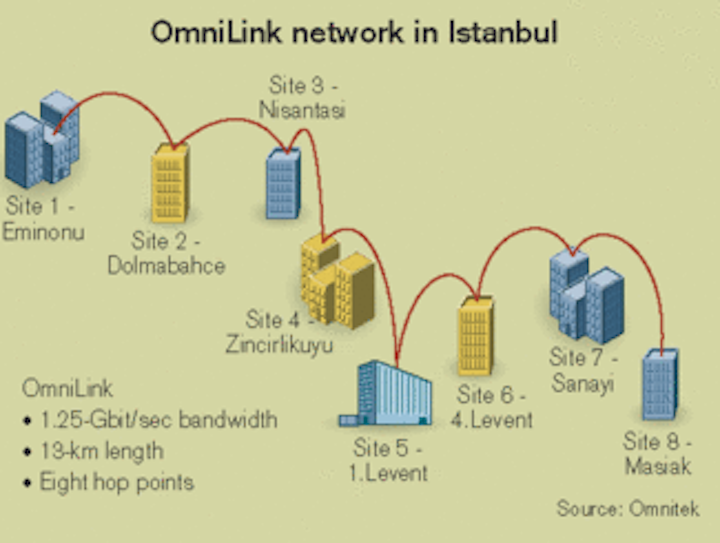 Istanbul in Turkey has a long and rich history; the city remains home to ancient churches, mosques, and palaces, making optical-fiber deployment virtually impossible. When the incumbent provider failed to deliver the level of service demanded by the city's corporate customers, Istanbul alternative provider Omnitek built a free-space optical (FSO) network to deliver the needed services—without the hassle of fiber deployment.
Last September, Omnitek began offering service on what it claims is the world's first gigabit-speed wireless backbone, dubbed OmniLink. Strategically placed along the Maslak-Eminönü route, Istanbul's main business corridor, the OmniLink network comprises eight nodes, each between 1.2 and 2.3 km apart for a total distance of 12.8 km. Each node is placed on the rooftop of a building that houses a number of corporate customers, and additional customers can be reached in nearby buildings via short-distance FSO links.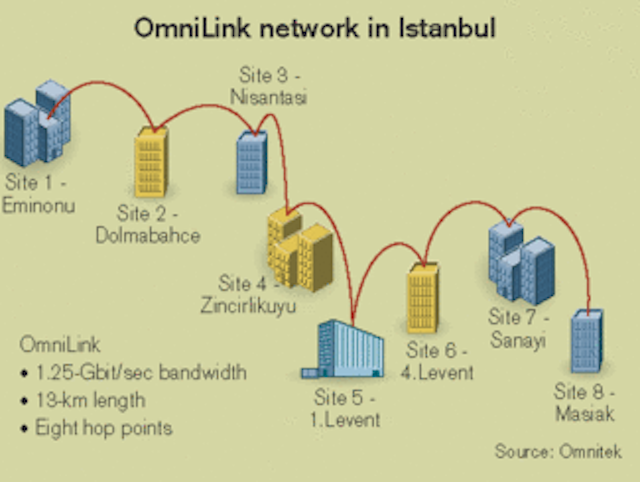 Running the length of Istanbul's business corridor, the OmniLink network features eight hops, each placed 1.2–2.3 km apart, for a total span of 12.8 km.
Plans for the OmniLink network were drafted in 2001, before telecommunications deregulation in Turkey. At that time, only the incumbent, Turk Telecom, was allowed to offer services, and those services were expensive and often difficult to acquire. "We realized that after deregulation, there would be a good opportunity in the market for alternative providers," explains Murat Akay, deputy general manager of the OmniLink network. "We had a lot of interest at that time in wireless devices, especially free-space optics. We thought, 'Why not build a network purely based on FSO devices?'"
FSO technology is ideal for a city like Istanbul, where historic sites and landmarks are plentiful and laying fiber is not a viable option. "Because Turkey is an old city, it's not possible to dig very easily, and there are bureaucratic issues; you have to get permission from everyone," laments Akay. Moreover, the economics of FSO versus fiber are "incomparable," he says. "If we were going to do this investment by laying fiber, it would have cost us $78.5 million. What we actually spent on the FSO equipment and installation was more like $1.4 million."
The economics of FSO technology have enabled Omnitek to pass on the savings to their customers. Corporate connections from the incumbent provider are often prohibitively expensive; a 128-kbit/sec connection is $220 per month, a 34-Mbit/sec connection costs $7,000 per month, and a 155-Mbit/sec connection costs the customer more than $18,000 per month, says Akay. Omnitek's services are 40% cheaper, according to Akay—and delivered over dedicated lines. Turk Telecom provides only shared lines today, he says.
"The incumbent doesn't have the same motivation to provide the myriad of services we tend to have here," adds Michael Penner, vice president of corporate development at fSONA Communications (Vancouver, British Columbia), manufacturer of Omnitek's FSO equipment. "If a CLEC were to pop up in North America, all they can do is provide the same service, only cheaper, to the key customers. What is unique here is that Omnitek is able to provide services to blue-chip customers that the incumbent just can't provide."
The OmniLink network serves 21 customers to date, and negotiations are in progress with additional customers, including the Istanbul Stock Exchange. "They want to use our link to run their traffic through our network to reach their security banks, both of which are placed along our route," explains Akay.
The network currently supports LAN-to-LAN services and Internet connectivity at Ethernet and Fast Ethernet speeds. The LAN-to-LAN service uses the VLAN protocol to connect corporate offices located in multiple buildings along the route. In the future, Omnitek will also provide advanced services like voice over IP, streaming media, and teleconferencing.
According to Akay, Omnitek's network also boasts guaranteed quality of service, which the incumbent does not provide. "In the summer of 2003, there was an earthquake in Algeria, and the Internet output of Turk Telecom was interrupted," recalls Akay. "They didn't have any redundancy. There are no service-level agreements [SLAs], so if there's an interruption, you just have to live with it." Omnitek can provide SLAs, thanks to the high-frequency microwave radio system that backs up their FSO network.
While the OmniLink network delivers much-needed guaranteed services to corporate customers in Istanbul, it also represents a major step forward for the FSO industry in general, asserts Penner. "Last year, CIBC World Markets put out an investment report on the fixed wireless market. They were projecting that in 2003 a total of 10 links would be sold worldwide in the gigabit space," he reports. "As you can see, Omnitek has done that whole proposed market itself. "
And the OmniLink route is only phase one of a much bigger project for Omnitek. Turkey's capital is the only city in the world built on two continents; European Istanbul comprises the bulk of the city to the west, while Asian Istanbul is to the east. The Maslak-Eminönü route rests in the European half of the city, but Akay reports there are plans to extend the network to the Asian side, where Omnitek is developing residential Internet distribution projects using FSO technology.