LX4 development races LRM standards process
Jul 1st, 2004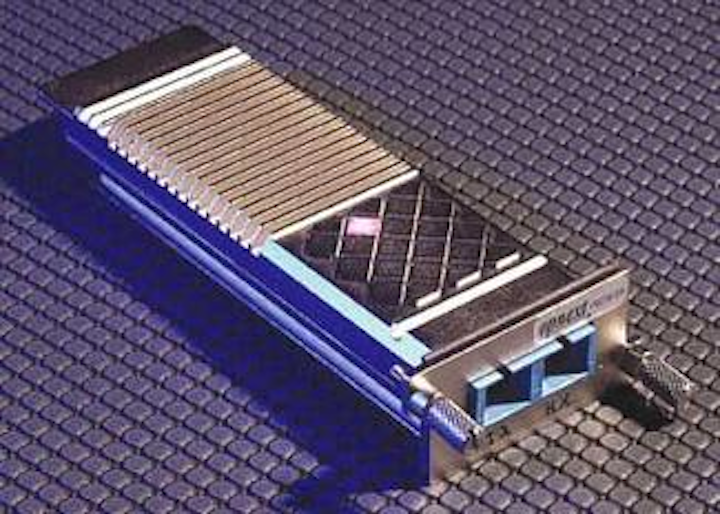 Transponders based on the 10GBase-LX4 PMD (physical media-dependent) currently provide the only standards-compliant means of sending 10-Gigabit Ethernet (10-GbE) traffic across 300 m of legacy multimode fiber. But while a tidal wave of offerings has flooded many transceiver/transponder niches, LX4 devices haven't attracted much vendor attention until earlier this year. Yet, as companies like Emcore,
Eudyna Devices, MergeOptics, and Opnext ready their LX4 modules for market, the eyes of their customers and the industry in general may be shifting to a new PMD now in the standards process that promises cheaper, less complex technology for similar applications.
Work on the new PMD, 10GBase-LRM, responds to the complexities and cost inherent in the LX4 design, which is based on four-channel WDM. As currently envisioned, the LRM PMD would call for a single-channel design complemented by electronic dispersion compensation (EDC). The IEEE 802.3aq Task Force hopes to have the standard in place by the end of next year.
The experience of Agilent Technologies, one of the earlier proponents of the PMD, illustrate the hurdles LX4 devices have faced in reaching the market since the 10-GbE standard achieved ratification in mid-2002.
"We've stopped that development for a couple of reasons," explains Tom Fawcett, worldwide marketing manager for Agilent's Fiber Optic Products Division. "There were some significant technical challenges in the assembly of the product, and those challenges, along with the fact there was significantly more content—there were four lasers, four receivers—made the cost points unattractive relative to the market need."
Two other early potential vendors, Pine Photonics (which Opnext purchased) and Blaze Network Products (which ran into financial difficulties), also bowed out quickly. That left Molex, which announced a product in early 2002, as the sole provider of LX4 transponders until this year. While that would seem to be an enviable position, the other major hurdle to market success—lack of demand—led Molex to sell the product line to Emcore late last year.
However, the market outlook brightened considerably when Cisco Systems expressed an interest last year in meeting its customers' requirements for 10-GbE over 300 m of legacy multimode fiber. "If you can actually do a low-cost LX4 solution, there's a big market for it," Fawcett admits.
The rub lies in the cost. "A lot of the traditional module vendors have been hesitant to sign up for an LX4 form factor because the picture that was painted for them is the LX4 PMD needed to sell for less than the LR and ER [10-GbE PMDs], where there's only one laser and detector," says Dan Trepanier, president and CEO of PHY maker Quake Technologies (Ottawa, Ontario). "There've been some upstarts who have aggressively pursued this and have found some innovative ways of getting the cost out of those types of optics."
While vendors such as Quake, Vitesse Semiconductor, Mysticom Semiconductor, and BitBlitz (recently purchased by Intersil) have provided LX4 transceiver chips, others have focused on optical subcomponents. Cube Optics AG (Mainz, Germany) has a four-channel optical multiplexer/demultiplexer small enough to fit in a XENPAK module. Aduro (Pleasanton, CA), which bought the assets of Blaze Network Products, also has announced an intention to provide similar technology.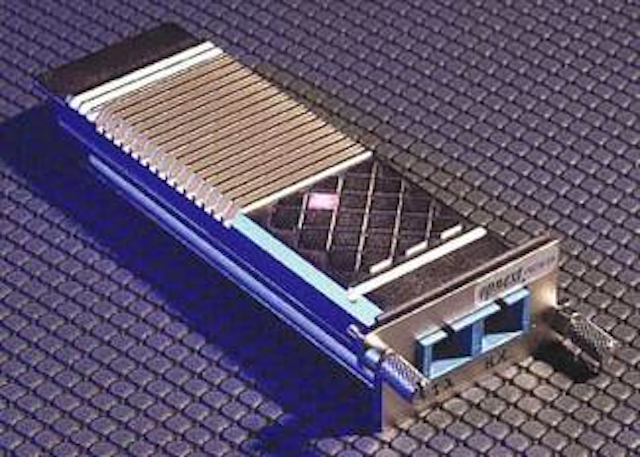 While initial 10GBase-LX4 modules will appear in the XENPAK form factor, X2 transponders should appear by the end of the year.
Such advances may help bring lower-cost LX4 modules to market, but vendors may have only a limited window in which to do so. "I think if by the end of the year you don't have a couple of really good suppliers to the customer base, the LX4 is going to run into some problems," reasons Ed Cornejo, director of datacom transceivers at Opnext (Eatontown, NJ). "Because LRM by that time should at least be to Draft 1. And if the customers don't see LX4 coming, they're going to push the heck out of the [LRM] standard and people will do what they have to do to get that thing completed quicker."
Emcore, of course, has a headstart in bringing a standards-compliant product to market through its acquisition of the Molex product line. MergeOptics, which unveiled a XENPAK LX4 module at OFC this year, and Cube Optics announced last month that they have partnered to bring this module to the production stage; they also plan to have an X2 version released late this year. According to Jane Li, vice president of lightwave sales and marketing at Eudyna Devices USA, Eudyna (a joint venture of Fujitsu and Sumitomo Electric Industries) will have an X2 version of the LX4 in the third quarter of this year. Opnext hasn't confirmed its release plans, although, when asked, Cornejo referred to his "end of the year" statement.
Meanwhile, the LX4 proponents can hear the LRM standard bearing down on them. The IEEE 802.3aq Task Force laid much of the groundwork for LRM at a meeting in Long Beach, CA, in May. Consensus appeared to build around a target distance of 220 m over legacy multimode, rather than the 300 m the LX4 covers (the LX4 also will accommodate 10 km over singlemode fiber). While that would appear to make the LRM a less than ideal replacement for the LX4, the move underscores both the technical challenges such applications present as well as the urgency of the need.
"I think that the standard will not be delayed for the sake of distance," says Christian Urricariet, director of marketing for high-speed optics at Finisar (Sunnyvale, CA). "I think that if system manufacturers can get 220 m safely, they're going to push strongly for the standard to go in that direction, to have the standard written and not delay it. The 300 m will then maybe be a competitive opportunity for transceiver makers to say, 'My EDC solution works farther than the standard.'"
Several vendors have announced EDC offerings, including AMCC (a two-chip approach that combines EDC with forward error correction), Big Bear Networks (one chip that combines electronic equalization with clock and data recovery and SFI-4 demultiplexing), Scintera Networks (one chip), and Phyworks (an EDC/retimer combination targeted at XFP modules). Sources at Mysticom, Quake, and Vitesse confirmed their companies have EDC programs underway, while Agilent has an internal effort in parallel with their investigation of off-the-shelf devices. Several vendors have demonstrated modules, primarily XFPs, with EDC capabilities. However, no module vendor contacted here says they were close to choosing a supplier. In fact, all say the technology still needs some work to accommodate 220 m over enough multimode-fiber types to satisfy systems vendors.
"If you were to ask other vendors and ask us if we have a perfect solution today, everyone would say, 'No, we don't,'" Quake's Trepanier admits. "But the thing that can happen quickly is for someone to have a breakthrough. And the day that someone has a breakthrough, that will change the dynamics of the customer requirements. Power is going to start to matter, size is going to start to matter, compliance to the IEEE requirements is going to matter."
The sources contacted for this story suggest that such a breakthrough may be close enough to see pre-standard sample modules soon after the first LRM draft is completed, an event now targeted for September. Even the most pessimistic sources expect samples to reach the market by the middle of next year.
Samples are not the same as production-ready devices. But with most of the major module vendors—Agilent, Bookham Technology, Finisar (which recently purchased the Fiber Optic Business Unit of Infineon, another potential LRM player), JDS Uniphase, and Opnext, among others—expected to jump into the LRM market, multiple qualified sources should appear quickly after final standards ratification.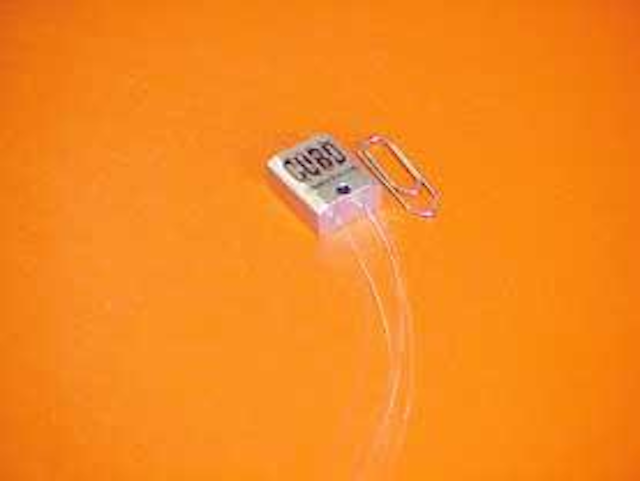 An optical multiplexer developed by Cube Optics is small enough to fit into a XENPAK module for 10GBase-LX4 applications.
Many vendors therefore see the LX4 as a stopgap product, with the size of the gap depending on how quickly the LRM standard progresses and how soon EDC technology catches up to the expected requirements. "We're expecting [LX4] to continue to move forward because it is a standard already. They're still projecting volumes and people are even working on designs that are not going to be available until the end of this year," comments Matt Dru, product manager in Vitesse's Transport Division. "So I think our view is that potentially it is a stopgap measure, but it is a qualified, standardized solution today that will continue to ship in people's systems that have XENPAK module slots already."
Still, as Trepanier, Cornejo, and others point out, the LRM devices will leave some customers behind if it only supports 220 m. That opens the door for LX4 to continue to be a viable, if niche, product.
"I think that the window for LX4 is certainly longer and the potential is higher than I thought," concludes Wiren Perera, vice president of strategy and business development at Mysticom. "We've lived through all these standards. We know we get customers, we have units out there, everything is out there—but the [purchase orders] don't flow in until the standard gets ratified. So I'd say that's 2006 and beyond, which means that LX4 won't come to a dead halt, anyway. And the chances are that LX4 will get cost-reduced from where it is right now. So you're looking at a two-year window at least, if not more."