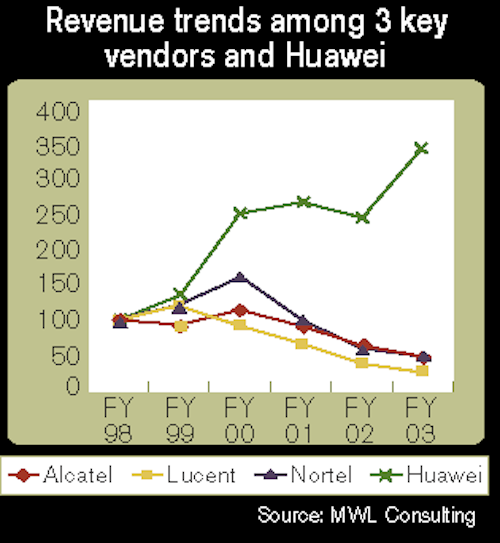 As illustrated by its recent win of the majority of China Telecom's (Guangdong) core-router contract and strong reviews from optical customers in Europe, Huawei Technologies has become a serious contender in the tier one equipment market. Based in China—where labor is cheap, engineers are plentiful, telecom demand is still rising, local companies are favored, and intellectual property rights are mostly nonexistent—Huawei is a Western vendor's worst nightmare, details a new report from Asia-based MWL Consulting. While Huawei remains relatively small compared with international telecom giants like Alcatel, Nortel Networks, and Lucent Technologies, it is narrowing the gap.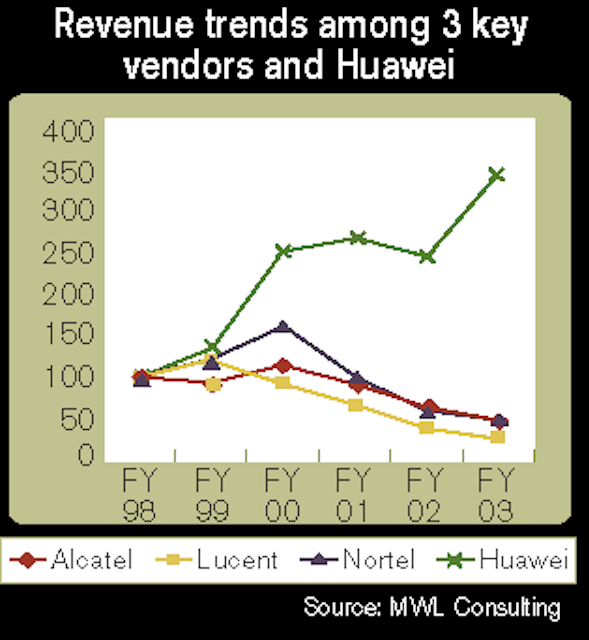 Huawei has grown from a 1% global optical-networking market share in 1999 and 2000 to an 8% share by mid-2003, when it was ranked fifth worldwide. The Chinese vendor is also becoming a credible broadband access player, an emerging threat in switching and routing, and a major supplier of wireless infrastructure in its home market. But Huawei must overcome its reliance on low prices, prove it can supply reliable products, provide adequate after-sales support, and function with enough transparency to give customers confidence in choosing the company for major projects.
For more information on the report, "Huawei Technologies: Global Competitor or Paper Dragon?," visit www.mwl-consulting.com.