India's optical equipment spending jumps nearly 29%
Feb 1st, 2004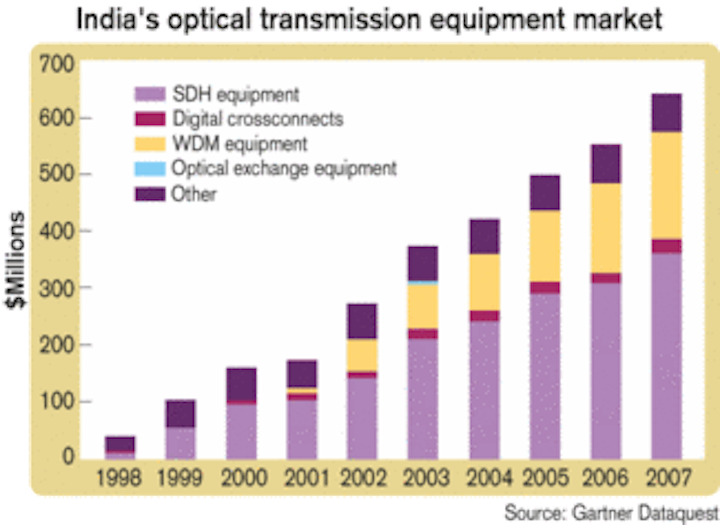 India is emerging as the fastest-growing optical transmission equipment market in the Asia-Pacific region. It is one of the few telecommunications markets worldwide to witness spending growth over the last few years, withstanding the global capital-expenditure meltdown and subsequent freeze in telecom investment.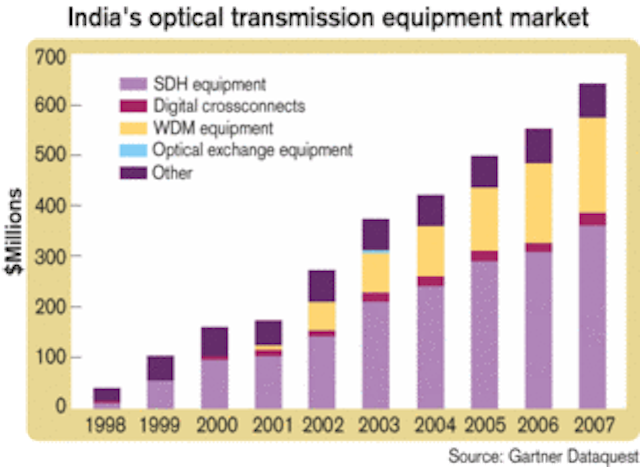 By 2007, India's optical transmission equipment market is forecast to reach $691 million.
Optical equipment spending is being fueled by India's wireless boom as well as the entry of new players in both access and long-distance transmission, which are driving network investments. India's emergence as an outsourcing and offshore manufacturing destination for information technology and related services is a key driver of higher-bandwidth demand. Continued revenue pressure on vendors, a highly competitive market, and the entry of Chinese vendors Huawei Technologies and ZTE, have all aided in equipment price declines, spurring higher investments in the sector.
Based on our December forecast, Gartner Dataquest estimates that the Indian optical market generated more than $351 million in equipment revenues in 2003, a 28.7% increase over 2002 levels. The immediate market drivers remain strong, and the optical equipment market will continue to grow rapidly.
We expect the market size to increase more than 15% this year, reaching $404 million in revenues. By 2007, the market is forecast to reach $634.7 million at a compound annual growth rate of 16%. Our projections are based on the continued rise of teledensity in the India market, more regulatory maturity, and the emergence of bottlenecks in metro networks as broadband traffic begins its growth, coupled with a technology evolution.
SDH and long-haul WDM sales will continue to dominate the equipment market, since the carrier focus is primarily on building nationwide optical infrastructure. The private greenfield players are working to create a national network of links, connecting major demand centers, in addition to building their own regional access networks. The demand for metro WDM, optical exchanges, and digital crossconnects is small, however. Moving ahead, we expect this market to begin to grow faster this year and next year, albeit from a small base (see Figure).
Among India's service providers, the state-owned Bharat Sanchar Nigam Ltd. (BSNL) continues to be the biggest spender, followed by Reliance, Tatas, and Bharti. Other than these players, a lot of the equipment demand is emerging from the utility segment, which comprises Indian Railways, Power Grid Corp. of India, Gas Authority of India (GAIL), and RailTel. A large number of smaller cellular and Internet service providers have procured some transmission equipment as well, albeit on a smaller scale.
Nortel Networks has been able to secure a key portion of the private carrier business with Reliance and Bharti as its top customers. Fibcom, a domestic player and China's ZTE, are emerging as the next biggest players, having procured significant business from state carrier BSNL. Marconi, Fibcom, and ECI Telecom have been supplying optical equipment to Tatas, which now owns Videsh Sanchar Nigam Ltd. Amongst domestic vendors, Himachal Futuristic Communications, Fibcom, and government-owned Indian Telephone Industries (ITI) continue to dominate sales, especially in low-end equipment.
Notwithstanding the excessive competition and investment in bandwidth taking place at the moment, we believe long-term optical transmission equipment market growth will materialize in India, since the underlying drivers are strong.