'Ecosystem-on-a-chip' a gem
Jan 1st, 2004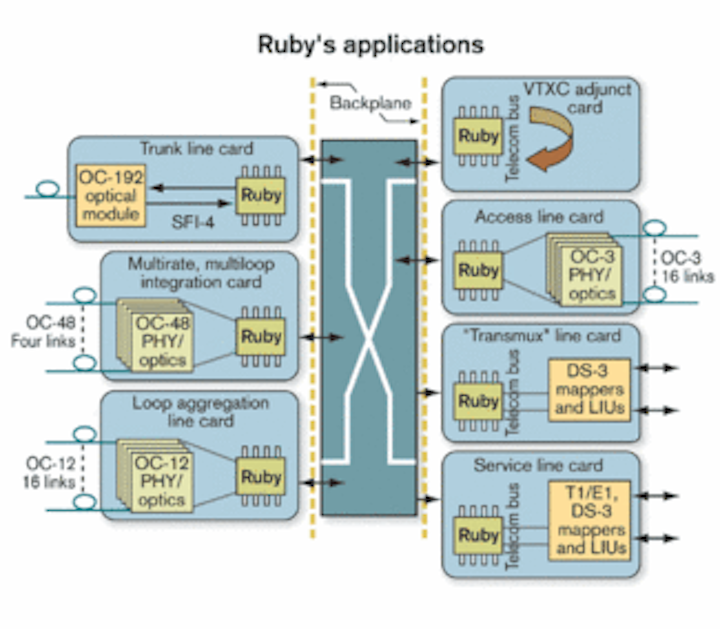 After 15 months in stealth mode, Crimson is ready to reveal its solution to this problem, an "ecosystem-on-a-chip" that integrates transport, aggregation, and grooming with a central-processing core. It's a solution that doesn't involve revolution—just innovation, says company president and CEO Deepak Rana. It's not necessary to change the world, he says, but it is necessary to exponentially lower the overall cost of service delivery—and not by half, or one-fourth, or one-10th. "The cost of delivery has to come down anywhere in the range of 95–99% from where it is today," he contends.
Crimson claims it can achieve this exponentially lower cost via silicon integration. In fact, says Rana, the silicon space is the best place to integrate and innovate: "It's much cheaper to put more sand on a sliver of silicon than to put more chips on a board, than to put more boards on a box, than to put more boxes in a chassis."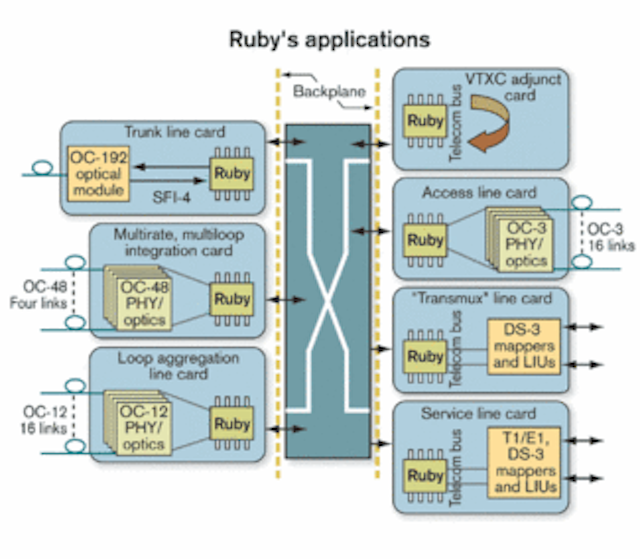 Depending on the target application, Crimson Microsystems' Ruby microcommunications processor can be used in framing, crossconnect, add/drop-multiplexing, or aggregation applications.
To that end, the company is developing what it calls "tailorable instant silicon solution products." Its first product—a "microcommunications processor" named Ruby—can be adapted via software to suit multiple market segments. "The same piece of silicon with different software gives you a different personality, and you can quickly design it in without having to build six different products," says Rana. "That's the tailorable part."
For example, "in one variation, the same product family with certain software can work as a multirate framer on a line card in a broadband crossconnect," explains Rana. "In another combination, it can work as a subtending VT switch/crossconnect into a broadband system."
The microcommunications processor is based on the company's patented Transport-Aggregation-Grooming (TAG) architecture. The TAG architecture integrates six functions on the same piece of silicon, thereby reducing chip counts and cost. By design, Crimson's single-chip system supports both legacy and next-generation needs in metro and access applications. "It's a generally held view that the market bottomed out in 2003 and it's on the way to recovery," surmises Rana. "The place we'll be playing is not just the growth part of it; it's the entire replacement side of it—all the existing cards that need to be replaced at a reduced cost."
Market researcher ElectroniCast (San Mateo, CA) believes that Crimson will indeed be a key company to watch going forward. "The main thing we liked is that they are putting out one chipset or one main deliverable," reports ElectroniCast president Stephen Montgomery. "But that main deliverable then can be adjusted through software to accommodate specific requirements if it's coming from data communications or telecommunications. They are not locked into one specific target area."
Montgomery suspects the competition "is doing somewhat the same thing, especially on the network-processing side." That said, he likes the company's aggressive roadmap. Crimson's second product family, Emerald, will be available at the end of this year and adds a "transmux" capability. Sapphire, the company's third product family, adds data termination and is slated for general availability in the first half of 2005.
Though they have not yet announced customers, the folks at Crimson say they are "actively engaged" with a number of high-profile system vendors, including Alcatel, Ciena, Cisco Systems, Fujitsu, Lucent Technologies, Nortel Networks, Siemens, Tellabs, AFC, Catena, Tropic Networks, and Turin. "Now they just have to get out there and win the contracts," says Montgomery.