SAN, RSAN consumption worldwide to reach $1.3 billion by 2006
Nov 1st, 2002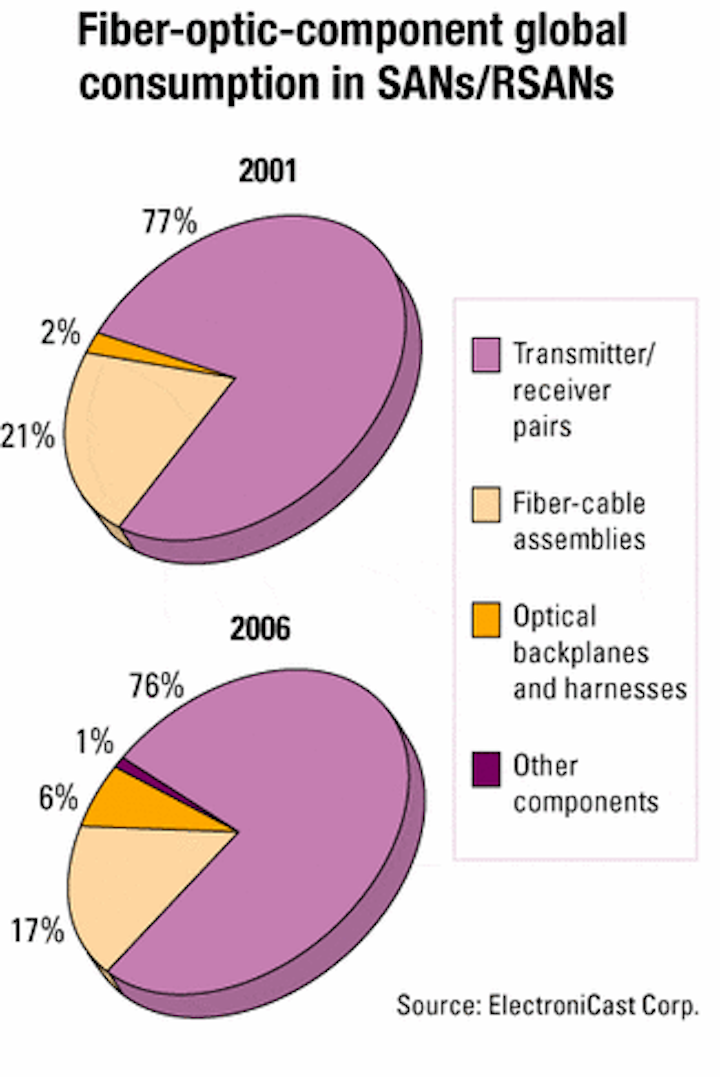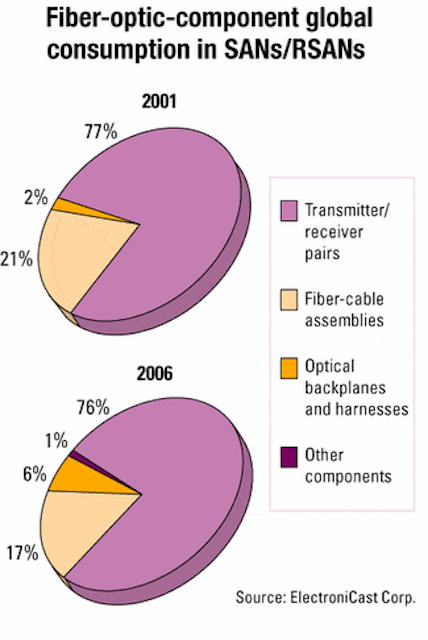 Global consumption of fiber-optic components in SANs and remote SANs (RSANs) with transfer capability of 100 Gbits/sec or higher reached $142 million in 2001, down from $181 million in 2000, reveals a new report from ElectroniCast (San Mateo, CA). However, consumption is expected to increase an average of 53% per year to reach $1.32 billion by 2006.
"The dominant SAN internal links have been Fibre Channel—initially 10 Mbits/sec with rapid growth, with the 1-Gbit/sec Fibre Channel finding substantial 2002 use," says Jeff D. Montgomery, ElectroniCast's chairman and founder. "These have been almost entirely Fibre Channel, but Ethernet is beginning to penetrate this application."
Five years ago, SANs were not a major market relative to overall enterprise consumption of computational, storage, and related interconnect equipment, notes the report. Global consumption of fiber-interconnect links in SANs and related equipment was even less impressive at less than $10 million. From 1998 to 2000, however, data rates of SAN intra-equipment and between-equipment fiber interconnects have increased dramatically, propelling designers to evolve from copper to fiber interconnects. In addition, the number of equipment units produced per year and the data throughput per typical equipment unit have grown explosively, says ElectroniCast.
North America dominates SAN/ RSAN fiber-optic-link component consumption; in 2001, the region held a 73% market share with $103 million. By 2006, that share will drop to 68%, but consumption will rise to $895 million. Japan/Pacific Rim countries will experience the fastest consumption growth, climbing from 13% to 15% or $204 million by 2006.
For more details on the report, "Storage Area Network Fiber Optic Interconnect Study," call 650-343-1398 or visit www.electronicast.com.