Reality check for undersea optical networks
Nov 1st, 2002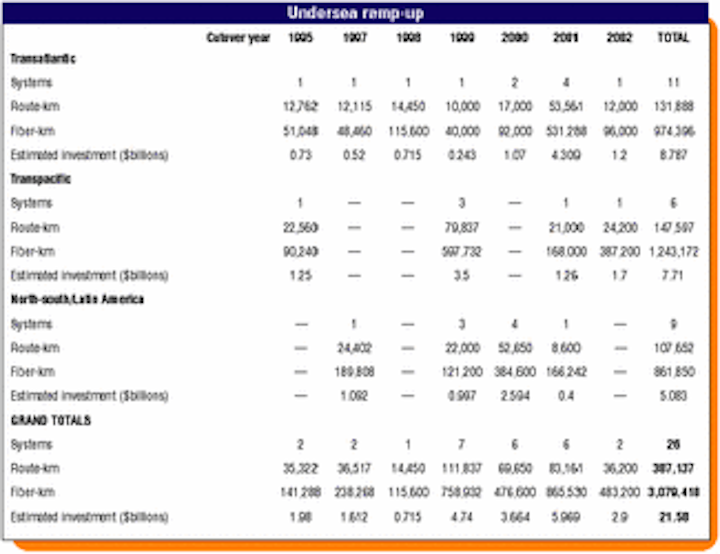 trends
Most of the recent publicity surrounding the undersea fiber-optic transport industry has been less than positive. But putting aside Chapter 11 actions, company restructures, and the cautiousness of potential investors—and noting that optical technology markets are generally undergoing a reality check—the undersea-cable market seems to be quietly preparing for better days ahead.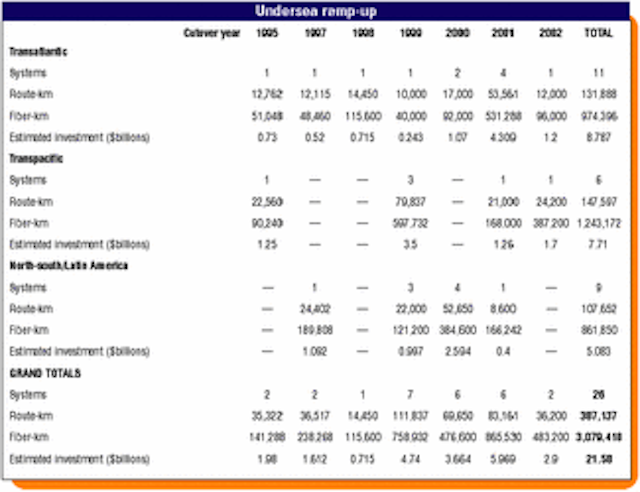 As shown in the Table [above], the undersea market exploded in 1999, coinciding with the popularity of WDM technologies and the excitement of the race for global connectivity. Some analysts suggest the submarine market is now settling into a more normal growth rate, not collapsing.
"This represents the tail end of a 'boom' in route deployment that lasted for several years beginning in the late 1990s," says Richard Mack, vice president and general manager at KMI Research, a fiber optics marketing intelligence firm headquartered in Providence. "The expectation going forward is for a couple of years [2003 and 2004], with cutover route-kilometers below 50,000 with gradual growth, pushing above 50,000 in 2005."
Mack points out several reasons why undersea networks may have appeared to be in more serious trouble than its terrestrial counterpart once the general fiber-optic market began its dramatic downturn. Terrestrial networks can be easily built incrementally, providing revenues without necessarily completing the entire planned network. Undersea networks, however, must be completed across great distances before any revenues can be garnered. That can lead to high debt burdens for the carriers involved. At the same time, the number of networks constructed during the bubble has placed significant pressure on bandwidth pricing.
Today, undersea-system architects are cautiously optimistic about the market. There are obstacles to overcome, including skittish investors. For example, undersea-network builders face greater challenges in raising capital than their counterparts of the late 1990s. Today, business plans must carefully take into account the competition in particular geographical areas as well as how much capacity is already available along similar routes.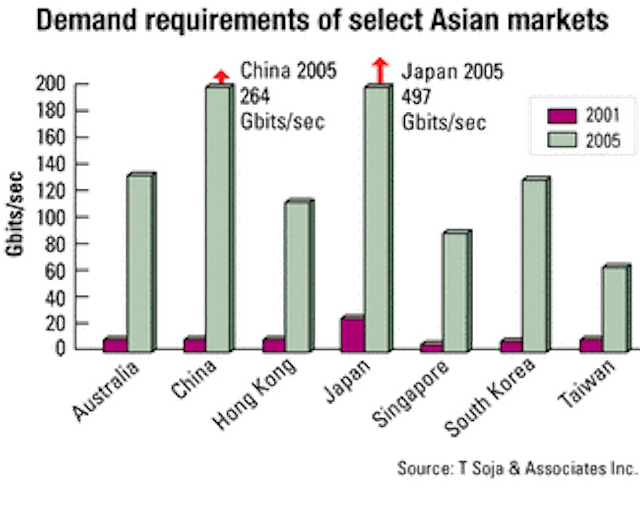 The demand for Internet and broadband services continues to rise steadily in Asia-Pacific markets.
Other factors to consider include circuit-price erosion and bandwidth demand for a particular area. There is no "global" answer to the question of viability and the ultimate chance for success. "You'd have to look at the capacity and demand on a route-by-route or region-by-region basis," says Mack. "Fewer transpacific systems were cut over than transatlantic routes in the same years, but you also have to consider capacity and demand on those routes to make conclusions as to which will risk overbuilding sooner."
The case for increased or decreased demand for undersea capacity may boil down to how that demand is defined. According to Anne LeBoutillier, director for Asia-Pacific at T Soja & Associates (Boston, MA), an analyst firm specializing in tracking undersea fiber markets, demand has not fallen. If demand is defined as pure usage of those things that drive demand—voice, data, and the Internet—LeBoutillier says there isn't a consumer out there that's slowing down on the use of any demand drivers. In Asia-Pacific alone, where the Internet and broadband services are a focal point for service providers, the demand is "nothing short of outstanding." But if the purchase of new capacity is the ruler by which demand is measured, LeBoutillier concedes the enthusiasm among carriers has certainly declined. Therefore, looking at demand in terms of carrier purchasing patterns could build a case that demand has fallen.
"But the underlying demand for capacity, the demand for telecommunications and telecom services—the real demand—remains vibrant," she says. "So, while it is reasonable to say that the normal market for capacity purchase has fallen off, it is unreasonable to say that demand doesn't exist."
The undersea fiber-system industry is far from "dead in the water." On the contrary, undersea-networking activity is alive and well in several global regions.
A new consortium cable was announced last September by Singapore Telecommunication to link Southeast Asia, the Middle East, and Western Europe. The SEA-ME-WE 4 cable project will use DWDM technology to provide a design capacity of 1.28 Tbits/sec to 12 countries.
Tyco Telecommunications (Morristown, NJ) announced its Tyco Global Network (TGN) is nearing final stages. The company plans to light the network ring linking Japan with the U.S. West Coast next month. TGN Transpacific was deployed with eight fiber pairs, with each pair designed to carry 960 Gbits/sec.
These and other ongoing transoceanic cable projects lend credibility to the future of undersea networking. LeBoutillier believes undersea fiber-optic technology has come to the forefront of development, while fiber-optic technology generally has room to grow in terms of technological development. "We see a strong future for undersea networking as the most efficient and effective networking alternative to the needs of broadband requirements," she says.
KMI's Mack notes that undersea networking will certainly make a comeback of sorts once it wades through a market correction process during the next few years. The amount of capacity, number of systems, and amount of fiber funded, built, and cut over during the peak years of 2000 and 2001 will not be repeated in the foreseeable future. The excess of investment over what could be supported or justified by a healthy, competitive transoceanic transport business must now endure a correction period.
"But the fundamental driver of demand for new cable routes, which is the ongoing demand for new circuit capacity to support growth in voice and data traffic, has not stopped," says Mack. "The recently built cables can accommodate the demand, but this is not a permanent situation. This demand will eventually outstrip the installed capacity."