How the Far East is won: The big and small of it
Nov 1st, 2002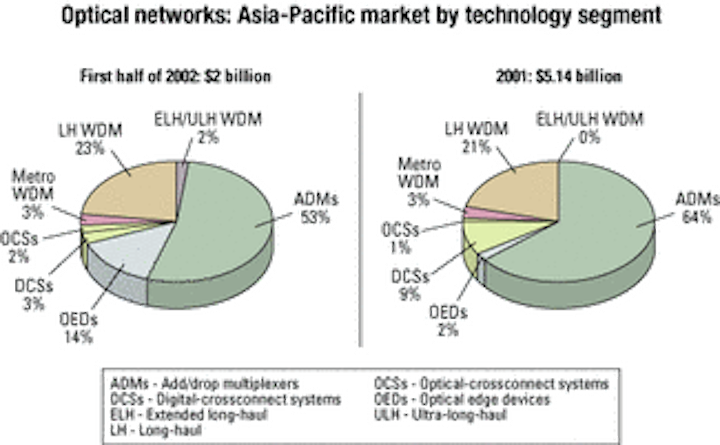 International Opportunities: Asia-Pacific
North America is no longer the core of the optical-networking world. The only network growth, according to many equipment vendors, is in parts of Asia-Pacific, creating opportunities for those companies prepared to navigate the vastly different markets and business cultures of countries like China, Japan, and Korea. Analysts' data backs up these observations. The Asia-Pacific region represented 35% or $1.03 billion of the $2.8-billion global optical-networking market in the second quarter of this year, according to market researcher RHK (San Francisco).
The opportunities in the Far East present formidable challenges, however. Establishing relationships, a prerequisite in many countries, and understanding the business mores of each culture takes time. Like the rest of the world, price erosion is affecting the region, and contracts are getting smaller, reports RHK. Ongoing telecommunications restructuring in countries such as China and Korea is slowing equipment purchases.
Service providers are placing new—and familiar—hurdles in vendors' paths. Once welcoming newer technologies, partly because a lack of legacy infrastructures in many countries allowed it, today most carriers are cautious, preferring established suppliers to unknown or newer companies. The supplier's size, proof of financial stability, support services, and channel partnerships matter—perhaps more than unique technologies. Some carriers are open to startups, but the initial contract sizes are small, according to RHK's research. Domestic vendors in many markets are formidable competitors, especially in China (Huawei, ZTE, FiberHome) and Japan (NEC, Fujitsu, Hitachi). Huawei, which competes on price and now offers world-class technology, dominates market share in most of its product categories.
"You have to say to yourself that you are not going to go into China at this point and time and hope to be number one," says Kathy Szelag, vice president of marketing, optical networking, at Lucent Technologies (Murray Hill, NJ). "Your strategy is to be the number one non-Chinese supplier, because Huawei is there."
The large multinational incumbents—Lucent Technologies, Alcatel, Nortel Networks, Marconi, and Siemens—entered many Asia-Pacific countries early on and established sales channels and manufacturing operations, built relationships, won optical equipment contracts, and gained market share. Lucent, particularly, targeted Asian countries when it was still part of AT&T and has since focused on localization, establishing sales and manufacturing operations, opening a Bell Labs facility in Shanghai, and hiring Japanese and Chinese nationals in their respective markets. As Lucent moves to contract manufacturing, these service companies must have operations in China. According to RHK, Lucent still has a strong embedded base in China and Korea, and the company is the dominant foreign vendor in Japan.
"Japan even 10 years ago was hot," says Szelag. "They have always been a forward-looking country when it comes to telecommunications, and they were already at that point deploying what was then state-of the-art fiber, and they were already forming policies about fiberization. At the very beginning, Japan was our focus, but very quickly we said, 'My god, look how big China is—that has to be the future.'"
While Lucent has viewed the region as promising for more than a decade, competitor Nortel has come on strong in the last three to four years, especially in China, where it has announced more than 40 optical backbone contracts. Nortel had the highest market share in long-haul WDM, metro WDM, and optical crossconnect systems in Asia-Pacific during the first half of 2002, according to RHK.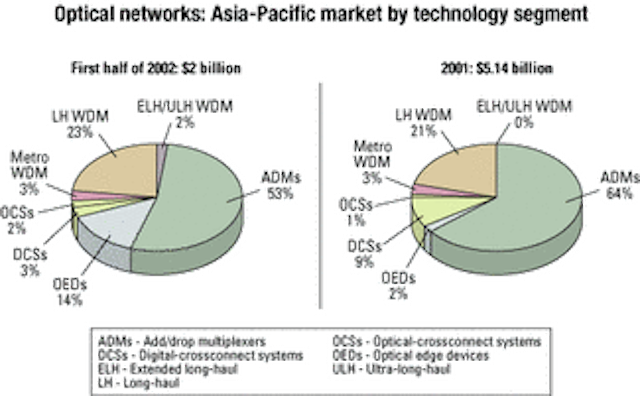 Asia-Pacific carriers are shifting from traditional add/drop multiplexers to optical edge devices (OEDs), a product segment that jumped from a 2% share of the optical-networking equipment market in 2001 to 14% in the first half of 2002, largely because OEDs can better support data services, according to market researcher RHK.
Despite continuing success in the region, the global telecom downturn is causing restructuring at all the large incumbents, even in their Asian operations. Lucent has consolidated its operations in the region and streamlined its optical product line. In some cases, this restructuring is resulting in greater reliance on channel partners for sales and support, reports RHK.
While the right channel partner is key to success in many Asian countries, navigating these relationships requires close attention to changing market and channel dynamics. The best channel partners—resellers, distributors, and systems integrators—can vary by region within a country. Exclusivity is something to consider, since some channel partners, according to RHK, will try to assemble their own product portfolios (end-to-end systems), a tactic that does not always benefit the vendors involved. Vendors need to carefully research potential sales channels before making a selection. They must also offer their channel partners appropriate incentives and provide superior training and technical support services. The best channel partners have longstanding relationships with the service providers in their region and can help vendors with sales initiatives, interfacing with the customers, installation activities, and after-sales support services.
"We've done business direct in China, Korea, and Japan, but it facilitates our relationships with the customers if we go through the channel partner," says Isa Antonarelli, business leader for Asia-Pacific at Nortel (Brampton, Ontario). "We have been dealing with Oki in Japan in a big way for the last six months, and I see a tremendous difference in the ease with which we can do business. It helps in the communications, because sometimes both people may be speaking English, but what they mean is different—sometimes the translation is not all that easy."
For the majority of vendors, getting traction in Asia-Pacific countries is tricky and increasingly competitive as the North American and European markets dry up. The top 10 optical-networking equipment suppliers captured 80-90% of the Asia-Pacific market in 1999, 2000, 2001, and in the first half of 2002. The remaining 10-20% in the second quarter of this year was split among 22 suppliers, according to RHK. How do other vendors, particularly startups, enter these markets and compete?
"The biggest challenge once you have the interest of the carriers is convincing them that you can do very large installations," says Herb Martin, chief executive of Ethernet passive-optical-networking startup Salira Optical Network Systems (Santa Clara, CA), which opened Salira China, a sales, design, and engineering facility in Shanghai in August. "The way you get over that hurdle is to partner with an existing large supplier to the carriers." Although Salira has its technology in lab trials with the major carriers—relationships that were facilitated by the company's strong base of Chinese national employees after doing business development activity in China for the last 20 months, according to Martin—the startup has yet to announce any vendor partnerships. "Our strategy is to do a lab trial and a small market trial with a carrier and then to introduce a partner to scale the installation," explains Martin.
Lucent is one large supplier that does form OEM relationships with other vendors. "We don't for anything that is strategic to our future," says Szelag. Lucent will resell products using the Lucent logo to fill a hole in its own portfolio, usually with lower-end products or for an emerging market in order to offer a first-to-market solution. These OEM relationships are usually not publicized. "We probably have a handful—less than 10—of these relationships going on right now, and we probably get 10 requests a week," says Szelag. "We don't strike a lot of these deals to be honest, because it takes a lot of personal overhead to keep the relationship going, to iron out differences between their sales team and ours, and you don't get as much profit when you resell something because you are sharing the profit.
"We also let some of the other big vendors sell some of our equipment and we tend to let them sell our very complex systems, the ones that are hardest to develop, because that just increases our sales base."
The obvious target for many optical equipment companies is China, where fiber-optic-cable deployment is expected to reach 4.1 million route-km in 2005 from 2.2 million route-km in 2000, according to KMI Research (Providence). The installed base of fiber is forecast to increase to 102 million km from 36 million km during the same time period. Much of this build-out is expected in provincial and local access networks.
China is moving fast. Last November, the country gained entry into the World Trade Organization. It is rushing to build-out a world class communications infrastructure—much of it before Beijing hosts the 2008 Olympics.
In its latest restructure, former telecom monopoly China Telecom was split in two—a decision made at the end of 2001 by the State Council—to encourage competition. The new China Telecom operates 21 provincial networks in the southern region. The 10 provincial networks in the north were integrated with the operations of IP-based carriers Netcom and Jitong and are now part of the new China Netcom. The Ministry of Information Industry officially announced the new China Netcom and China Telecom in May. Both carriers are allowed to do business in each other's regions. China Telecom is planning to establish a northern branch within months. In October, it was scheduled to file its initial public offering. In late September, the local press reported that China Netcom had acquired Asia Global Crossing. All of this restructuring held up network investments for much of this year.
Carrier spending is shifting toward optical-networking equipment for provincial and metro networks, according to RHK. In addition to traditional optical-networking technologies, China Telecom is using optical Ethernet in some of its provincial telecom networks, and China Netcom is testing resilient-packet-ring technology for metro infrastructures.
On the systems side, there still isn't a lot of competition. "In China, we are still three or four players going after the business," says Nortel's Antonarelli. "A China operator is not going to give a foreign vendor business, so you have to have technology leadership at a value—because of the local price they will pay a bit of a premium."
However, she adds, "The Chinese are very good negotiators." The same observation was made by everyone who was interviewed here.
Local optical-networking vendors can take advantage of state-level preferential policies—up to 15% lower income taxes and exemptions from municipal fees—if they operate their businesses in designated zones such as Wuhan's East Lake Hi-Tech Development Zone. Foreign vendors can also apply to receive government incentives as "an encouraged company," a designation that has benefited Salira. "We get the ability to transfer capital assets without paying import duty or value-added taxes, so there are incentives to us to develop activities in the marketplace," says Martin.
While the highest growth is anticipated in China, Japan is fairly active right now for two reasons, notes Szelag. The government has decreed that carriers must give back their digital radio spectrum and interconnect their cell sites with fiber. In addition, the government has dictated that the big local carriers like NTT have to lease dark fiber to competitive local providers, and now these so-called CLECs are building networks because they finally have access to fiber.
"Markets such as Japan and Korea have stabilized over the last couple of years," says Antonarelli. Both countries are placing higher value on services such as Gigabit Ethernet, which Nortel supports in both its long-haul and metro OPTera platforms. "That's why we have been successful; customers will tend to pick us over a local vendor for some of those initial features."
Although some custom development is necessary in many countries—there is a unique synchronization method in Korea and stringent earthquake requirements in Japan, for example—targeting smaller markets and building brand awareness have proven a wise strategy for large vendors such as Siemens and Alcatel, companies that had the highest optical-networking market shares (13.1% and 11.5%, respectively) in the second quarter of 2002, according to RHK.
While there are always political and legal risks in Asian countries, going into any market haphazardly is a bigger risk. "You have to jump in and really build a local business, local ties, a sales and after-sales network, and a brand name," says RHK's Matt Walker, program director for optical networks, Asia-Pacific. "Without this commitment, there will be no or very limited success."