Free-space optics calling on mobile wireless carriers
Sep 1st, 2002
applications
By KATHLEEN RICHARDS
The inevitable migration to new generations of cellular network technology in markets worldwide is opening another application door to free-space optics (FSO). Wireless optics can cost-effectively serve as the interconnection or backhaul technology used in mobile wireless infrastructures, today largely populated by traditional point-to-point licensed microwave technology or leased copper lines. However, some question how near-term this opportunity may be.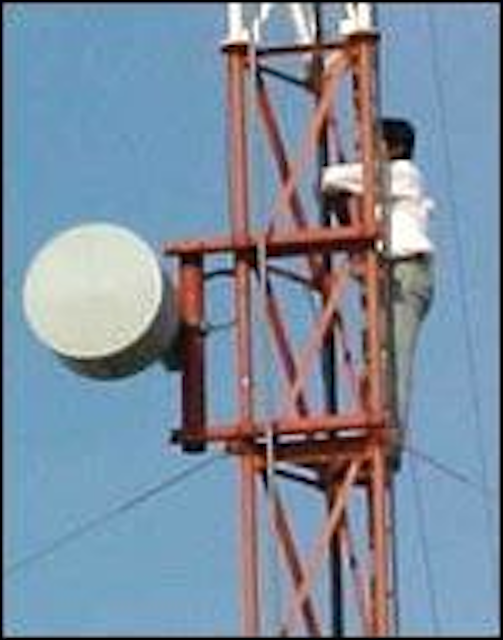 LightPointe's free-space optics link head-mounted on a cell-site tower in a trial with a mobile wireless carrier in Latin America.
FSO is essentially optical transmission without the fiber. Modulated infrared light is beamed through the air in the terahertz spectrum from a source system on a cell-site tower or urban rooftop to a destination system within the source's line of site, such as another cell-site or a mobile switching station. Proponents claim wireless optics technology can solve mobile carriers' high-capacity interconnection woes, especially in dense network areas over shorter spans of 200-400 m, and takes only a few hours to install. The cost is comparable to traditional microwave links, according to FSO vendors: below $20,000 per link, and for some low-end 800-850-nm wavelength systems, even below $10,000. Unlike microwave, FSO does not require spectrum licensing or frequency planning and is not affected by electromagnetic interference.

Most analysts agree that long term the opportunity is there. Mobile wireless backhaul is expected to become a large and growing market worldwide, especially in Asia and Europe, where cellular usage is high. About 70% of the backhaul links in Europe are already wireless, due to the high cost of leased lines. Latin America, which lacks copper infrastructure, also uses primarily wireless backhaul. In the United States, the cost of leased copper lines is still relatively inexpensive.
As carriers transition from second-generation (2G) to two-and-a-half (2.5G) and third generation (3G) cellular technologies, fixed wireless networks will need to handle a lot more bandwidth. Today's personal-communications-system (PCS) cellular call of 10 kbits/sec will increase to 2 Mbits/sec per universal mobile-telecommunications-system (UMTS) call when 3G handsets-not yet on the market-become available, according to Peter Jarich, director of research at the Strategis Group (Washington, DC). Another implication of the 3G environment is increased carrier interference, or noise, which will require the installation of more cell-sites-by some estimates three times as many, all within closer proximity of each other.
Leaving the niche?
In a stalled optical communications market, the FSO arena is suddenly crowded with vendors hoping to take advantage of such opportunities. Traditional vendors that have been largely selling into enterprise markets for campus connectivity of LAN sites face a host of newcomers, some specifically targeting mobile wireless applications.
LightPointe (San Diego), a strong player in the enterprise area (Cisco Systems is one of its investors) is aggressively pursuing mobile wireless opportunities in Asia-Pacific, Latin America, Europe, and North America. In June, the company announced Flightstream, a product line designed specifically for mobile wireless carriers.
LightPointe has participated in several trials and reports carrier interest in FlightStream, especially in Asia-Pacific. The company is also in trials of its technology for other mobile wireless applications such as cell-site extensions, which would extend the link between the base station and remote antennas. "Carriers may have excess frequency within a cell-site because of a co-channel or some type of interference issue, and they would love to be able to move the frequency allocation to another geographic spot," says Larry Prior, chief marketing officer at LightPointe.
Startup Celerica (Morristown, NJ), with its research and development in Israel, is another FSO company developing technology for cell-site extensions and the creation of new sites. The Celerica 500 system is in trials with an Israeli carrier, and the company is close to similar agreements with carriers in the United Kingdom, according to Celerica product marketing director Cedric Taylor.
While vendors such as LightPointe attempt to sell directly to carriers, other FSO companies are pursing OEM strategies with mobile carriers' traditional suppliers. Celerica sells directly but is pondering other distribution options. Meanwhile, in July, fSONA Communications (Vancouver, British Columbia) signed an OEM agreement with Alcatel for its entire SONAbeam FSO product line, including its mobile wireless backhaul system, SONAbeam M-52. fSONA was founded in 1997 based on an exclusive global licensing agreement for FSO receiver technology developed by British Telecom Labs.
Unlike LightPointe, which still offers 800- and 850-nm wavelength products in its portfolio as low-cost options, the entire fSONA line is based on 1550-nm wavelengths. "We've spent a lot of time working with carriers to determine where can we be best applied in the network," says Mike Corcoran, senior vice president of sales and marketing at fSONA. "Our focus is on dense urban, on top of rooftops where they don't have cell towers today....We can thread the needle and go where microwave cannot go."
The OEM strategy is also being pursued by market newcomer Holoplex Technologies (Pasadena, CA), whose FSO technology was developed in conjunction with the California Institute of Technology. Unlike most of the other players in the market, which use divergent beams, Holoplex uses a highly collimated 30-micro-radium narrow-beam technology that it calls PinPoint. Although this technology requires a sophisticated tracking system, it supports higher signal availability, with a 40-dB link margin after other losses have been accounted for over longer 2-4-km distances, according to Anthony Bladon, vice president of marketing and business development at Holoplex. That will allow the company to focus on a broader mobile wireless backhaul market than just dense urban areas.
Wait and see

Despite the increased vendor activities, most wireless carriers haven't committed to FSO technology, although many are conducting FSO trials. The telecom slump and questions about the availability and reliability of FSO technology, especially in inclement weather, remain hurdles. But while companies like fSONA claim five-nines (99.999%) reliability through redundancy, others note that mobile wireless standards are not the same as voice. "FSO is held to the standards of microwave, so availability is 99.94," says Bladon.
FSO is also competing with several other potential backhaul alternatives-and has a ways to go before it makes a significant mark in mobile-network applications, according to some observers. "Right now, free-space optics is still an enterprise technology," says David Gross, senior analyst, optical networking, at Communications Industry Researchers (Charlottesville, VA). "I think the long-term potential is very good."