Software that sees: AFO releases new version of OSP Insight
Jun 1st, 2002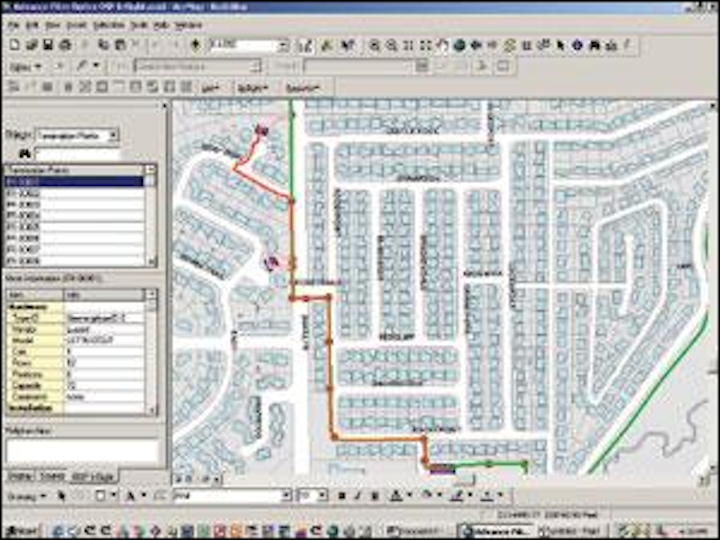 SYSTEMS
By MEGHAN FULLER
Talk to network managers and they will tell you what they really want is to be able to see their network at all times-to be able to track changes, faults, and trends instantaneously. They sound like kids who dream of having X-ray vision like their favorite comic-book superheroes. Advance Fiber Optics (AFO-Salt Lake City) has made this dream a reality. The most recent version of the company's OSP Insight network-management software enables network managers to tap into their inner child, using the latest in geographic information systems (GIS) technology.
Imagine that you are flying in an airplane over a city, says Randall Anderson, company co-founder and vice president of data services, and you're wearing those X-ray glasses. "You can look down and just see fiber-optic cable," Anderson explains. "You can see the buildings that the fiber is going into, the manholes it went through, and splice locations. That's what our system shows you. It overlays all of that on a map using the ESRI system."
Previous versions of OSP Insight, commercially available since 1995, were and continue to be compatible with MapInfo's (Troy, NY) Professional GIS. The most recent version, however, boasts compatibility with a GIS from ESRI (Redlands, CA), ArcEditor 8.1.
GIS is a technology whereby layers of information about a particular place are combined to provide a better understanding of that place. In this case, nine separate mapping layers are overlayed to provide an accurate picture of a network.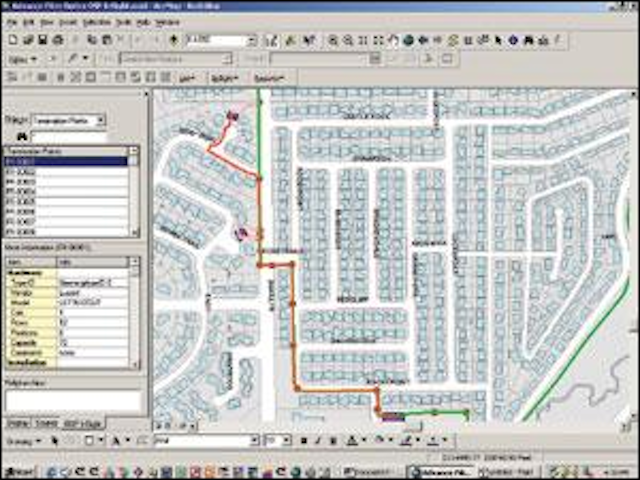 Using geographic information systems technology, Advance Fiber Optics' OSP Insight Pro for ESRI 1.0 documents, maps, and manages fiber-optic networks.
The software integrates these map objects with database information to provide a detailed network report, right down to individual fibers and splice points. For example, suppose you want to run fiber down a certain manhole, says Anderson, "I can click on that manhole, and now it will give me information about how big it is, how deep it is, if there are spiders in there." While he may be kidding about the spiders, the capabilities of the OSP Insight enable network managers to view rings and backbones, map and display duct routes, and identify and label every cable.
OSP Insight offers more than just a bird's eye view of the network, however. The software can also be used to locate faults and cable breaks. "Many companies don't even know when their cable has broken, let alone where the break is located," notes Anderson. "And who lost service as a result? Our system will help customers answer these questions."
The software is also ideal for sales and marketing purposes. Suppose a developer is building a new industrial center, explains Anderson. "If I'm a telecom provider, I'd like those people to be able to have access to my services," he asserts. "This type of system allows me to be able to identify that location and then figure out what it will take to get some assets there so I can take advantage of that potential market."
OSP Insight Pro for ESRI 1.0 also enables end users to do the following:

View detailed splice information, including splice trays and splice schematics.
Record status, equipment serviced, end-to-end view, length, and connector type for every terminated fiber at every termination point.
Reserve individual fibers for future customers.
Identify fibers in use and fibers leased to other providers.
Thematically map network assets to uncover trends.
The company has more than 500 customers worldwide, including AT&T Local Services, Cable & Wireless Bermuda, MCI WorldCom, and XO Communications (Reston, VA), which uses the OSP Insight software to manage its 1.140-million-fiber-mi network.
"It's easy to use, easy to set up," contends Richard Pierce, manager of OSP Insight and fiber management at XO Communications. "It makes it a lot easier for us to extract data, gather reports for people, and see exactly what is going on in our networks. The management of the network improves with the software, because we are able to access what our network is doing so readily."
OSP Insight is a Windows-based system; information can be downloaded to a Microsoft Access database or Excel spreadsheet, and maps can be dragged and dropped into other Microsoft applications, including Word and PowerPoint.
The folks at AFO made their product user-friendly for a reason; they were the first users of the software. The company was founded in 1993 as a fiber-optic contractor. "We decided that we needed better information on the builds we were putting in," Anderson explains, "so we went looking for a software application to do that for us, to make things easier. We couldn't find anything that really met our needs, so we started to develop our own in-house system. Long story short, that's where the OSP Insight came from."
AFO is still in the business of building fiber-optic networks-and continues to use the OSP Insight software internally to manage its business and better plan how to allocate fiber, which, in the current economic climate, is more important than ever. "You really need to have this type of system in place to optimize your network," Anderson declares. "Otherwise, you might keep building where you don't need it or miss opportunities that you may have had. In a sense, this is really the reason why the system was developed-to help people optimize what they have."
-
-
-