Photonic IC subsystems and components to net $11 billion by 2006
Jun 1st, 2002
The market for photonic IC subsystems and components netted $4.3 billion in 2001 and will experience an average annual growth rate (AAGR) of 20.5% to reach almost $11 billion by 2006, according to a new report by Business Communications Co. Inc. (BCC-Norwalk, CT). The market for these devices has reached a critical commercial threshold, thanks to the optical-component industry's migration from manual assembly to automated semiconductor wafer-processing techniques and single-chip solutions.
The market for discrete devices or integrated optical circuits, including pump and source laser diodes and photodiodes, is expected to grow at an AAGR of 18.5% to reach nearly $9.5 billion by 2006. The market for subsystems, meanwhile, will experience a 42.2% AAGR to net $1.5 billion by 2006.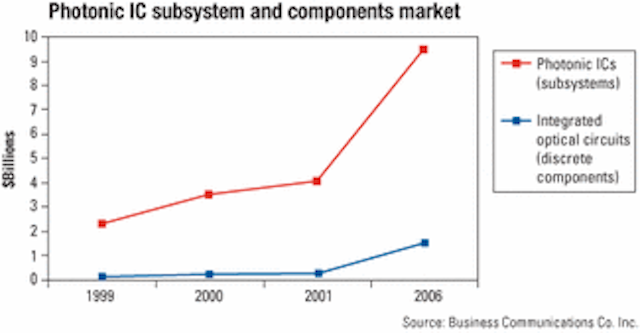 According to the report, the preponderance of growth for photonic chips will take place in 2003 and beyond, when simultaneous upgrades to network architecture and bandwidth-specifically, all-optical and 40-Gbit/sec networks-will establish sizable end markets for the devices. The wide-scale adoption of photonic switches and subsystems, optical add/drop multiplexers, and optical crossconnects will also boost the market, since they are predominantly based on chip architectures.
For more information on the report, "RGB-256 Photonic Integrated Circuits: New Directions," call Business Communications Co. Inc. at 203-853-4266 or visit www.bccresearch.com.