Smaller, faster, more economical metro systems
Jun 1st, 2002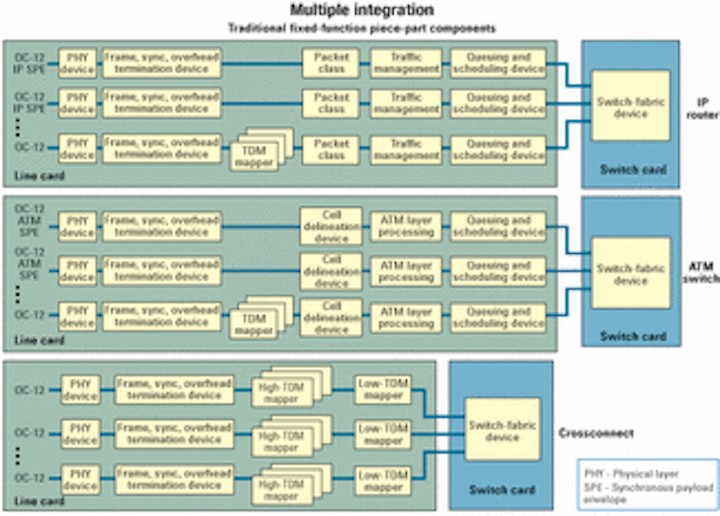 SPECIAL REPORTS: Metro Networks
New IC architectures and technologies provide a host of new benefits to equipment developers and carriers.
PAUL DeBEASI, TranSwitch Corp.
With a host of next-generation networking products on the market today, service providers have been unable to realize significant improvements in space utilization, power draw, and overall product cost. But driven partly by regulatory policy and technical limitations, today's service providers are challenged to offer new value-added services that will differentiate their offerings in a highly competitive environment. Taken in tandem with the increasing ratio of data-to-voice traffic and the growing dominance of packet-based technologies, the need to drive technical innovation within the public-network infrastructure while realizing financial success is becoming more acute.
Significant technology advances occurring at the silicon and firmware level are poised to revolutionize metropolitan-area optical equipment system design and enable unprecedented service differentiation. Current access and metro optical communications platforms are limited to a specific set of protocols or applications-most support either data switching (MPLS, IP, ATM, frame relay) or TDM switching. Even the emerging multiservice platforms rely on segregated processing and switching to support various data and TDM services.
This approach leads to scalability limitations and restricts the ability to reduce operational costs, eventually forcing service providers into cumbersome and costly forklift upgrades. Equipment vendors must provide their carrier customers with solutions that are highly scalable, manageable, and extensible and lead to lower operations costs.
Improvements in optical technologies have created nearly boundless bandwidth and flexibility in core networks. Multilayer consolidation of optical networks has greatly simplified the core infrastructure, pushing service intelligence to the edge of the service-provider networks. Metro networks must evolve to accommodate this mix of traffic and a migration of network intelligence to the edge, enabling service providers to deliver value-added services instead of a bandwidth pipe.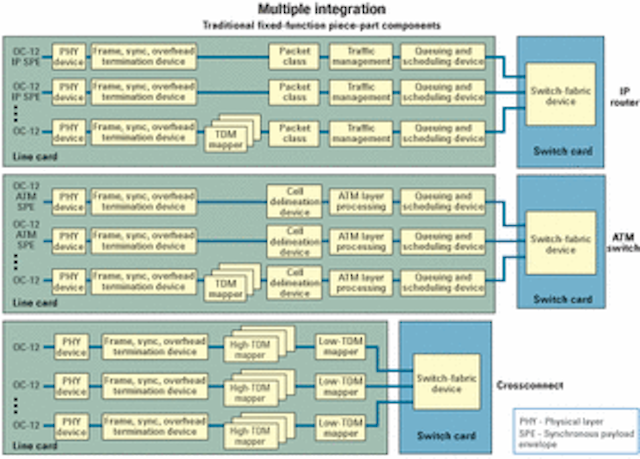 By looking at the multiple standard types of components and functions that are used within metro equipment, it becomes clear that the integration of multiple components and functions could dramatically optimize metro platforms.
To add to the complexity, the metro optical carrier market is rapidly evolving from OC-3 (155-Mbit/sec) and OC-12 (622-Mbit/sec) speeds to OC-48 (2.5 Gbits/ sec) and beyond. Current forecasts indicate that in 2005 less than 50% of the total traffic volume is expected to be pure IP services, with the majority of services (including IP) carried over TDM, ATM, and frame relay (FR).
This environment requires carriers to support the growing, complex mix of data traffic along with TDM traffic. SONET add/drop multiplexers (ADMs), ATM switches and routers, and an increasing number of multiservice access multiplexers primarily serve the metro optical market today. Accordingly, metro optical equipment developers must contend with challenging and complex characteristics that stem from the confluence of various networks, services, and protocols. Critical considerations for equipment developers include:

Space constraints or telecommunications rack space priced at a premium but required for equipment deployment or collocation.
Higher price of power due to significant and fluctuating demand in metro areas.
Aggregation and delivery of hybrid traffic types and services handed off from the access network.
Service granularity and flexibility to support varied traffic types and services for ATM, TDM, and IP-based services with channel granularity down to VT1.5/TU-11.
Increasing demand for in-service scalability-some estimates claim a doubling of demand every eight to 15 months.
Carrier-grade reliability to support carrier requirements for 99.999%, or five-nines, reliability-critical for optical carriers since their outages can impact far more customers due to the large capacity carried, aggregation of customers, and hierarchical nature of networks today.
Metro evolution
As MANs evolve, equipment vendors are developing platforms with these characteristics in mind. While initial products are tackling these challenges, they are optimized as much as possible. Vendors have certainly achieved new levels of density, greater scale, and economic advantages by integrating a number of different functions to support multiservice, multifunctional environments. However, many of the products developed as multifunctional or multiservice have resulted in platforms with service-specific line cards and service-specific switch fabrics, requiring physical intervention to modify or provision new service types for their customers-a significant operational cost for carriers.
If the equipment relies on ASICs, then the functionality will be difficult to modify, resulting in limited flexibility and costly equipment upgrades. To truly innovate and deliver smaller, denser, and more flexible optical platforms, it is critical to address the MAN requirements at the component level. By looking at the multiple standard types of components and functions that are used within metro equipment, it becomes clear that the integration of multiple components and functions could dramatically optimize metro platforms (see Figure).
New IC architectures and technologies delivered by system silicon companies provide a host of new benefits to equipment developers and carriers. By integrating support for SONET/ SDH, native TDM, IP, and ATM onto silicon, new efficiencies can be exploited. Newly emerging programmable silicon that supports transmission, packet/cell forwarding, classification, and traffic management offers significant space, power, and cost savings, while providing flexibility and economic advantages that were previously unattainable.
Such solutions consist of highly integrated processing/forwarding and switching chips. Within the processing/forwarding silicon, different capabilities must be supported, depending on the traffic types. From a TDM transmission standpoint, the integration of SONET/ SDH into silicon requires transmission-grade capabilities. These capabilities include overhead byte processing, transport, and path overhead processing and support for network protection mechanisms. For TDM support, the system silicon must include support on the receive side for framing, high-order pointer processing, low-order pointer processing, and switch mapping.
The integrated support for TDM should be native support instead of circuit emulation to bypass any issues associated with timing. For packet and cell support, the architecture includes support for a number of other functions like cell delineation for ATM and high-level data link control framing for IP, MPLS, or other packet-based protocols. By integrating these capabilities onto silicon, equipment developers can provide greater efficiencies and benefits to their carrier customers, including:

Truly optimized cost of ownership. The new streamlined metro optical network leveraging these system silicon platforms will seamlessly interoperate with existing technologies. All services will be provisioned through the same device and controlled and managed with the same software interface, thereby reducing service providers' operations and provisioning staff needs. That not only increases the overall efficiency of the network, but also greatly reduces network ownership and management costs.
Reduced power and space consumption. Rather than installing several different products, carriers can now use just one device that provides more services while consuming less power and conserving precious rack space in the carrier central office.
Seamless service migration. By using a combination of data features and SONET/SDH add/drop multiplexing to switch ATM cells, IP packets, and FR frames natively, then multiplexing them in a SONET/SDH payload envelope onto the optical network, each wavelength is used efficiently. That allows service providers to use their equipment to provision multiple services without buying, installing, supporting, and managing separate equipment for each service.
Enabling with silicon
Initial metro-area optical-network product designs were based on limited functionality hardware components that resulted in inflexible architectures and long product design cycles. Until now, revolutionary improvements in metro platforms have required complete hardware re-spins, lengthening new-product introductions and limiting flexibility. These platforms have provided some initial advantages with improvements in space, scalability, and overall economics but have been restricted due to the inherent limitations in existing silicon components and software. To overcome some of these limitations, vendors that have the luxury of developing in-house technologies have undertaken costly ASIC development. Meanwhile, time-to-market issues are forcing system developers to increasingly use commercially available solutions, as opposed to internally developed ASICs.
The concept of enabling multiservice metro-area optical platforms to collapse the transmission and service layers has only recently been possible. Continuing advances in silicon technologies and increased integration of functionality are ensuring next-generation metro optical networks based on such platforms will achieve greater levels of density, economic efficiencies, service granularity, and scale.
---
Paul DeBeasi is vice president of product planning and marketing at TranSwitch Corp. (Shelton, CT). He can be reached at paul.debeasi@transwitch.com.