Product portfolio delivers optical Ethernet with SONET attributes
Jul 1st, 2002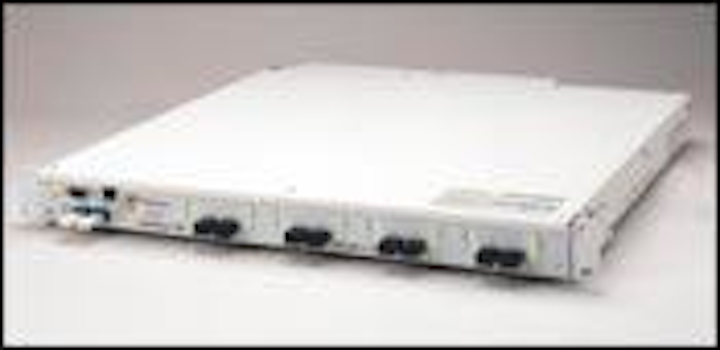 SYSTEMS
By MEGHAN FULLER
Lucent Technologies' spinout, Internet Photonics Inc. (Shrewsbury, NJ, and Marlboro, MA), recently unveiled its LightStack product family, which promises to make data and video services more profitable by leveraging existing fiber and fitting into carriers' existing operational models. Thanks to the company's proprietary transport architectures, including SONET Wraparound and Mainstream Operational Adaptation, the LightStack product suite promises to deliver optical Ethernet with the ease and reliability of SONET.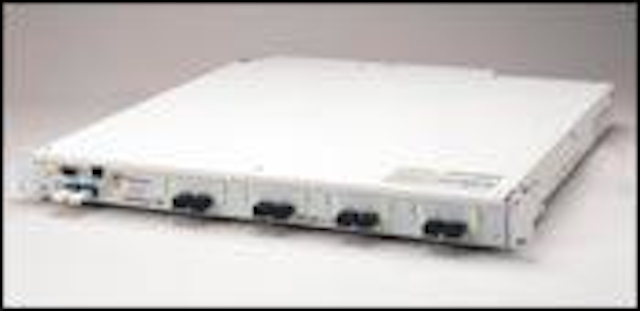 At 1 U high, Internet Photonics' LightStack MX is ideal for space-constrained central offices, points of presence, or multiple-services-operator hubs; 32 MXs can be stacked one on top of the other using the company's patented internal stacking mechanism.
Targeted at the incumbent local-exchange carriers (ILECs) and interexchange carriers (IXCs) in North America and PTTs elsewhere in the world, the LightStack product family provides carrier-grade optical Ethernet-which is "more than the way 'carrier-grade' is being bandied about today," contends Gary Southwell, vice president of solutions marketing. Five-nines availability is only the beginning; Internet Photonics designed its platform to fit within an incumbent's existing operational model, which includes providing such SONET-like attributes as operations, administration, maintenance, and provisioning (OAM&P), monitoring, troubleshooting, and restoration; deterministic delivery without traffic engineering; and secure end-user traffic.
"What we've really done is made it so simple that you don't have to apply extensive QoS [quality-of-service] techniques to offer deterministic delivery," explains Southwell. "All we are really doing is multiplexing Ethernet onto wavelengths of light. But when you do that, you end up with not only a good QoS for all traffic going through there, but you also end up with a very secure network."
A key application of the LightStack product suite is the ability to deploy optical Ethernet alongside SONET over the same infrastructure, though the platform can also be used to provide Gigabit Ethernet (GbE) private-line services, networked storage and disaster recovery, managed services for multitenant units/campuses, and service-provider access.
The LightStack family also supports integrated multiple-services-operator offerings, including video-on-demand, interactive television, and high-speed Internet access, via DWDM optical networks. "We didn't set out initially to solve this problem," admits Southwell, "but we realized we had a really good fit with this when the cable providers actually found us."
The product family
Integrating transport and optical-networking functionality, the LightStack MX platform connects services to the optical transport network by multiplexing eight GbE client interfaces and combining them into a 10-Gbit/sec DWDM optical interface. Scalable up to 256 GbE clients or 32 wavelengths, the LightStack MX enables carriers to add new services to existing fiber between central offices or points of presence.
Used in conjunction with the LightStack MX, the Lighthandler Passive Combiner (PC) is a scalable, passive optical DWDM management platform that uses the company's proprietary SONET Wraparound technology to free up to 320 Gbits of stranded capacity in the network. SONET Wraparound allows existing SONET/SDH traffic to pass through the Lighthandler PC add/drop multiplexer transparently on the 1310-nm wavelength, leaving the 1550-nm channels open for optical Ethernet traffic. This feature enables service providers to nondisruptively add services to fiber already in use.
"This was really important when we started talking to the ILECs and the regional Bell operating companies," says Southwell, "because now they can actually go into their existing in-region networks and offer these Ethernet services at the transport level or layer. One of the interesting things that they like about it is now they can offer that in extension to their old tariffs, and they don't have to open their network to competition."
The LightStack MX can also be used with the company's patented Lighthandler OA, an integrated, bidirectional erbium-doped fiber amplifier that features automatic power control and optional per-channel equalization. The LightStack MXA, meanwhile, functions as a carrier-owned managed demarcation point for Ethernet service delivery between the carrier network and the customer, combining the functionality of the LightStack MX and the Lighthandler PC in one device.
The addressable market
Internet Photonics claims that its LightStack family will compete with metro DWDM in the wavelength services market and with the new Layer 2 switched devices (from the likes of incumbents like Cisco Systems and Nortel Networks and startups like Atrica) in the Ethernet managed services market. The company also expects to steal market share from the next-generation SONET market.
"Adding capabilities to accommodate SONET or run next to it is very critical when targeting the ILECs and IXCs in the telecom space," surmises Beth Gage, executive vice president at TeleChoice (Tulsa, OK). "Both of those camps have very large SONET infrastructures, and those things aren't going away. If someone wants to be deployed in a network fairly quickly, they've got to be able to play nicely with SONET or support SONET or something to that effect so that it plugs into the carriers' network much easier."
Gage says the market for metro Ethernet and SONET services is still shaking out. The ILECs and IXCs "haven't really started to go to market in a big way yet," she reports, citing SBC Communications and its GigaMan solution as one exception. "Most of the largest players have really been trying to figure out what's the most cost-effective way for them to go to market and deliver Ethernet services, but there haven't been any clear answers yet in that market space. I think there is still plenty of room for new platforms, new startups to go in and make a business case."