Asia-Pacific region is a key market for the deployments of multitenant units
Jul 1st, 2002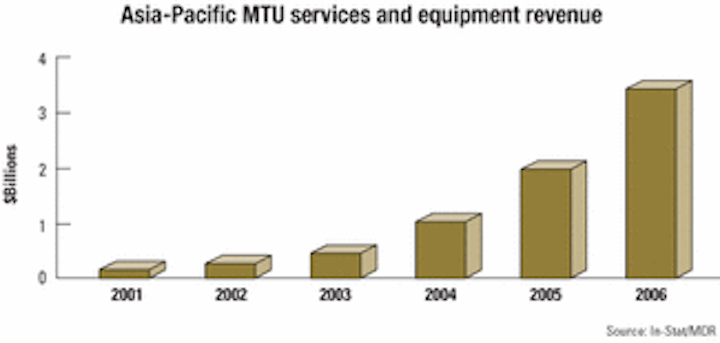 With its abundance of high-rise buildings, propensity for broadband adoption, and often-favorable regulatory environment, the Asia-Pacific (APAC) region represents "a particularly hospitable niche" for multitenant-unit (MTU) broadband de-ployments, details a new study from market researcher In-Stat/MDR (Scottsdale, AZ). Given the positive and negative forces currently acting on the APAC MTU environment, In-Stat/
MDR expects the market to experience moderate growth this year. But as the negative conditions begin to wane, the total market for equipment and services will escalate from $158.4 million in 2001 to $3.4 billion by 2006.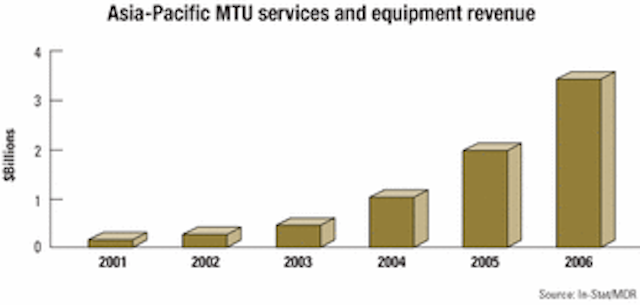 "While the concept of MTU began in the U.S., APAC has emerged as a principal arena for MTU deployments in all three MTU verticals (residential, office, and hospitality)," explains Amy Cravens, In-Stat/MDR analyst. "Even though the APAC region represents unique challenges compared to the U.S. and Europe, there also exist unique opportunities. For the advanced broadband countries, MTU represents a cost-effective method of delivering broadband to the concentration of potential subscribers housed in MTUs and a platform for the launch of high-margin layered services. For the less developed countries, MTU represents a potential method for early-stage deployment as larger numbers of potential subscribers can be captured for less capital expenditure."
For more information on Instat/ MDR's report, "Asia MTU," visit www.instat.com.