Vendors jump on China bandwagon
Oct 1st, 2002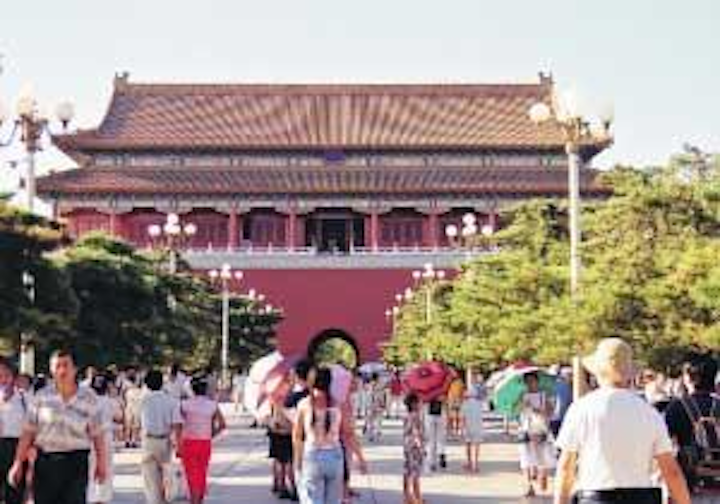 markets
With much of the rest of the world in a telecommunications recession, companies from the United States and Europe have seized on the buoyant market in China as a means of staying afloat. There they see the same market factors that sparked the optical bubble of 2000, plus a government commitment to optical technology that many vendors wish would be copied at home.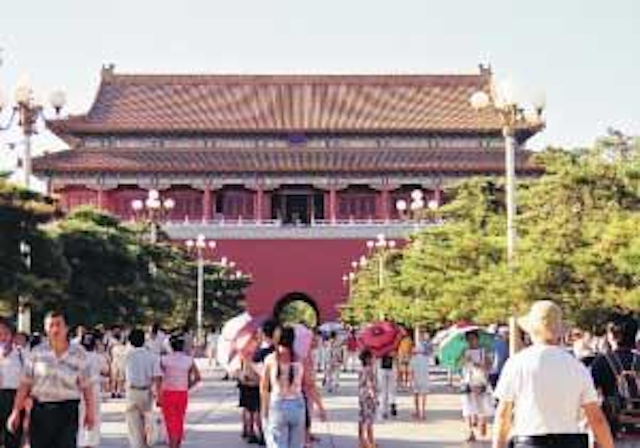 As a country in transition between old ways and new economics, China has recognized the value of a modern communications infrastructure--which Western companies are happy to help provide. (Photo by Kathleen Richards)
As was the case in the United States and Europe, a round of regulatory changes has created new carriers in the Peoples' Republic of China. The incumbent telecom monopoly, China Telecom, has been broken up into several pieces along both service and geographical lines. Each of the resultant carriers needs infrastructure, and foreign vendors ranging from Cisco Systems to Lucent Technologies to Alcatel to a host of startups are more than willing to help provide it.
"What we're witnessing over there is bigger than a 'boomlet.' I think it's a profound technological build-out that's going to continue for many years. There's very strong government commitment to it," says John Hamburger, marketing communications director at Luminous Networks (Cupertino, CA). Luminous is supplying transport equipment based on resilient-packet-ring (RPR) technology to China Netcom, one of the emerging carriers.
The commitment to service growth includes the entire country, according to Tom Hamilton, director of sales and systems engineering at Luminous. "Most of the population of China is on the eastern coast," he explains. "The government has stressed very strongly that they don't want to abandon the western parts of China."
The activity in China has created envy in some executives when they compare the resolve of China with the depressed state of their home markets. "A lot of the leaders in China are engineers, as opposed to lawyers," says Herbert Martin, CEO of Salira Optical Network Systems (Santa Clara, CA). "And they appear to have a good grasp of technology, and they appear to have a good grasp of the telecommunications infrastructure being really important to their growth. And they're not dealing with a lot of legacy situations like we deal with in the U.S. And the carriers don't have to contend with a regulatory environment that is an impediment to improving the infrastructure. So I believe that China will grow more rapidly and will improve their telecommunications infrastructure more rapidly than the U.S. And I think the U.S. government needs to get off its butt, actually, and address this issue."
Yet, while foreign companies agree that there are many opportunities in China, each has a different perspective on what carriers want. Naturally, these perspectives are shaped by what each vendor has to offer.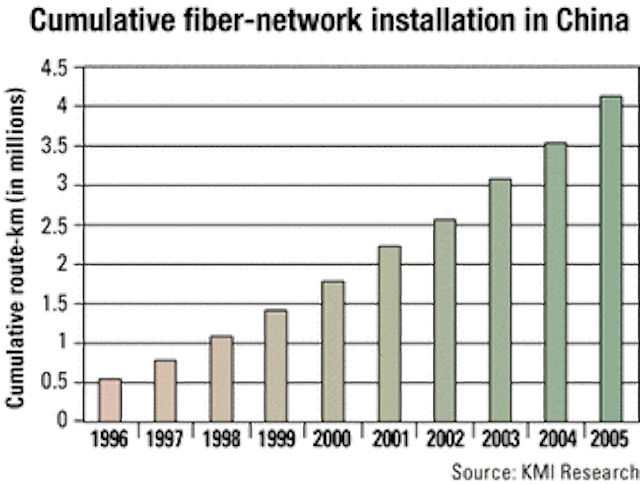 The expansion of China's optical infrastructure is expected to last several years, providing sustenance to companies starved for orders.
For example, Nortel Networks has enjoyed great success in China with traditional optical equipment such as DWDM equipment and optical switches. According to Larry Psant, marketing director for metro optical products in China for Nortel, the country's carriers remain interested in such traditional equipment as they complete their backbone build-outs and turn their attention to metro applications. He says that competition has lowered prices for such equipment dramatically, making them a good buy for carriers.
However, the Luminous spokesmen, whose RPR technology is comparatively young, say China's new telecom environment demands equally new optical approaches. "They want the latest technology. They want what's going to be carrying them into the future. They don't want to go out and buy stuff that's old," claims Hamilton. The fact that the company's products have received certification from the Ministry of Industry Information will be a big boost in its marketing efforts, he believes.
For Salira, the opportunities China offers extend beyond the country's borders. In creating Salira China in Shanghai, the company has not only set up an organization to market its Ethernet-based passive-optical-network (PON) equipment within China, but has also created a technology development center that will perform all board design, sustaining engineering, and interoperability testing for the company's global product line. Wei Gao, a founder of Salira, will serve as the new company's president.
At the heart of the company will be 15 engineers that Salira hired and brought to the United States for training, according to Martin. The use of resources in China will result in cost savings of four to five times compared to what is available in Silicon Valley, he says.
Of course, China's opportunities are not just for foreign firms. Local systems integrators and resellers have seen their businesses grow, as foreign companies look for partners to help them develop relationships with Chinese carriers. Salira China is looking for partners now, while Luminous has recently expanded its list of partners to include Asia Info, Eccom, and Prosten, as well as its initial partner, Photonic Bridges. When evaluating potential partners, Luminous looks at the strength of a company's relationship with carriers and its ability to provide technical support of the Luminous product line, says Hamilton. He reports that the company has found it advantageous to work with different resellers in different parts of the country.
Foreign firms have also gained a healthy respect for China's emerging systems developers. Huawei was cited by all the sources contacted here as the strongest local competitor with the broadest product line. However, Nortel's Psant cited Zhongxing Telecom Equipment (ZTE) Corp. and Wuhan Research Institute as growing companies.
The potential for China to develop its native technology companies is equal to its current market size, says Salira's Martin. "I'm seeing the same thing that I saw in Silicon Valley 25 years ago in China," he explains. "I see an energy and an enthusiasm there. And I often get on the plane to come back and I think, 'Watch out, U.S. This is a big, big country that can compete with us in the world market.'"