The total global optical transport market netted $28.2 billion in 2001, down from its $33-billion mark in 2000, claims new market research from RHK Inc. (San Francisco). Alcatel nabbed the largest market share in 2001, capturing 16%, followed by Lucent Technologies at 12% and Nortel Networks at 11%.
"Although the North American and undersea optical transport segments were hit hard this past year, we foresee growth of at least 15% in the Asia-Pacific and the Middle East and African regions," asserts Stéphane Téral, director of European and global optical transport at RHK. "Globally, it will be the incumbent PTTs and Bell companies that continue to dominate spending through 2002."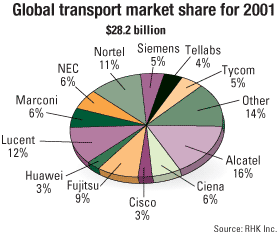 Despite a decline in undersea-system sales, the worldwide exposure of its terrestrial Optinex products and broad customer base helped Alcatel capture the largest market share in 2001. Nortel held the number one position in 2000, but declining sales pushed the company into third position last year. Lucent's second-place ranking was propelled by the introduction of its LambdaRouter and the strong deployment of Bandwidth Manager.
"The market with the strongest growth remains China," contends Téral. "Here, we see the local vendors going from strength to strength: Huawei has emerged as the country's strongest maker."
For more information on RHK's "Optical Networks: Global Program," visit www.rhk.com.