Incumbents face regulatory, economic pressures
Feb 1st, 2002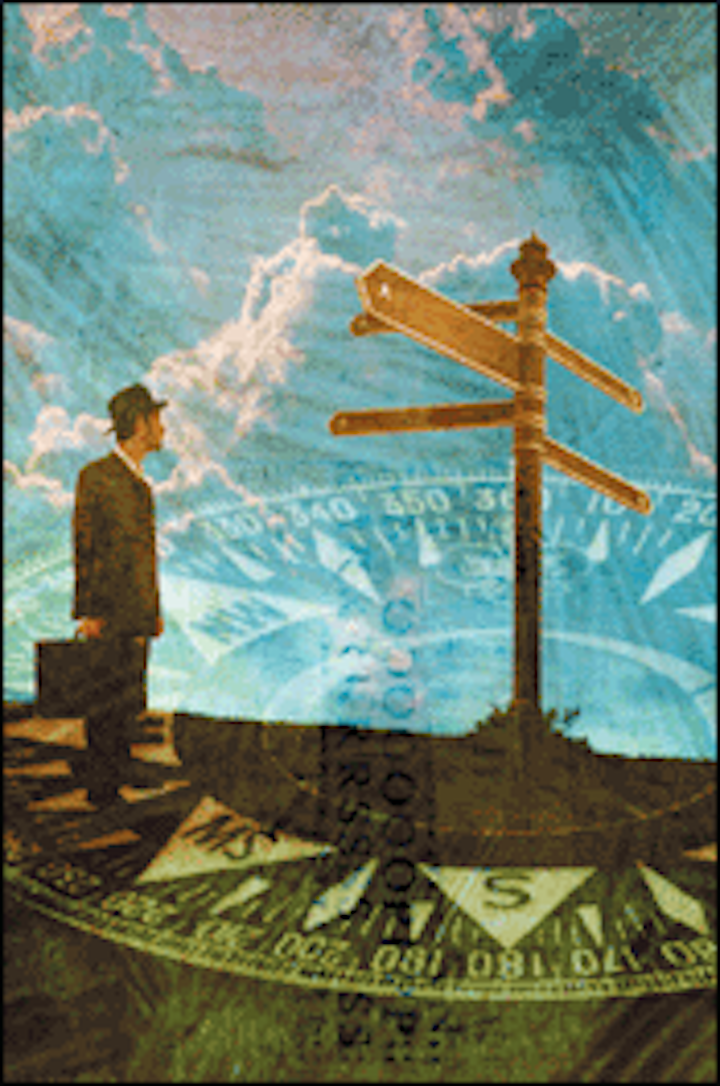 NEW LOCAL-EXCHANGE LANDSCAPE
As network expansion slows, lower-cost-per-bit technologies like Gigabit Ethernet emerge as the new service drivers.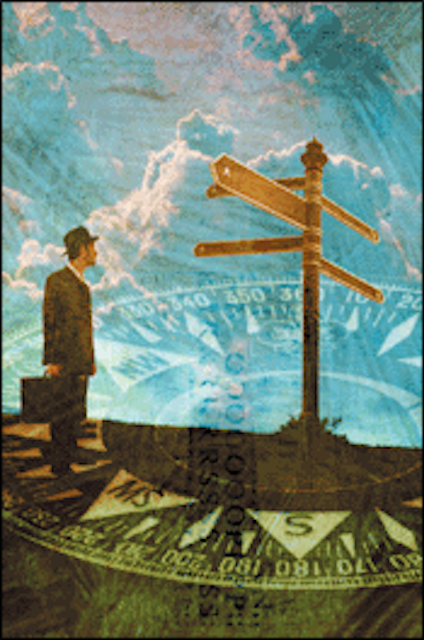 By WINN HARDIN

Competitive local-exchange carriers (CLECs) were hit hard by the U.S. economic downturn, prompting some analysts to question whether incumbent local-exchange carriers (ILECs) might be next-further weakening the besieged optical transport equipment market by inhibiting growth in its strongest remaining segment: MANs.

Those analysts appear to be right. North American optical transport equipment sales numbers do reflect a slowdown in MAN build-outs. Qwest Communications International, which owns and operates the RBOC formerly known as US West, halted all construction on its nationwide fiber-optic network in November. Other ILECs such as Verizon and BellSouth report plans for 15-20% less in capital expenditures this year, compared to 2001.

Nevertheless, analysts expect demand for new local-exchange services from residential and business customers to help bolster the surviving CLECs and ILECs. Lower cost-per-bit technologies such as Gigabit Ethernet (GbE) and soon 10-GbE may reenergize MAN expansion, fueling strong, though modest, annual growth among participants with the financial wherewithal to weather the current economic downturn.
The U.S. government has sought to increase competition at the local exchange through regulation. Congress and the Federal Communications Commission are still debating legislation on whether ILECs must continue to unbundle their broadband networks for competitors' use.
Sweeping regulatory changes such as the 1996 Telecommunications Act, which strives to promote competition by defining business relationships among ILECs and CLECs, has less impact on competition than carriers' technology choices, asserts Lawrence Vanston, president of market researcher Technology Futures Inc. (Austin, TX).
"Competition in the local exchange tends to come through technology and additional services," says Vanston. "What the local exchange needs is upgraded, higher-capacity facilities, and dividing the ILECs will not achieve that aim. Take voice competition: No one is going to build a parallel copper network, and using ILECs' facilities is low-margin at best. Wireless and, later, IP voice on broadband are the competitive forces for voice. Competition doesn't [happen] the way Congress intended. The big race now is in the loop. Getting DSL and cable modems out to the residential and small businesses will drive the local exchange more than large business demand."
Between now and 2005, Vanston expects fiber to creep into the distribution network for residential customers, with significant development completed by 2010, although he admits it could take longer. "The data rate at which we as users expect to access the Internet will continue to increase exponentially. It won't stop with DSL and cable modems...deep fiber becomes the only answer."
While the residential appetite for bandwidth is strong, bandwidth demands from businesses are expanding into new areas that will change the way carriers design local-exchange networks. "Today's business services are more complicated than just voice, data, and the Internet," explains Jay Pultz, vice president and research director for networking at international technology consultant Gartner Inc. (Stamford, CT). "There's a lot of activity in data. Content distribution, video streaming, and applications like that are becoming the new drivers. Enterprises are also subscribing to services such as those offered by storage service providers, rather than buying the equipment themselves."
As new technologies such as GbE and 10-GbE bring the transmission cost per bit even lower, enterprises will outsource more services and applications. "Today, an enterprise can look at the metro area and say, 'It's as easy and almost as low cost to access a shared data center than to own the data center,'" says Pultz.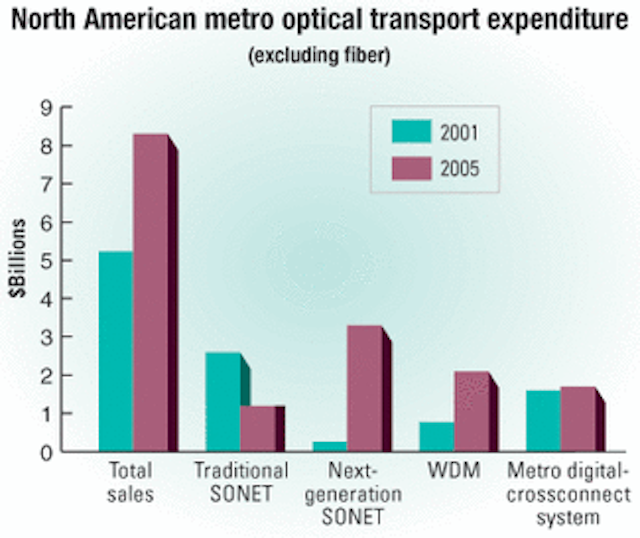 In 2003, optical core switching begins serious deployment, eating away at digital core switching market share.
The cost of using the services of an application service provider (ASP) or the outsourced SAN over SONET, however, remains several times higher per megabyte than the cost of purchasing the hardware with amortization over a several-year period. This scenario does not include the costs associated with maintenance or the recruiting and training of IT personnel. As GbE pushes the LAN toward the metro core, ASP services will become far more attractive on a cost basis.
CLECs such as Yipes (San Francisco) or Telseon (Englewood, CO) that focus on LAN-to-LAN or LAN-to-Internet services will benefit the most from the emergence of GbE in the short term. These companies lease dark fiber from providers such as Metromedia Fiber Network (White Plains, NY) and use high-speed Layer 2 or 3 switches with GbE connectivity to target large business customers. Their capital costs are about 70% lower than those of traditional SONET network providers offering data services.
GbE data delivery also enables quicker provisioning. "If a company needs another 100 Mbits/sec of bandwidth, it is a matter of a phone call and a couple of hours. For SONET, it's an infrastructure upgrade," says Pultz. GbE services, which represent less than a percentage of today's MAN market, will account for 30% of the high-speed metro data market by 2005, according to Gartner Group research. "It's not just going to be new carriers," reports Pultz, "we expect the incumbents to respond-Verizon, Bell South-all of the ILECs in the states have announced Gigabit Ethernet services or services that support Ethernet interfaces."
In addition to SAN or ASP applications, extended LAN connectivity, virtual private networks (VPNs), and low-cost dedicated Internet access lines are also driving GbE deployment. According to a survey released last October from international market researcher Frost & Sullivan (Mountain View, CA), of the respondents not using a VPN, 35% of large European corporations participating in the survey indicate that it's likely their company will implement an IP VPN during the next 12 months, while 85% of survey respondents indicate their company was "likely" or "extremely likely" to implement an IP VPN in two or more years. "This demonstrates that no one can ignore this technology," says Paul Devine, an analyst for Frost & Sullivan's Telecommunications Group. A majority of respondents also viewed incumbents as viable providers of VPNs.
CLECs are often quicker to respond to market needs, but the well-financed ILECs still drive the industry. As such, equipment vendors targeting the local exchange must consider the roadmap for existing SONET platforms while providing for additional technology schemes. Traditional SONET is expected to account for $2.6 billion of North American metro optical transport expenditures, excluding fiber, in 2001, according to market researcher RHK Inc. (San Francisco).
Multiservice platforms or optical edge devices that include some concatenated SONET, GbE, and/or WDM, or development paths to include any or all of these platforms are among the most attractive equipment destined for the MAN, according to Ron Kline, senior analyst of RHK's North American optical transport. Optical edge devices with multiservice capabilities and data awareness include Cisco's ONS 15454 (previously Cerent) and Redback's SmartEdge 800 system, which offers ports for 10-Mbit/sec, 100-Mbit/sec, and GbE, as well as OC-3 (155 Mbits/sec) through OC-48 (2.5 Gbits/sec). Some optical edge devices have data awareness with Layer 2 or 3 routing; others offer just Layer 1/0 aggregation and transport. Some systems provide bandwidth management, while others offer only transport functionality. Systems such as Ciena's MetroDirector K2, Coriolis's OptiFlow 3500/5500, and Astral Point's ON 5000/7000 offer WDM capability as well. "It's a mix and match of different things in the metro space," says Kline.
Metro WDM, which includes coarse WDM, is experiencing moderate growth, largely due to GbE and SAN expansion, because neither service fits well on traditional SONET networks, which tend to offer packet over SONET rather than an extended Ethernet. While it is early to gather sales numbers for GbE ports, some vendors Kline speaks with say it represents as high as 50% of the ports they're shipping. On the carrier side, "virtually, every service provider is working on a strategy to bring out GbE services," reports Kline.
---
Winn Hardin is a freelance technical writer based in Neptune Beach, FL.