Latin American deployments on the rise
May 1st, 2002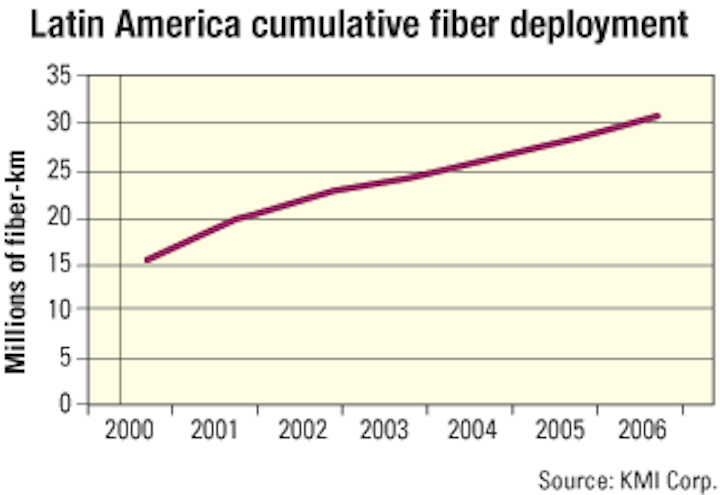 Demand for bandwidth in Latin America is growing and will continue to grow, despite economic gyrations, details a new report from KMI Corp. (Providence). The region is now "emerging from a period of pulling itself up by its telecom bootstraps," says the research firm.
The installed base of singlemode fiber in Latin America is expected to jump from 15.7 million fiber-km in 2000 to 30.6 million fiber-km in 2006. Cumulative fiber deployment in the region should grow at a compound annual rate of 12%.
Over the last five years, the major markets in Latin America have been opened to competition, resulting in teledensity and government-imposed level-of-service requirements. What was once a mishmash of individual country initiatives is now a cohesive, region-wide infrastructure, says the report.
The market is still filled with opportunity-with the long-haul (LH) build-out nearing completion in the region, the metro rollout is now underway. LH fiber deployments will continue to account for the greatest market share throughout the forecast period but will decline in absolute and relative terms, as carriers shift their attention to metro markets. The metro fiber market will experience a 17% CAGR through the forecast period, while new LH fiber installation will grow just 10% per year.
For more information on KMI's report, "Fiber Deployment in Latin America, 2000-2006: From Build-out to Bandwidth," call 401-243-8100 or visit www.kmicorp.com.