China Mobile chooses France Telecom for first interconnection deal
May 1st, 2002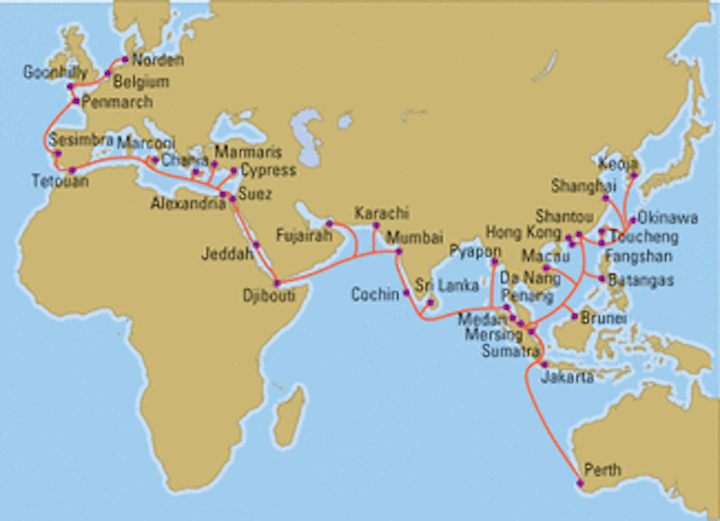 networks
By EDWARD HARROFF
The 3GSM Congress in Cannes in February saw a shift to a "lets get down to business" attitude from operators, which was best exemplified by France Telecom's "groundbreaking" voice interconnection agreement. China Mobile Communications, one of the world's largest operators, chose France Telecom's long-haul DWDM network to transport traffic between China and Europe.
Since deregulation in 2001, this transaction is the first wholesale voice deal cut by China Mobile. The importance of the agreement with China's leading GSM mobile operator is the size of its subscriber base, which is currently at 100 million.
The China-Europe routes are being opened by the carriers' technical teams and were expected to be fully operational by press time. France Telecom's wholesale network service, called Open Transit, will transport the China Mobile voice traffic from its point-of-presence (PoP) in Hong Kong across the world's third densest voice network. For non-Chinese service providers like France Telecom, which are prohibited from investing in Chinese fixed-line operators until 2005, this agreement is an immediate opportunity to grow their international termination businesses for wholesale and multinational corporate customers.
In the initial phase, China Mobile voice traffic will transit via the Sea-Me-We 3 undersea DWDM network. Sea-Me-We 3 has 40 landing points in 34 countries and four continents from Western Europe (including Germany, England, and France) to the Far East (including China, Japan, and Singapore) and Australia. Sea-Me-We 3 is the longest DWDM system in the world, with a total length of 40,000-route-km connectivity between the various landing points (see Figure).
The DWDM backbone network is equipped with two fiber pairs currently operated at four times 2.5 Gbits/sec and have been recently upgraded to eight times 2.5 Gbits/sec. Special attention was given to the Sea-Me-We 3 system installation to enhance system reliability and availability. In particular, the cable is buried 1,500 m in many areas.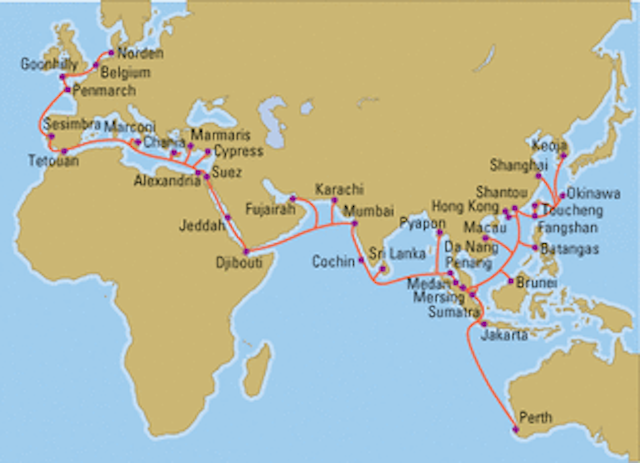 The Sea-Me-We 3 undersea fiber-optic cable network connects Europe with Asia and has recently doubled its capacity. (Source: France Telecom)
In Europe, France Telecom's European Backbone Network (EBN) connects 37 full-service PoPs that give the network access from more than 250 European cities. In North America, France Telecom planned to complete its backbone network in March 2002 with 15 major cities connected.
Lu Xiangdong, vice president of China Mobile, notes, "We're very pleased to announce this interconnection agreement with France Telecom. It means a substantial reduction in our international transit costs and a reliable alternative transmission route. We are most enthusiastic about this cooperative venture."
France Telecom views this major deal as an opportunity to transport voice traffic between China and Europe and promises substantial IP traffic growth as China Mobile starts deployment of next-generation mobile services (e.g., GPRS). "Our interconnection agreement calls for a potential for international hubbing at a later stage," adds Patrice Girard-Donnat, vice president of voice mobile at France Telecom.
Vast potential
After years of raising barriers to the outside world, China has become one of the most talked about markets in telecommunications circles. The country's accession to the World Trade Organization (WTO) last December has become a good news story among the gloom, representing an investment opportunity-potentially a substantial one-for communications equipment suppliers and service providers in the United States, Europe, and Asia.
According to Pyramid Research, China will become one of the top three telecom markets in the next five years, along with the United States and Japan. Pyramid's analysis reported that China is already the largest mobile market in the world and by 2006 will far outstrip other nations with almost 500 million mobile subscribers. It will become the second-largest Internet market in 2003, and it will be the third-largest broadband market in 2006.
The development of mobile Internet in China is more ambiguous than in North America, Europe, and other parts of Asia because of several factors, including government pressure, the current duopoly in the sector, a less mature wireless network, and low Internet penetration rates. However, aggressive operators such as China Mobile are realizing that by virtue of rapidly expanding econo mies, a massive population base, and economic justifications, it can be profitable to launch data services sooner rather than later. The Philippines, for example, is the world's number one SMS market because sending a short message is much cheaper than calling direct.
China Mobile may prove to be the next wireless winner in Asia with France Telecom to transport voice traffic and more.