Fiber-to-the-home/-curb markets to ramp up in 2005
Jan 1st, 2002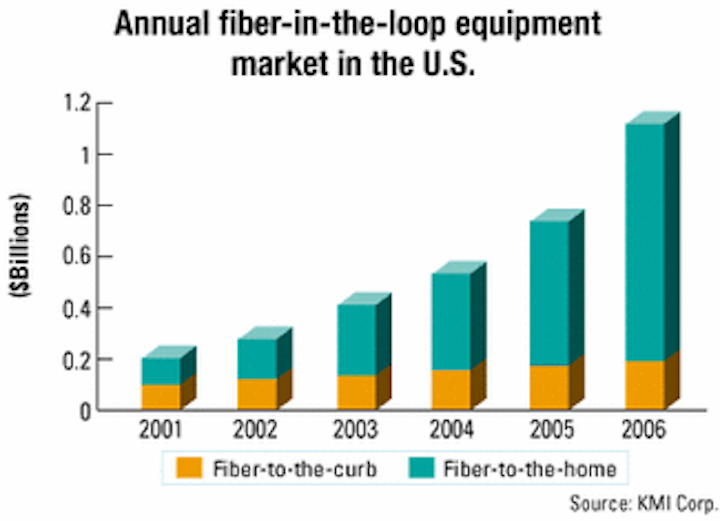 Fiber-to-the-home (FTTH) systems deployments in the United States are expected to reach 2.65 million homes by 2006, while fiber-to-the-curb (FTTC) systems will reach an additional 1.9 million, claims a new report from market-research firm KMI Corp. (Providence). Annual deployment of FTTH will see a 63 CAGR, jumping from 66,000 homes this year to 1.5 million homes by 2006. FTTC will experience a more modest 15% CAGR, improving from 130,000 homes in 2001 to 260,000 homes by 2006.
The FTTH market is expected to ramp up starting in 2005, with significant growth expected in 2006 as market demands and cost factors drive most or all RBOCs to begin FTTH deployments in new housing developments and network rebuilds. According to the report, that will drive the market from 66,000 new homes served in 2001 to 1.15 million new homes served in 2006. As a result, the FTTH equipment market is projected to jump from $100 million in 2001 to more than $900 million in 2006.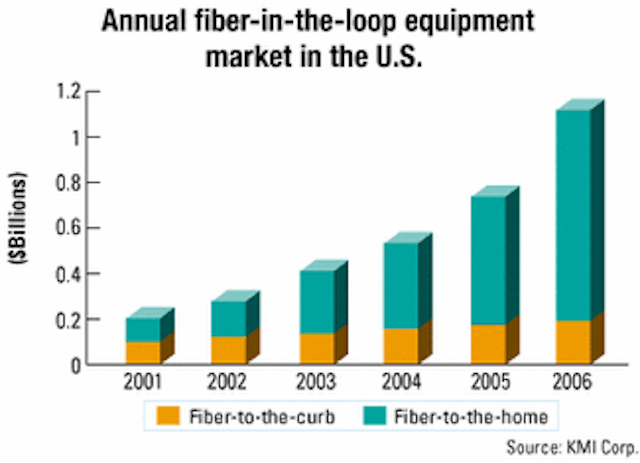 Meanwhile, FTTC is expected to grow from 130,000 new homes serviced in 2001 to 260,000 new homes served in 2006, due to continued deployment by the one RBOC currently deploying it and slowly growing deployments by other carriers. While the FTTC market will increase from $110 million this year to almost $200 million by 2006, the relatively slower growth can be attributed to the cannibalization of the FTTH market as the cost difference between FTTC and FTTH narrows.
For more information or a copy of the report, entitled "Residential Broadband Access in the United States: Fiber-to-the-Curb and Fiber-to-the-Home," contact KMI at 401-243-8100 or visit the company's Website at www.kmicorp.com.