Installation costs inhibit deployments of passive optical networks
Aug 1st, 2002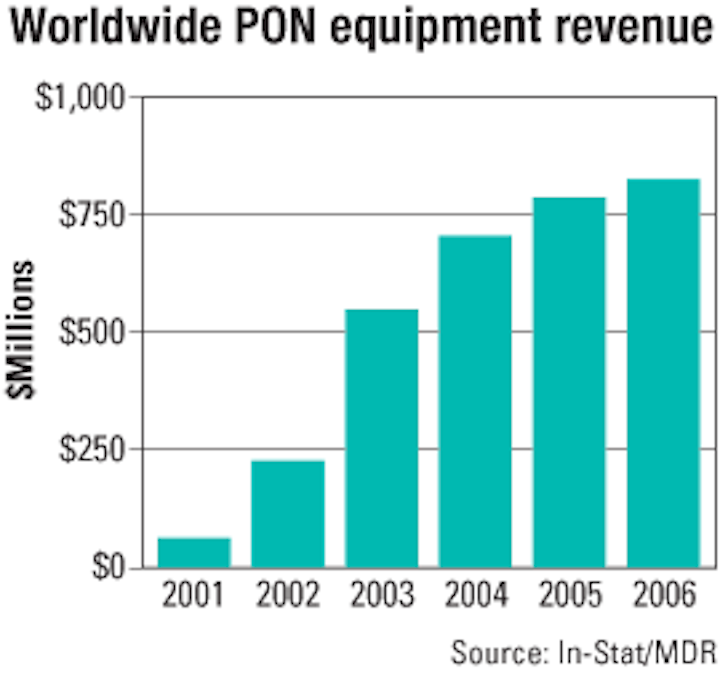 Passive optical networks (PONs) that bring high-speed broadband access via fiber to neighborhoods, curbs, and homes will prove to be important in reaching new customers with broadband services, contends a new report from high-tech market researcher Instat/MDR (Scottsdale, AZ). Total PON revenue is expected to grow from $67.1 million in 2001 to $833 million by 2006, a compound annual growth rate of 65.5%.
Although the cost of passive-optical-networking equipment is substantially less than alternative architectures, the cost of laying fiber remains prohibitively high in certain established areas. "Because PONs are used predominantly in delivering broadband access to the last mile, the future success of this market relies very heavily on the willingness of potential customers to buy telecommunications and data communications services at prices that are attractive to service providers," explains Norm Bogen, director at Instat/MDR. "Carriers must carefully consider costs of installation, as there are lots of different factors that can determine what those will be."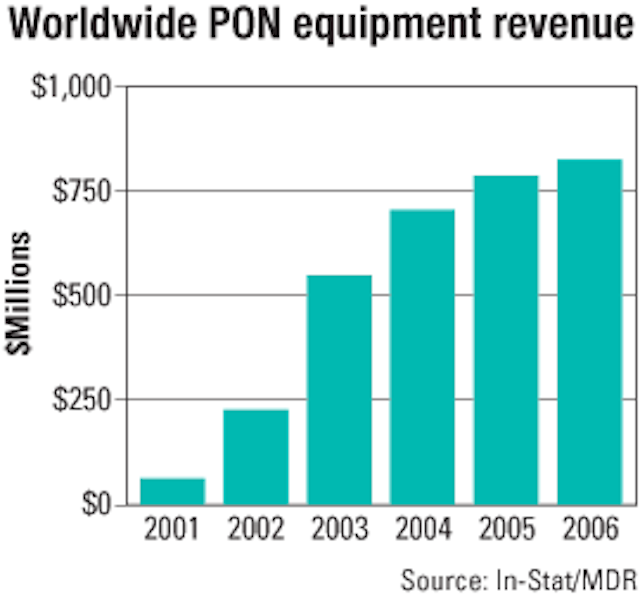 According to the report, geography counts heavily. The construction costs of installing 10-20 km of fiber can dominate the cost of optical and electrical equipment that constitute the PON itself. In extreme cases, say Instat analysts, fiber and installation can account for as much as 90% of the total installation cost.
As of 2001, a small percentage of U.S. residences had fiber pulled all the way to the home, but by 2006, 50-60% of that year's greenfield developments will have fiber pulled to the home. However, says the report, "the total number of 'fibered' dwelling units in the U.S. will be about one year's worth of housing starts, or 1.6-1.8 million dwelling units, out of a total number (in 2006) of 115-117 million dwelling units." Small towns may be the early adopters of fiber-to-the-home.
For more details on the report, "Passive Optical Networks: Connections at the Edge of the Network," call 480-609-4551 or visit www.instat.com.