IP SANs key to widespread networked storage
Aug 1st, 2002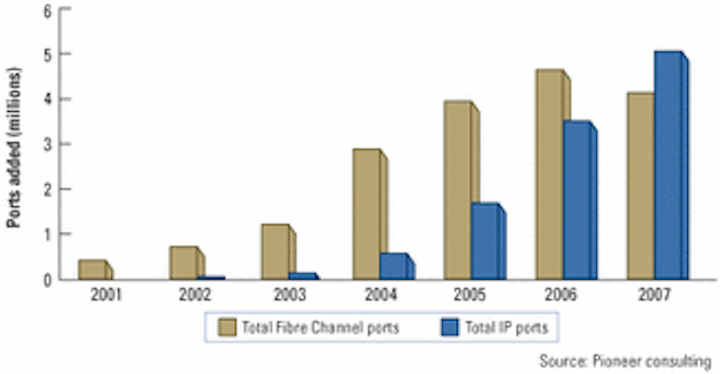 IP promises to dominate the SAN market, but Fibre Channel won't roll over easily.
BY JASON MARCHECK
Data represents the life-blood of many businesses today. Correspondingly, as businesses compete for relative advantage, data storage has assumed a role of paramount importance in the day-to-day activities of companies worldwide. Against this background, SANs have emerged.
SANs are a data communications platform that connects servers and mass storage capacity over high-capacity transport facilities to eliminate the bandwidth bottlenecks and scalability limitations imposed by previous data storage architectures. SANs serve to cost-effectively manage spiraling data storage costs and simplify complex storage systems. As such, SANs are attracting much interest from businesses and offer equipment vendors and service providers significant market opportunities across the globe.
However, this opportunity will not come without increased innovation on the part of both equipment vendors and service providers. Today, most SANs are used by very large enterprises with sizable and complex data storage requirements. Tomorrow, the possibilities might expand to include small to medium-sized business (SMBs) that today view SANs as too expensive. It is the expected growth within this latter demographic segment that will qualify SAN adoption as truly "mainstream."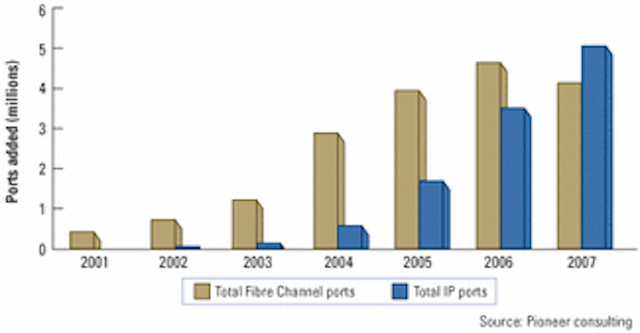 IP ports should gain more than 50% market share by 2007, but that may not be soon enough for some of today's startups.
The companies using SANs today largely employ Fibre Channel (FC) technology to run their network. Although FC has proven to be very reliable, it can be prohibitively expensive and complex for businesses that do not have large IT budgets. For SAN adoption to gain favor among the ranks of SMBs, IP technology will have to provide the simple and cost-effective architecture that, up until this point, FC technology has failed to enable.
Recently, equipment vendors such as Cisco Systems, Q-Logic, and Pirus have been especially active in promoting IP-enabled SAN equipment aimed at SMBs. Notably, Cisco's announcement of its SN 5428 Storage Router was a significant indicator that the industry's "big guns" believe in the future of IP SAN technology.
IP's value
IP technology boasts two main value propositions compared to traditional FC architectures. The first benefit is reduced initial capital expense in acquiring SAN equipment. For starters, IP SAN switches can be roughly 40% cheaper than comparable FC products. And because many company LANs are already based on IP, the cost of host bus adapters-needed for FC storage equipment to interface with IP-based LAN equipment-are eliminated.
The second, and maybe most appealing, benefit of IP SANs is that many IT professionals have experience managing IP networks. The same cannot be said of FC products. Therefore, to manage an FC SAN, it is often necessary to hire or outsource experienced personnel. Because these costs are recurring, any reduction in this area is a gift that in a sense keeps on giving.
IP's future
With their relative ease of management and lower costs, IP SANs have a bright future in networked storage. But as many companies transmitting business-critical data will tell, cost is not always everything. The reason FC has become so popular in the world of data storage is its high degree of reliability. At this point, the same cannot be said for IP-based products. Quality of service issues that have plagued IP voice in the past continue to be an issue for companies that rely heavily on data availability. In an area where minutes of downtime can cost millions of dollars and data integrity is of critical importance, many companies are not willing to take a leap of faith on untested products.
It is likely that the SMB market will serve as a proving ground for IP technology. Once large companies are convinced by real-life examples that IP is stable enough to support storage and backup functions, they will become more willing to entrust their most prized possession to an IP SAN.
On the managed SAN front, the only SAN services currently being offered are FC-based. As IP opens the door to a new realm of customers, it is likely that service providers will migrate to IP to make service offerings appealing to smaller-enterprise customers.
Timing issue
As with all disruptive technologies that show promise, the question of timing is an important issue. Will the technology gain enough traction to take off or will market forces conspire to cause the promise of IP to wilt on the vine?
The Figure shows Pioneer Consulting's view of how IP ports will stack up against FC ports on a worldwide basis for the next five years. In Pioneer's view, IP will eventually come to dominate the SAN market. That said, it is also obvious that it will take time-unfortunately, more time than some of the startups pushing this product have. FC will continue to dominate the market in the short run, with IP not gaining any significant traction until 2004. But in this game, perseverance will be rewarded, and by 2007, it is expected that IP ports will begin to outpace the number of Fibre Channel ports installed.
---
Jason Marcheck is a senior market analyst for Pioneer Consulting (Boston) covering the optical-networking industry. He is the author of the company's reports "New Optical Core: Photonic Switching and Next-Generation Optical Transport in Long-Haul Core Networks" and "Global Wavelength Services: Optical Signaling Development, Business Case Justification and New Revenue Opportunities."