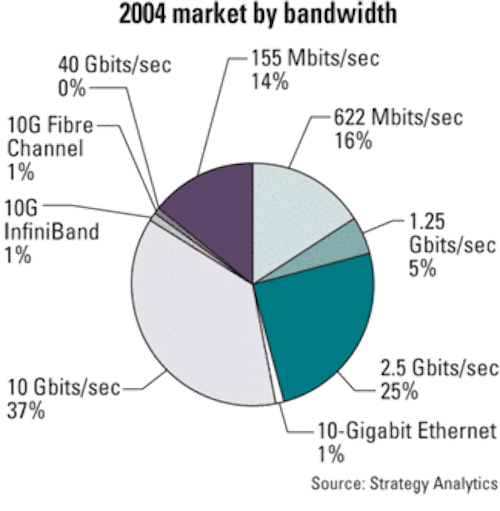 The market for high-speed fiber-optic ICs will grow by 27% this year, from $280 million last year, according to a report released by Strategy Analytics' (Boston) Gallium Arsenide & Compound Semiconductor Service. Overall, the report sees the market growing at a CAGR of 24% through 2009. The report says that since much of the upgrades will be for backbone infrastructure, GaAs IC vendors will be at the heart of this development.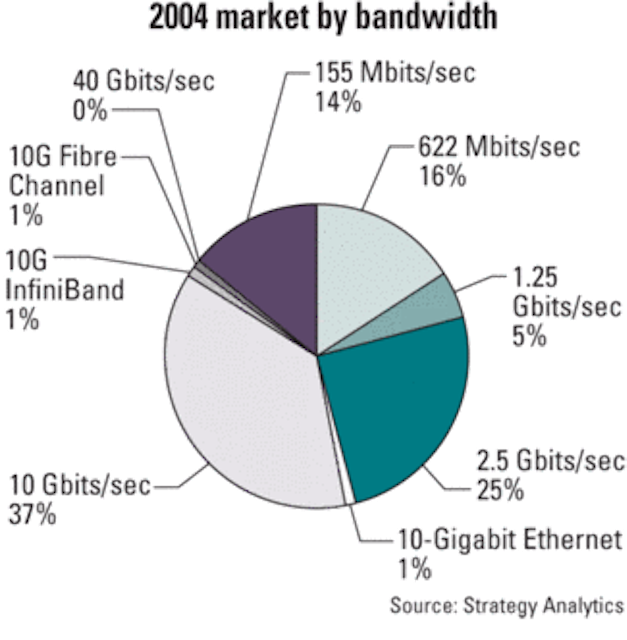 The report sees service providers, after a considerable period of stagnation, once again purchasing optical capacity to meet their growing traffic needs. OC-48 and OC-192 links will be at the center of the renewed growth, with the deployment of high-capacity routers also serving to stimulate OC-768 purchases. While GaAs transimpedance and post amplifiers will see increased competition from alternatives (mainly SiGe technology), crucial laser-driver functionality will, at higher speeds, remain largely the domain of GaAs.
Despite its positive outlook, the research firm warns that industry consolidation will be required to counteract the effects of oversupply and intense pricing competition. "The market for fiber-optic devices is there and it is growing," says Asif Anwar, director of Strategy Analytics' GaAs & Compound Semiconductor Technologies Service. "However, the IC industry is in a structurally poor state. For profitability to return, what's needed is not only growing demand, but some consolidation and stability among IC suppliers."
For more information on the report, "Fiber-optic Analog IC Market and Technology Dynamics," visit www.strategyanalytics.com.