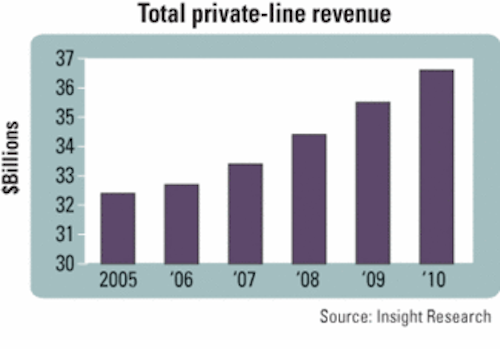 The market for private-line services (i.e., point-to-point circuits leased by enterprises from telecom carriers to link enterprise sites to each other and the Internet) is expected to continue its contraction through the remainder of this year. However, firming prices will take hold next year, signaling the start of a recovery in this $35-billion telecom segment, says a market analysis report from Insight Research (Boonton, NJ).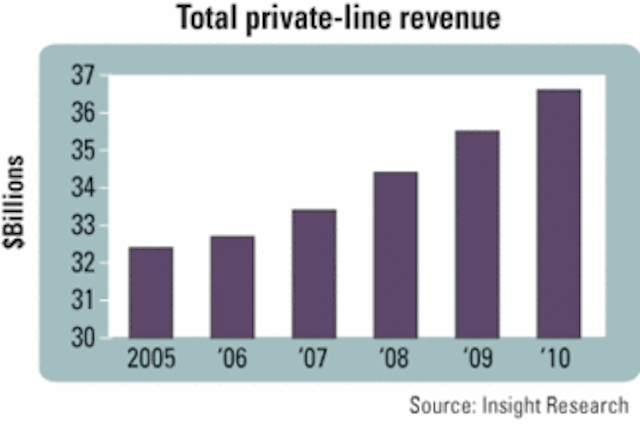 "Believe it or not, this is a dynamic market," says Insight president Robert Rosenberg. "We believe that the traditional private-line market will eventually be cannibalized by newer technologies such as IP services and Gigabit Ethernet services, but right now it is a huge profit center for the carriers."
The study sees price compression and competition as factors that precipitated private-line revenue losses beginning in 2003. But according to the report, recent events such as industry consolidations and the Triennial Remand Order issued by the FCC last February are reshaping the private-line business and will drive the expected recovery. The study reports that from 2005 to 2010 the overall private-line market will grow at a 2.5% CAGR, reaching $36.5 billion in revenue by 2010.
"How quickly the market morphs will be dependent in large part on how quickly the carriers reinvest the profit from their traditional private-line services into other technologies," reasons Rosenberg. "The fun part will be watching how the newly consolidated SBC/AT&T and Verizon/MCI tackle the end user's need for end-to-end data services, in light of these new technology options."
For more information on the report, "Private Line and Wavelength Services 2005-2010," visit the firm's website, www.insight-corp.com.