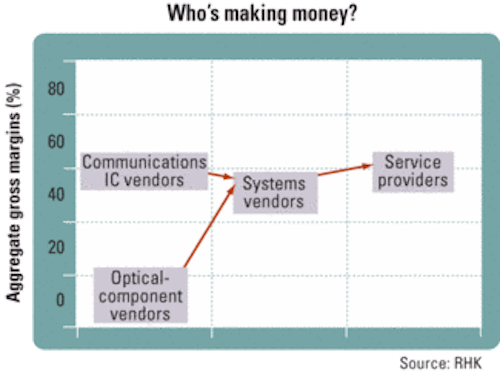 The annual Lightwave/Optical Society of America (OSA) Executive Forum, held in conjunction with the recent OFC/NFOEC conference in Anaheim, CA, was officially dubbed "Driving Fiber to the User," but the more interesting-and pressing-topic seemed to be "Who's Making Money in the Components Space and How?" Throughout the three-day conference, component vendors agreed they are being squeezed but disagreed about the best way to profitability.
In the Forum's keynote address, John Ryan, president, founder, and chief analyst at RHK (San Francisco) attempted to answer the question on everyone's mind: Who is making money and how are they doing it? According to RHK research, service providers saw aggregate revenues of $800 billion last year, with gross margins slightly under 60%. System vendors recorded gross margins of 50% worldwide, with most of their revenue coming from LAN equipment. The communications semiconductor or IC vendors registered gross margins of slightly under 60%, though the segment's healthiest company, QualComm, operates primarily in the wireless sector. By contrast, said Ryan, the optical-component vendors, the so-called problem children of the optical market, managed gross margins of just 18% last year, and there were few particularly healthy examples.
By contrast, said Ryan, the optical-component vendors, the so-called problem children of the optical-component vendors, the so-called problem children of the optical market, managed gross margins of just 18% last year, and there were few particularly healthy examples.
So what's the problem? First, said Ryan, volumes are modest compared to fabrication costs, and there has been no Moore's Law increase in functionality to drive value, as is the case in the digital silicon market. Second, while the overall optical market itself may have stabilized, the component segment has become increasingly fragmented. In 1999 and 2000, the top four vendors accounted for more than 65% of the total market. By 2004, the top four vendors accounted for less than 40%.
The largest optical-component vendors, including JDS Uniphase and Finisar, provide products for a broad range of communications applications that in sum provide anemic margins, reported Ryan. JDSU and Finisar posted gross margins of about 23% last year. The smaller vendors, meanwhile, attained more robust gross margins from niche markets, the most profitable being optical communications products, which saw gross margins of 43%, and Oplink, which registered gross margins of 34% last year.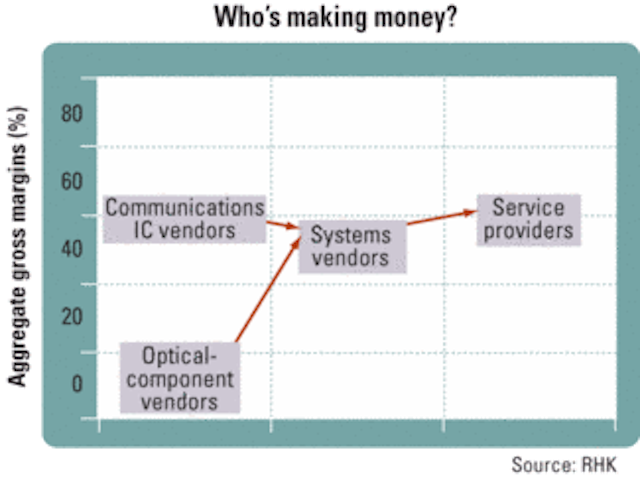 With the exception
of the component space, aggregate gross margins up and down the optical communications food chain have moved into a narrow band between 53% and 58%. Optical-component vendors, by contrast, recorded an aggregate gross margin of 18% last year.
Midsized vendors like Avanex and Bookham, by contrast, have seen "dreadful" margins, said Ryan, because they "suffer the pains of inadequate scale." There seem to be opportunities for the very large vendors and the very small vendors, but those stuck in the middle are struggling mightily.
The Executive Forum's annual "State of the Industry" panel revealed as much, as executives from Bookham, Opnext, Finisar, Avanex, and Intel lamented the steep price curves and fierce competition. "We're competing ourselves to death," said Bookham chief executive Giorgio Anania. Component manufacturers have not achieved economies of scale, and the consolidation that everyone has been expecting for some time now has not yet occurred, he explained, noting that prices are 30%-40% off where they should be. "There are too many players, hence low prices, hence no profitability," Anania stated.
The problem may not rest with the industry itself but in the ways in which component vendors approach the industry, countered Avanex president and CEO Jo Major. There is no clear path to a healthy sector, he said.
So how will those vendors on the panel attempt to regain their footing? According to Finisar chairman and CTO Frank Levinson, tapping into higher-volume markets for optical components would increase profitability. "We have to make sure 10-Gigabit Ethernet doesn't go copper," he said. "We have to come in convincingly, substantially below $30-$40. We need to win some of these things that copper has a shot at."
"Just existing isn't good enough," added Anania, who admitted that his company's current manufacturing model, in which Bookham is operating duplicate facilities as it moves manufacturing from Europe to Asia, isn't sustainable. Anania is banking on the wafer fabrication model to drive profitability once the manufacturing transition is completed and the European facilities are shut down. The company hopes a vertical integration strategy will enable it to develop closer and better relationships with customers. Such a model is "high risk," said Anania, "but where we have differentiated chips, we make good margins."
Major reported that Avanex has "enough cash" and is poised for a restructuring. Unlike his fellow panelists, Major was a bit more bullish on the future prospects of the industry. He pointed to the submarine market, which has been all but dormant over the past few years. "There's a billion-dollar announcement in the works," he said in reference to Alcatel's current activity in the submarine systems sector. "Zero to two billion in two years is growth. How big does the market have to be before someone gets excited again?" he mused.
The answer arrived in the form of the forum's Investors' Panel; when challenged to identify which technologies they found exciting, the venture capitalists were at a loss. They cited FTTX components as a potential growth area, simply because the RBOCs are now in a position where they have to act to compete with the cable multiple systems operators.
But the FTTX-component market is as overcrowded as the rest of the component space, and major consolidation does not appear imminent. There have been a few deals here and there, noted Broadview International vice president John Kunschner, but by and large the mergers and acquisitions space has not been as active as in the past.
Bob Flanagan, managing director of SG Cowen & Co., noted that a couple of vendors should be able to compete at each level. It's going to come down to breadth versus focus. Component vendors that can carve out differentiated product sets will prevail, and adopting a strategy that focuses on core competency will be critical. Opnext, for example, has found success in one sub-segment of the industry: active components. This is a model that likely will be emulated, said Flanagan.
---
Worldwide demand for fiber held steady for the second year in a row, with total fiber deployments of about 55 million km in 2004, revealed Corning (Corning, NY) representatives at the company's annual overview of the optical-fiber industry during the recent OFC/NFOEC conference in Anaheim, CA. Corning expects a similar scenario to unfold this year, with modest growth coming from metro and access deployments.
North America led the market with 30% of the total worldwide demand last year, up 30% from its demand in 2003, reported Corning Optical Fiber vice president and general manager Eric S. Musser. The RBOCs' FTTX initiatives accounted for much of this increase.
China experienced stable year-over-year demand, accounting for 25% of the total market last year. With the bulk of its long-haul projects completed, China is focused on building-out its intra-provincial, metro, and access segments.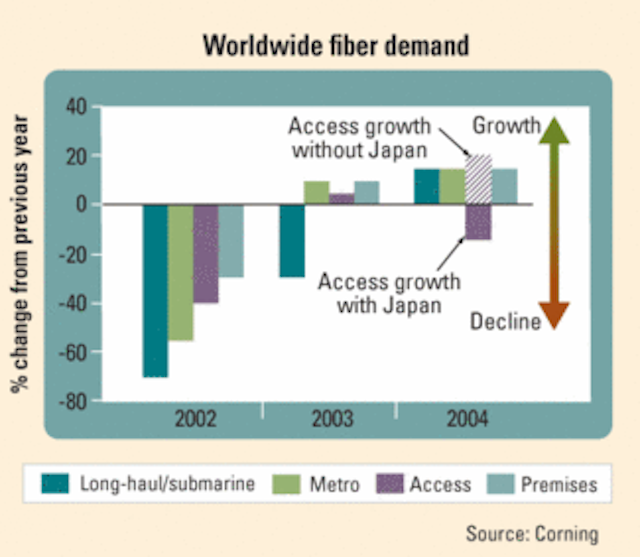 Because of aggressive fiber deployments that have saturated much of the Japanese market, fiber demand in Japan dropped 40% last year. However, this decline was offset by the strength of the North American market, which grew 30% in 2004, as well as modest growth in other parts of the world.
Western Europe held 15% of the worldwide market last year, an increase of 10% from '03. The PTTs accounted for almost 50% of the region's fiber demand, as broadband initiatives drive new deployments. Denmark leads Western Europe with a 45% broadband penetration rate.
Japan, meanwhile, registered a 40% decrease in demand last year, thanks to a sharp drop in fiber deployment by NTT and the power utilities in the region. According to Musser, there are 24 million homes in Japan with at least one fiber passed to them, and this saturation has led to the slowdown.
"Other Asia" accounted for 10% of the world's fiber demand, thanks to positive market dynamics in India and Australasia, said Musser. For example, India has adopted a five-year broadband penetration initiative that is driving fiber deployment in the region. Korea, meanwhile, leads the "other Asia" market-and the world-with a whopping 70% broadband penetration rate.
The "rest of world" segment accounted for the remaining 5% of the market last year, up 40% from '03, thanks to growth in Russia, the Middle East, South Africa, and Latin America. Russia saw its fiber demand increase 50% over '03, driven by aggressive fiber deployments by the region's mobile providers.
Overall, the decline in Japan was offset by the strength of the North American market and modest growth in other parts of the world last year, and Musser believes 2005 will bring much of the same. He expects modest growth to come from the metro and access segments, with North American broadband initiatives driving demand.
"Any industry recovery will be led by construction in the access segment of the network, which is why we are focused on the FTTX opportunity around the globe," said Musser, who noted that half of Corning's optical revenue came from the access segment last year. The company's FTTX-related revenue topped $165 million, largely due to Verizon's FTTP deployments, of which Corning has "a significant market share," he said.