Broadband-to-premises global deployments seen hitting $10.8 billion in 2008
May 1st, 2005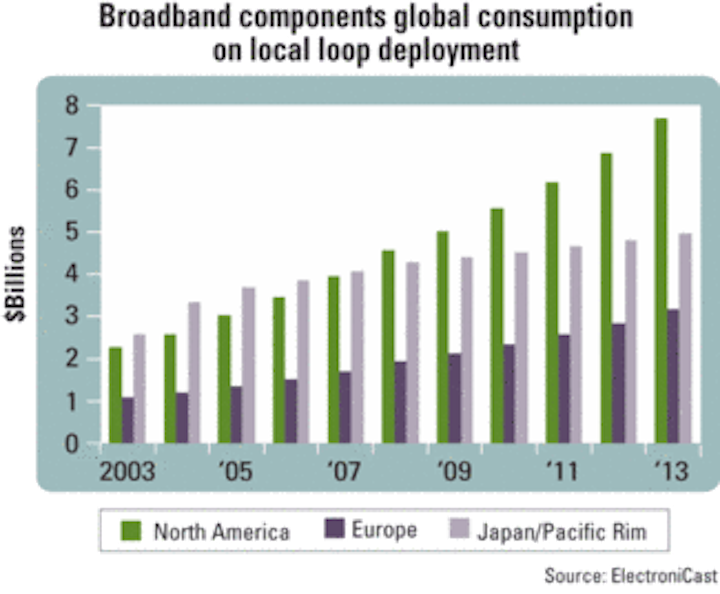 Total global deployment of components consumed in broadband to the premises applications is forecast to grow at an average rate of 13% per year, from $5.9 billion in 2003 to $10.8 billion in 2008, according to a recent study by ElectroniCast. Then moderate growth averaging 8% a year is forecasted for the 2008-13 period.
The study says North American share of global consumption will expand at an average annual rate of 15% from '03 to '08, then continue at an average of 11% a year in 2008-13. Total broadband deployment consists of residential plus office (business and government) services.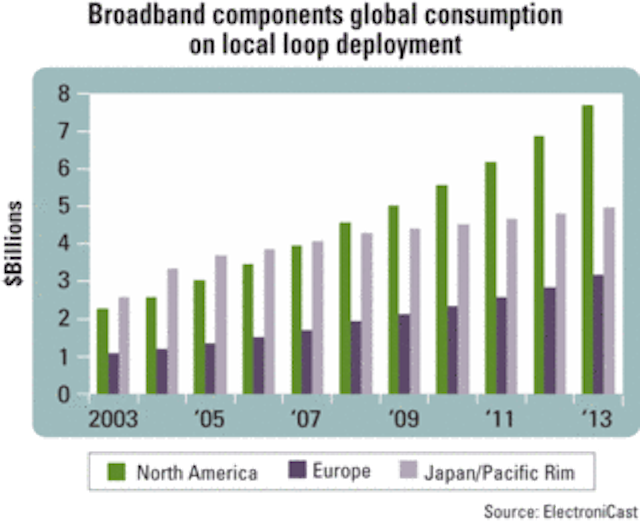 "The global information transmission, measured in gigabits times kilometers, had expanded exponentially over the 1999-2003 span," explains Jeff D. Montgomery, ElectroniCast founder and chairman. "Although this expansion slowed somewhat in 2001-2003 in North America and Europe by recessionary impact, this was partially offset on a global basis by government-funded broadband initiatives in Japan, China, and Korea."
Broadband components deployment in the Japan-Pacific Rim region is forecast to expand at an impressive rate of 11% a year in 2003-08 but will leveling during the five years after that. The global consumption of broadband components in residential broadband equipment production and network interconnect will expand at a moderate pace over the next decade, from $3.2 billion back in '03 to $8 billion in '13. Optoelectronics plus passive optical components will lead this thrust.
For more information on the study, "Broadband-to-the-Premise Global Market Forecast," visit www.electronicast.com.