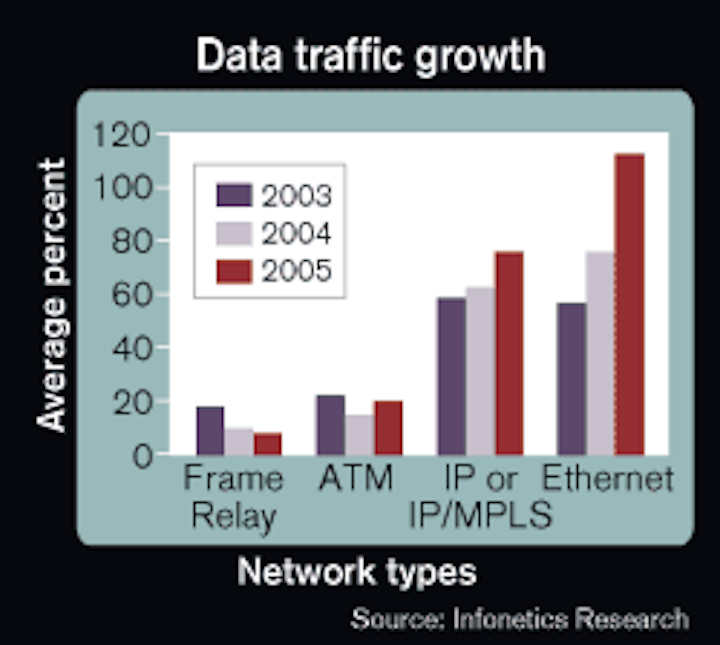 In an attempt to transform their data networks, service providers are planning to increase their investments in IP and MPLS technologies, reveals a new report from Infonetics Research (Woburn, MA). After a single-digit decline in 2003 and a return to growth last year, worldwide service-provider router and switch revenue will net $8.4 billion in 2007, up from $4.8 billion in '03.
Growth in the service-provider switch/router market will be driven by a more positive capital-expenditure environment as well as a flurry of carrier projects around the world. Such projects include data-network convergence, broadband network transformation, broadening of IP/virtual-private-network (IP/VPN) offerings, and ramping up IP/MPLS build-outs.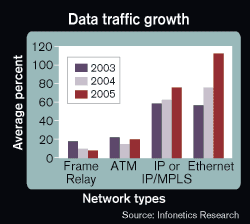 "The future for IP/MPLS continues to shine brightly, especially as IP traffic continues to grow strongly, with broadband and IP/VPN traffic underlying that growth," reports Kevin Mitchell, research analyst and lead author of the study. "Further penetration of broadband, increases in bandwidth, and the move beyond pure access to triple-play and multiple services offerings delivered via broadband will also drive growth over the next three years to five years."
For more information about the report, "Service Provider Plans for IP, MPLS, and ATM 2004," visit www.infonetics.com.