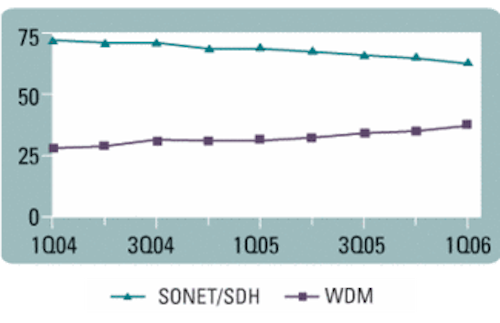 Worldwide optical-network hardware revenue decreased 10% to $2.3 billion between 4Q04 and 2Q05, a drop anticipated after the market surged 21% between the third and fourth quarters of last year, according to a report by Infonetics Research (San Jose, CA).
The report forecasts annual optical-network hardware revenue will increase 4% this year and 16% between 2005 and '08, with the strongest growth coming from metro WDM optical equipment, which the report says will increase 60% during the same period. The report sees the metro WDM-switch segment as especially strong, jumping 247% by '08.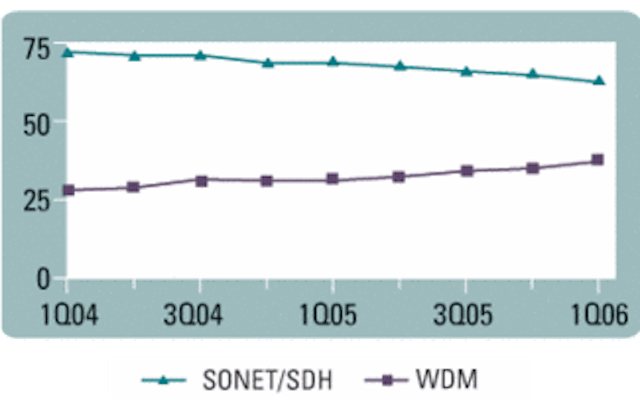 SONET/SDH vs. WDM optical-network hardware revenue
The report says revenues generally were down in 1Q05 after gaining in 4Q04, especially for market leader Alcatel, which the report says saw huge gains in the fourth quarter drop by 46% in 1Q05. The report notes that Alcatel continues to lead strongly in market share, with Nortel Networks second, followed closely by Fujitsu, which overtook fourth-place Huawei, largely because of huge gains in Asia-Pacific, where Fujitsu now leads.
Metro equipment accounts for 74% of all optical-network hardware revenue, with long-haul equipment accounting for the remaining 26%, according to the report, which also sees the Europe/Middle East/Africa region accounting for 35% of revenue, with North America and Asia-Pacific each accounting for 30% and the Caribbean/Latin America region, 5%.
"We expect worldwide optical revenue to hit the $10-billion range by 2008, with a five-year compound annual growth rate in the mid single digits, as we see a steady, healthy optical market driven by the undeniable onward push of bandwidth use by consumers and businesses," maintains Michael Howard, principal analyst at Infonetics Research.
For more on the report, "Optical Network Hardware," visit www.infonetics.com.