Market Watch: Capacity demand keeps submarine fiber afloat
Aug 1st, 2005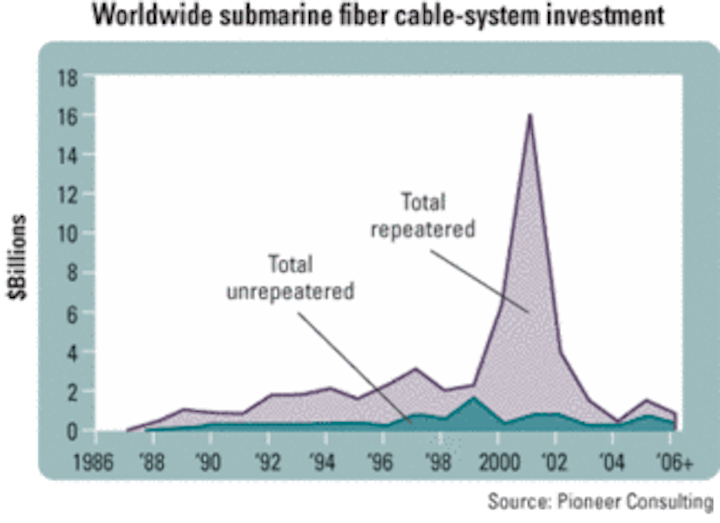 While the submarine fiber-optic-system supply market has taken far longer to consolidate than did the carrier market after the telecom bubble burst in 2002-03, a rationalization within the submarine cabling industry is now beginning to occur. So says a report from market researcher Pioneer Consulting (North Adams, MA). In spite of slashed production capacities, staff downsizing, and competitors withdrawing from the market, the report sees new entrants in the market attempting to leverage new technologies and integration paradigms, driven by demand for capacity.
On worldwide basis, Pioneer expects growth in demand for capacity on international submarine cables to be partially driven by the world's expanding population of Internet users. However, the firm notes that this growth will be mainly dependent on increased demand resulting from commercial deployment of "bandwidth-hungry" applications over FTTX, xDSL, broadband wireless, and cable access networks. The firm forecasts that significant increases in demand for international submarine connectivity will only be seen in regions where the access infrastructure is sufficiently modern to support such services. In other parts of the world, the firm says the full potential of broadband services is likely to be stymied by a lack of investment in backhaul and last mile connections.
Pioneer projects that oversupply of submarine fiber-optic bandwidth will put a damper on demand for new systems. In many parts of the world, the firm sees the current oversupply of capacity as casting a shadow over the market for the foreseeable future. Overall, the firm estimates that only a small percentage of the world's installed submarine fiber-optic cable capacity is lit and even some of that is not yet active. However, the firm's analysis indicates certain regions of the world will require significant upgrades to existing systems and eventually require construction of new systems before 2013.
For more details on the report, "Suppliers of the World's Submarine Fiber Optic Telecommunications Systems: The New World Order," visit www.pioneerconsulting.com.