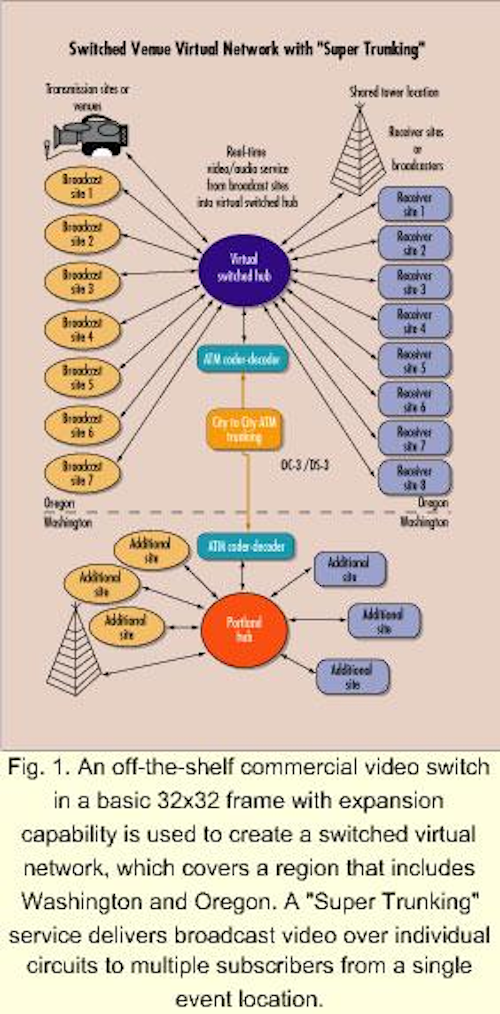 As media gains more and more prevalence in our daily lives, the need for a high-bandwidth video-transmission medium such as broadband video is apparent. Broadband video, which by definition means video applications that need bandwidth greater than 45 Mbits/sec (DS-3), is used primarily by broadcasters, in both the public and private domains, for the purposes of transmitting a real-time video signal to an uplink satellite for national broadcasting. These broadcasters include networks such as ABC and CBS, movie studios, teleproduction professionals, cable programmers, and even sport teams. But it all boils down to transmission of video signal.
Today, broadcast video, which is mainly analog and point-to-point, is not viewed as a strategic service. But with the emergence of new technologies, a new generation of industry equipment based on emerging video-compression standards, and customers' increasing bandwidth needs, there is a shift in the market. Technology advances combined with emerging platforms such as dense wavelength-division multiplexing (DWDM) will play an important role in shaping the future of broadcast video transmission over fiber-optic networks.
The current migration from analog to digital video, driven in part by the roll-out of high-definition television (HDTV), requires a shift from copper-based infrastructures to fiber-optic networks, which can support the transmission of high-bandwidth applications using Synchronous Optical Network/Synchronous Digital Hierarchy (SONET/SDH) or newer optical technologies.
At the same time, new service providers are entering this market and competing against regional Bell operating companies (RBOCs). Deregulation has allowed for inter-local access and transport area (inter-LATA) transmission. Pricing, one of the important drivers in this shift, is sliding downwards, responding to a market need. All of this leads to the convergence of multiple applications and technologies on the same network, creating demand for better transmission of high-bandwidth video. Many companies will become integrated service providers, offering broadband video services because customers want one-stop shopping.
Three technologies will drive broadband video transmission: Asynchronous Transfer Mode (ATM), Gigabit Ethernet, and DWDM.
Video-signal transmission requires not only high bandwidth but also reliability and flexibility. While ATM and Gigabit Ethernet support video transmission over high-bandwidth pipes at affordable rates, these protocols do not offer the flexibility that is often needed in the broadcast industry. In the near future, both ATM and Gigabit Ethernet will be transmitted over DWDM, the technology expected to provide the migration path to a flexible, reliable transport network. DWDM will help lower prices and can deliver high-quality, high-bandwidth video transmission. Not only is DWDM able to carry sub-rate channels, it is also transparent. New platforms under development clearly show the emergence of DWDM as the infrastructure technology that will carry networks into the 21st century.
Technology advances will also push the network toward more of an optical core, primarily because of the development of advanced chip sets, new and emerging standards for optical transmission, and the plummeting costs of optical components.
Future broadband transport services can be used to address two customer needs: 24-hour-a-day continuous video-transport services (CVTS) between two sites and switched video-transport services (SVTS) between two or more sites. In networks such as Electric Lightwave's, both CVTS and SVTS will use SONET/SDH transport over an ATM backbone.
These services can be used to replace outmoded forms of transport. For example, broadcasters send and receive audio and video signals to and from the station studios and the transmission tower for broadcast. These services are referred to as Studio Transmitter Link (STL) and Transmitter Studio Link (TSL) and include baseband video with or without embedded sub-carrier stereo audio. The current setup uses a 13- to 23-GHz microwave radio set purchased by the station for roughly $65,000 to $80,000.
However, the available frequencies for these microwave radios have been used up in many instances. In Spokane, WA, for example, the Federal Communications Commission (FCC) frequency coordinator detailed these findings and now believes that a fiber solution is the best approach.
Meanwhile, broadcasters in the top ten markets must support HDTV by 1999, according to an FCC mandate; some stations were required to build out by the fall of 1998. This requirement has further burdened the already oversubscribed airwave-transmission capability used by the television community. Increased bandwidth and the cost of radio equipment are driving the cost of advertising and subscription higher.
Enter the solution of the '90s, fiber optics. Fiber optics offers greater bandwidth and is not susceptible to the interference that plagues the airwaves and other communications. Rain, dense fog, and sunspots have no effect on its transmission quality, unlike radio or satellite.
The opportunity is to provide "24x7" STL service year-round to TV and radio broadcasters. When the cost of terminal equipment is shared between multiple broadcasters (most broadcasters already collocate equipment and typically will share tower space with sister radio companies), the infrastructure expenses are spread out. The barrier to this business is the ability of the service provider to offer services that are truly continuous. Thus, the network needs to have redundancy built into its design. Continuous-service STL can use terminal equipment usually associated with dark fiber links in a point-to-point application. With the ability to hot-switch on a standby basis, this capability will be very attractive to the end user. The target customers include all TV network affiliates and independents in the metropolitan market--typically four to nine stations per area--as well as radio stations and multiple-station groups.
Naturally, end users will be concerned about interoperability, redundancy, and operating costs. Obviously, airtime is free, providing that the spectrum exists. The service can be bundled with dial tone for monitoring and maintenance communications for telemetry and remote-transmitter controls.
Continuous-service STL will offer broadcasters the following key benefits and features:
low terminal-equipment cost per site
high-quality video and audio reproduction for up to 20 miles with short-haul specifications
rapid deployment within a metropolitan area network (3-month initial rollout)
migration to 270-/360-Mbit/sec digital video service with same transport equipment
user-friendly unmanned remote control access and monitoring
audio/video monitoring 24 hours per day
quality assurance end-to-end
hot-switching redundant paths
bundled service with Integrated Service Digital Network (ISDN, 64 and 128 kbits/sec), T1s (1.544 Mbits/sec), and Primary Rate Interfaces (PRIs, 64 kbit/sec)
no equipment purchase
lower maintenance cost
one rate plan
larger bandwidth delivery
Integrated National Television Standards Committee/Advanced Television Systems Committee (NTSC/ ATSC) service from one provider
HDTV upgrade path from one provider
shared venue sites.
Switched services also will prove popular. For example, switched virtual service will deploy standard composite video with stereo audio transmission from "live" venue sites to all TV stations within a metropolitan area. A standard off-the-shelf commercial video switch in a basic 32x32 frame with expansion capability should serve the needs of these secondary broadcast markets for the next 10 years. The video switch can be operated via remote access by the technical staff of the station or from a remote site using password protection. It could also be integrated into a Web site with links to the service provider's automatic billing features.
The switched virtual network would primarily involve a single transmission site and a single receiving site such as a broadcast station or production facility. This would give users the ability to cross-connect to each other and share in press-pooling opportunities--not otherwise possible by the conventional means of microwave or satellite--at a fraction of the cost.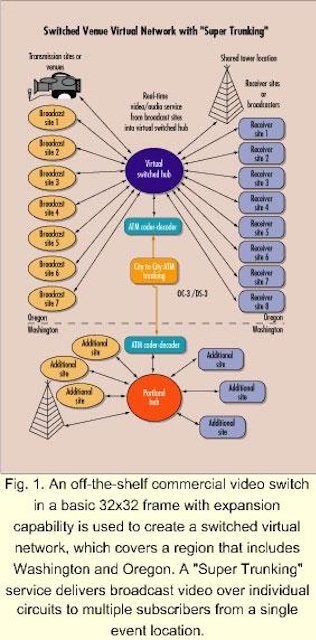 Fig. 1. An off-the-shelf commercial video switch in a basic 32x32 frame with expansion capability is used to create a switched virtual network, which covers a region that includes Washington and Oregon. A "Super Trunking" service delivers broadcast video over individual circuits to multiple subscribers from a single event location.
The switched virtual network could deploy a "super trunking" product on a special event basis to deliver broadcast video to multiple subscribers from a single location (see Fig. 1). Several vendors can provide multiple video/audio circuits over a single fiber-optic line to the service provider's television operations center. The "Super Trunking" equipment service would provide individual circuits to each press, news, or sports organization wishing to feed their station or service. Each service bundle could contain from six NTSC 6-MHz video streams with 20-bit digital stereo to six channels of audio for transmission to the receiver-demultiplexer.
As another example, a city-to-city point of presence infrastructure providing switched ATM services can provide broadcast video-transmission services to end users that currently rely on shipping methods to deliver product to their customers. These end users include audio and video post-production houses, educational institutions, concert halls, auditoriums, and remote sites.
Switched ATM services can also provide the ability to generate a wide area network within a city for news, sports, and entertainment telebroadcasting environments. Fiber news gathering is quite possible in metropolitan areas in the future. Already, fiber-optic links are used at the state and national level at commonly used locations for press pooling. The outbound traffic is communicated via terrestrial satellites and/or long-haul fiber providers such as Vyvx.
Switched ATM services work if there is a large number of subscribers using the pipes at various times throughout the day. This service lends itself to pooling by multiple production houses wishing to expand their market outside the confines of a local clientele. Vyvx has had limited success with a similar service called "First Video Affiliates." Unfortunately, this opportunity has been limited to a select group of very large video postproduction houses throughout the United States. AT&T offers a local city-to-city ATM connection in metropolitan areas.
Broadband video facilities also can serve a variety of other applications.
Video transfer. This application is expanded to include the concept of "self-service" transmission within each of the metropolitan areas. In this scenario, the opportunity exists to create a virtual digital retail outlet. The subscribers that would use such a business bureau include video post-production houses, corporate video production, government production, court reporting agencies, university distribution to branch campuses, audio recording studios, and movie studios.
For example, today, film is converted to video at facilities called "Telescene" production houses. These work in conjunction with commercial film processing labs. The daily rushes are shipped via overnight air service to studio clients. Using self-service video transfer, the film-production community could increase its productivity and expedite business decisions, reducing overall production.
Audition circuits. Self-serve user circuits booked through the service provider's Web site could be offered through a high-speed Internet connection and ISDN lines. The user could book sessions by accessing a software-based management system in the service provider's hub. This service lends itself to a pay-phone approach to marketing and very low equipment costs with billing based on a usage basis. It is already in use in limited capacity through providers such as EDNET and Sprint Drums. The key is to provide nearly real-time transfer of video, or converted film footage, to expedite decisions for the editor/operator. The closest analogy is the use of fax machines by graphic artists and clients for previewing concept layouts prior to final production and printing. By using a service provider's extensive Internet facilities, a "zero-mile" tariff is introduced that reduces the billing to a local call for the subscriber, plus bandwidth costs.
Voice-over. A lot of voice-over talents are already working from home using low-speed coder-decoders (codecs) over ISDN lines. The limited bandwidth is suitable for this application. Typically, a TV station in a metropolitan area will download the voice-over for the daily trailers for TV shows, news, and sporting events every morning from a voice talent in another metropolitan area. This ISDN traffic has been known to be problematic and unreliable, and available only to certain studios within close proximity of the central offices in the metropolitan area. This service is already commercially orchestrated by EDNET. EDNET purchases T1s and DS-3s from a host of long-distance providers, but there is interest in an alternative provider.
Fiber news gathering. This application could bring a significant change to the future of broadcasting. Today, when a station wishes to cover a late-breaking news story, an uplink microwave or satellite production truck is dispatched to the site. Upon locating the truck, the engineer may discover that he doesn't have "line of site" to his receiver on the main transmission tower. If this is a satellite uplink truck, he has to book time at $400 to $800 per hour. Thus, waiting for the dignitary to emerge from the courthouse or government building for the "hot interview" is often expensive.
Because some locations are always in demand by several competing stations, the courthouse, capitol, waterfront landmarks, and other frequented locations could be permanently connected to establish a "contribution switched services" network to any and all receiving stations at the main studios. This application is also useful during an election year when networks travel from city to city with a press pool to minimize equipment being duplicated by news organizations. Guest access to the network could be sold during these "peak event" times as a premium service to outside visiting broadcasters. The cost of a typical microwave truck is anywhere from $150,000 to $250,000; satellite trucks range from $350,000 to $750,000--and that doesn't include maintenance expenses.
All of these applications have sliding scales of bandwidth requirements. Some require smaller bandwidth such as audio only and audition-grade video monitoring. The key is to build a large data pipe that can be filled up with multiple users with varying amounts of bandwidth throughout a 24-hour period. The cost of SONET/SDH terminal equipment is too expensive to install at every location. However, shared resources will allow greater deployment and increase market share.
For companies that have the foresight and a solid infrastructure, there are opportunities to enter the broadband video service arena early and capture a significant market share. This market will tend to be more regional than national given the nature of the applications and the geographical locations of the broadcasting houses. Alliances with long-haul carriers as well as strategic partnerships with manufacturers will be one of the key drivers for success for any new entrant.
Baksheesh Ghuman is a senior product manager of emerging technologies and SONET services at Electric Lightwave Inc. (Vancouver, WA).