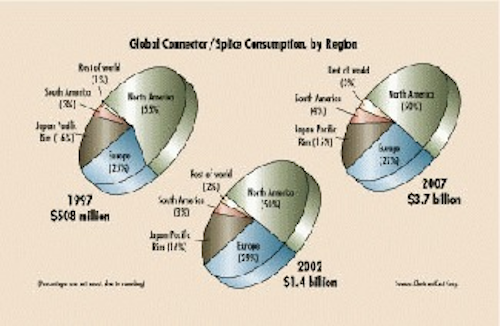 Global consumption of fiber-optic connectors will increase at an annual growth rate of 23% over the next five years, from $508 million in 1997 to $1.42 billion in 2002. So says ElectroniCast Corp.'s new report, Fiber Optic Connector/Mechanical Splice Global Market Forecast, which covers singlemode, multimode, and mechanical splice connectors. The report segments the connectors into major applications categories, including telecommunications, enterprise/premises data networks, cable TV, military/aerospace, and specialty.
According to ElectroniCast Corp. (San Mateo, CA), advancement in fiber-optic technologies is ensuring the migration of fiber closer and closer to the end user, resulting in demand for shorter links where connectors represent a substantial share of the total installation cost. The smaller size, lower cost, and easier installation of recent products are alleviating user concerns. The use of multifiber connectors-those accommodating more than two fibers-is still relatively small, but these components will be a popular choice for high-fiber-density interconnect applications.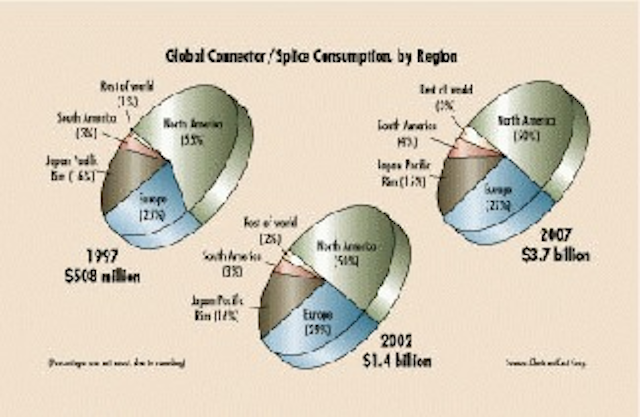 Global singlemode connector use will grow from $284 million in 1997 to 1.96 billion, or a 54% share, by 2007. Use of mechanical splices will decline in percentage share from 7% in 1997 to 3% in 2007 as fusion splicing becomes the preferred alternative due to the availability of smaller-size and lower-cost units. With regard to quantity share, singlemode connectors had an edge in 1997 but will decline from 48% to 46% by 2007.
The complete report is available for $8250 by contacting ElectroniCast's Theresa Hosking at (650) 343-1398; fax (650) 343-1698; or e-mail: theresa@ electronicast.com. u