In an effort to broaden the scope of engineered fiber solutions for the dense wavelength-division multiplexing (DWDM) market, Corning Inc. (Corning, NY) announced the sale of erbium-doped optical fiber to equipment manufacturers throughout the communications industry. The announcement also serves to mark a re-launch and expansion of Corning's PureMode line of specialty, or engineered, fiber.
PureMode Er 1550C is primarily designed for use in single- and multiple-wavelength optical amplifiers in digital and analog systems. Erbium-doped fiber is the heart of all erbium-doped fiber amplifiers (EDFAs); this latest offering is optimized for the conventional band. According to John Wahl, manager of new accounts development at Corning, the erbium fiber creates a gain medium within the EDFAs and is designed to create a much smaller package within the units.
"The key to our erbium-doped fiber is in the amount of erbium pumped through to amplify the light's intensity as it passes through the fiber," says Wahl. "For our other PureMode engineered fiber products, the key is the reduced bend loss. The reduced bend loss is due to smaller mode-field diameters and a higher core index of refraction. In other words, you can tightly coil these fibers and have a significantly reduced band loss."
Corning, a manufacturer of EDFAs since introducing its first in 1990, believes the current market is hot for high-performance optical-communication devices, including optical amplifiers, transmission lasers, and dispersion compensation modules. Demand for these devices is increasing dramatically as communications moves toward DWDM technology geared for speeds of 10 Gbits/sec and faster (see Figure). In turn, the demand for engineered fiber as an integral part of these devices has created a good market opportunity for Corning and a handful of other vendors, including Lucent Technologies (Murray Hill, NJ), INO (Sainte Foy, QC), Newport Corp. (Irvine, CA), and 3M Specialty Optical Fiber (West Haven, CT).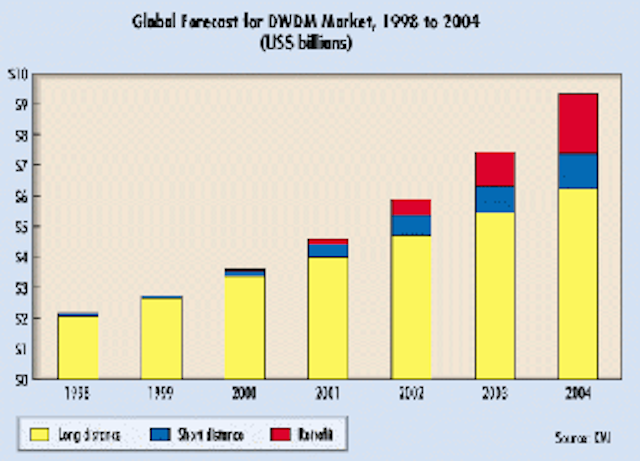 "Engineered fiber is 'fundamental feedstock' in the food chain for photonic components and assemblies," says Wahl. "Without it, many components and assemblies would be much more difficult to manufacture today."
Stephen Montgomery, president of ElectroniCast Corp., an industry analyst firm based in San Mateo, CA, agrees, although he points out new products are constantly emerging that displace some of the functions of today's optical amplifiers that make use of engineered fiber. He says, however, the major role of these fibers today is in optical amplifiers which, in turn, is helping fuel the DWDM market.
"Optical fiber amplifiers [OFAs] have made possible the dramatic increase of fiber-optic communi cation networks, including WDM," says Montgomery. "OFAs have made it all happen. The opening up of certain product lines to merchant markets [versus captive] will increase competition and possibly put pressure on prices." Corning's PureMode line of engineered fiber also includes the following products:
PureMode HI 980 is a singlemode fiber used as pigtail fiber for 980-nm laser pumps and as component fiber in EDFAs, couplers, and other DWDM components.
PureMode HI 780 and HI 1060 are singlemode optical fibers used for pigtail and coupling application and provide protection from bend-induced attenuation and efficient coupling of light to the fiber core. Other applications include short wavelength laser and light-emitting-diode (LED) sources.
PureMode PM 1550 and PM 1310 fibers are highly birefringent, low attenuation, singlemode optical fibers used in terminals between transmission lasers and external modulators.
PureMode RC 1300 and RC 1550 are reduced clad-diameter singlemode fibers for use in tightly coiled fiber applications and offer reduced bend loss.
One of Corning's key strengths in the fiber production industry lies in consistent quality, says Wahl. That consistency is made possible through its patented outside vapor deposition process. The company's longevity in the fiber market, however, is not solely because of its manufacturing process. ElectroniCast's Montgomery can think of several other contributing factors for Corning's success, particularly in the area of specialty fibers.
"Corning's specialty fiber products stand out for several reasons," says Montgomery. "First, they hold a lot of the patents to applicable technologies for manufacturing the products. The company has extensive research and development resources and a solid reputation in the industry. Lastly, an existing customer base with some long-term contracts are an indication of Corning's competitiveness in this market."
Corning plans to introduce several new specialty fibers over the next few years.