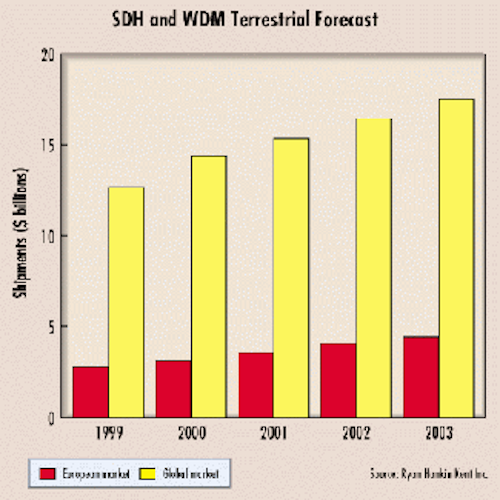 The market for Synchronous Digital Hierarchy (SDH) and wavelength-division multiplexing (WDM) equipment is on the rise in the European market, and the global terrestrial market will soon follow suit. Ryan Hankin Kent Inc. (RHK--South San Francisco) has unveiled two new subscription services aimed at its European clients to help them define these markets.
According to RHK's research, the European market for SDH and WDM equipment will rise from $3.6 billion in 1999 to $4.4 billion by 2003, driven by deregulation coupled with Internet and data-traffic demand. Taking advantage of rising opportunities, new European operators are competing to build and operate new telecommunications networks across Europe.
The two latest services, European SDH & Transport and European WDM & Optical Networks, will address the evolutionary path SDH and WDM will take in Europe as a result of telecommunication competition within the European Union and the rapid increase in bandwidth required by business and broadband-access subscribers. According to RHK, while pan-European operators are building high-capacity networks from scratch, competitive local-exchange carriers, city carriers, multiple system operators, and mobile operators are investing in SDH equipment to upgrade and expand their infrastructure.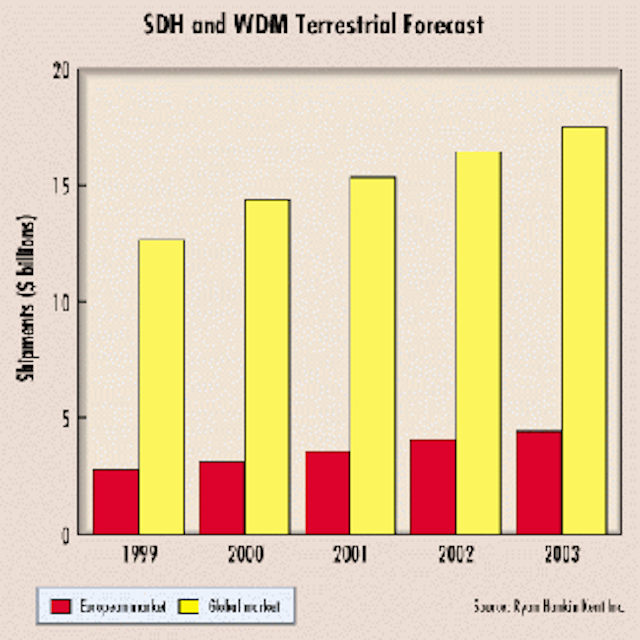 RHK is providing global forecasts to clients that subscribe to both its European and North American services. This latest global research concludes that the global SDH and WDM markets topped $11 billion in 1998. That sum includes $5.8 billion in the North American market, $2.3 billion in Europe, and $2.9 billion in the rest of the world. By 2003, the global market is expected to reach $17.3 billion, with the highest percentage of growth in Asia-Pacific and rest-of-world markets.
RHK's latest European services build upon primary research, forecast modeling, and interviews with more than 30 European operators and 20 key vendors.
The analysis is designed to define the market opportunity, technology direction, and deployment patterns for SDH and WDM. The services also provide market assessments and forecasts for an expanding European telecommunications market.
For more information on these and other service offerings available from RHK, contact Mike Mahan at (630) 737-9600 ext. 233 or visit the company's Website at www.rhk.com.