In an effort to capitalize on the forecasted growth of the Asian data market, Global Crossing Ltd. (Hamilton, Bermuda) has aligned itself with Internet heavyweights Microsoft Corp. (Redmond, WA) and Softbank Corp. (Tokyo) to form East Global Crossing. The joint-venture company plans to link Japan, China, Singapore, Hong Kong, South Korea, Taiwan, the Philippines, and Malaysia with a 17,700-km undersea and terrestrial fiber-optic network.
The partnership calls for considerable investment in the Asia-Pacific region by all three companies. Global Crossing brings to the table 57.75% of Pacific Crossing 1 (PC-1), a transpacific undersea loop scheduled for service in December. The company also contributes all of its East Asia Crossing (EAC) development rights in the eight Asian countries involved. Softbank and Microsoft are each contributing $175 million in cash, along with a commitment of a least $200 million in capacity purchases on the Global Crossing network over a three-year period.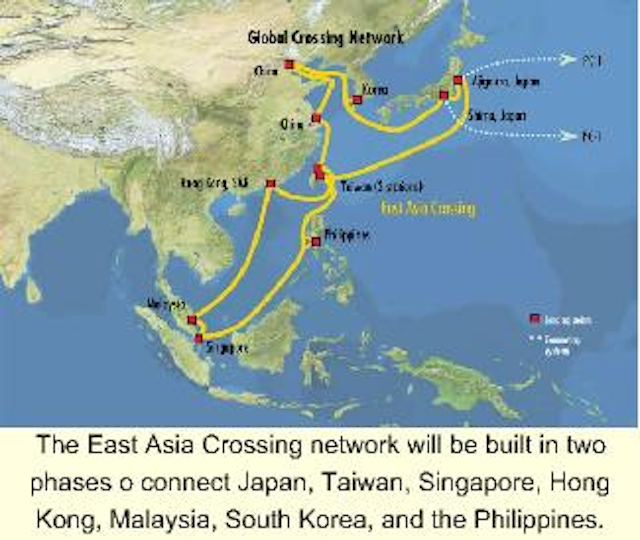 The East Asia Crossing network will be built in two phases o connect Japan, Taiwan, Singapore, Hong Kong, Malaysia, South Korea, and the Philippines.
EAC will consist of two interconnected rings that will be constructed in two phases. Phase one, slated for completion by the end of 2000, will deploy 10,200 km in four fiber pairs to link PC-1 at a landing station in Japan and connect with Taiwan, Singapore, Hong Kong, Malaysia, and the Philippines. Phase two will add 7500 km of fiber to link Japan to two stations in China, one in South Korea, and one in Taiwan. It will also include the terrestrial portion of the network consisting of 48 fiber pairs in a 50-km link between the two Taiwan stations to close the phase one link. Phase two is scheduled for completion by June 2001.
The initial capacity of EAC, split between service and protection, will be 80 Gbits/sec, upgradable to 1.2 Tbits/sec using dense wavelength-division multiplexing (DWDM) technology. Under terms of the joint-venture agreement, Global Crossing will control 93% of Asia Global Crossing (AGC), with Microsoft and Softbank each controlling a 3.5% share. When the fair market value of AGC exceeds $5 billion, the ownership interest of Softbank and Microsoft will increase to a maximum of 19% each at a valuation of $7.5 billion and above. Global Crossing will be responsible for the management and operation of the venture.
Jack Scanlon, vice chairman of Global Crossing and AGC's CEO, sees trends developing in the Asia-Pacific region similar to those in the U.S.-European market.
"If you look at the data, both forecast and historic, the Pacific markets we're talking about look like the Atlantic, offset by about a year in terms of wideband growth forecasts," says Scanlon. "We also saw a similar phenomenon in cellular communications in Japan. Japan went from the lowest penetration rates to one of the highest in about four years. I think you're going to see the same thing going on in terms of the Internet."
The Yankee Group, a Boston-based market research firm, agrees with the Internet growth potential in Asia. The company forecasts the number of Asia-Pacific Internet users will surpass 374 million by the end of 2005, up from 39 million in 1998. A recent report by the Yankee Group predicts that about 40 million people will be online in China by 2001, surpassing the United States for the most users in the world by 2005.
International Data Corp. (Framingham, MA) also forecasts a surge in Internet access in China to the tune of 9.4 million users by 2002. The firm's research also indicates that 75% of the largest 1000 Asian companies, ranked by sales revenue, have established a presence on the World Wide Web.
With all indications pointing to a rapid growth spurt in the Asia-Pacific region, Scanlon says the time was right for extending the Global Crossing network into those key markets via EAC. Softbank and Microsoft got involved for obvious reasons.
"Both Softbank and Microsoft are both highly motivated to stimulate the improvement of bandwidth availability to improve proliferation of their own products," says Scanlon. "They're focused on the commercialization of the Internet and e-commerce as the next growth wave. They look at it much the same as we do. The United States has penetrated pretty well, Europe is taking off, and the next big growth spurt is going to be out of Asia. So what interested them is to be part of this improvement in bandwidth availability to the consumer-to the benefit of their products."
Microsoft's president, Steve Ballmer, says Asia provides one of the richest markets for them, yet is currently underserved in gaining access to the global telecommunications system. He believes Global Crossing and Softbank to be ideal partners in taking advantage of the opportunities Asia provides because of their complementary capabilities.
"The future of our business and telecommunications is linked and our interest in the telecom field is broad," says Ballmer. "Our strategy is to partner with providers who can provide the interconnectivity we need to deliver advanced broadband service and software."
A good business case may be made for EAC when considering the current choices in transpacific cables. According to Stacey Yates, senior analyst with KMI Corp., if a carrier wanted to access the countries announced for service by EAC, they would have to go through multiple capacity vendors. Global Crossing is laying the groundwork whereby end users can buy directly from a single carrier's carrier.
"We're not there yet," says Yates. "Right now, if you're a multinational corporation and you want to get capacity to all your different locations, you generally have to talk to multiple carriers who would piecemeal this virtual network for you. But someday, if Global Crossing has their way, they'll have this whole network in place to get from city to city."
Currently, there are no more than six transpacific cables in operation, mostly owned by consortiums. At least four more are scheduled to light up in the next year or so. With this substantial increase in transpacific capacity, increased competition is expected to drive down prices. In fact, the builders of the Southern Cross cable network, a $1.5-billion undersea fiber cable between the United States, Australia, and New Zealand made a recent announcement to that effect. The price of a 15-year, 155-Mbit/sec connection between the United States and New Zealand dropped from $37.8 million to $12.9 million. The same capacity link from New Zealand to Australia fell from $9.9 million to $4.1 million.
The increased demand for Internet capacity, coupled with more available bandwidth as additional transpacific cables come on line, has companies feeling the pressure to offer competitive pricing. Global Crossing intends to be a major player with EAC. In fact, Scanlon didn't rule out the possibility of a second transpacific cable following PC-1, much as Atlantic Crossing-2 will follow its predecessor.
"If the dynamics continue as they have, with the Pacific lagging the Atlantic by about a year, I think you can offset things by about a year and say we'll probably have to do the same thing with PC-1," says Scanlon. "I don't see that changing. In fact, if anything, with the economic swing coming back, I think the time distance between Asia and Europe, that is, between the Atlantic and the Pacific, is going to shrink."