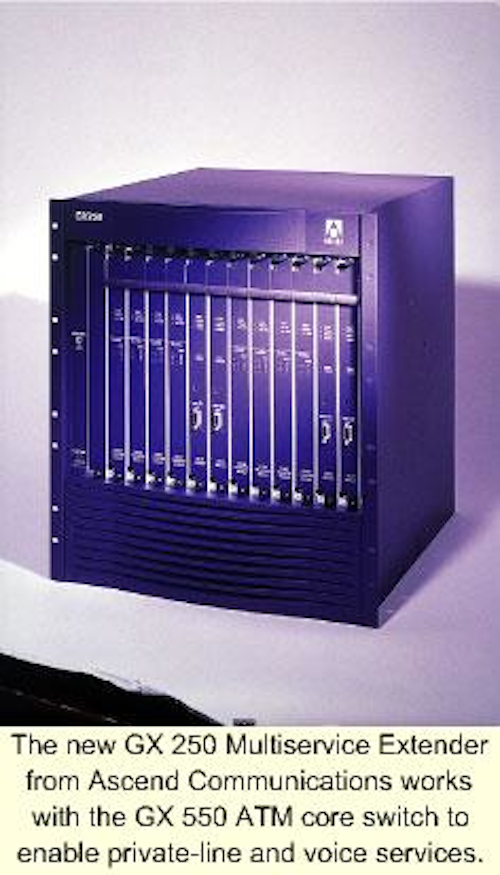 Ascend Communications Inc. (Alameda, CA) has launched an enhancement for its GX 550 "Smart" Core Asynchronous Transfer Mode (ATM) switch. The GX 250 Multiservice Extender adds private-line and voice-transport services to the GX 550 to increase its multiservice capability.
"It's a major trend in the marketplace for all the service providers to build-out one next-generation public network and put all their services on it," says Dennis Fiore, product marketing manager for the Core Systems Div. at Ascend. "It more efficiently uses fiber because the service provider is able to offer all types of services over the same optical fiber."
According to Fiore, service providers want to offer video, voice, data, and facsimile on a single network with an ATM core because of all the advantages ATM brings, such as multiservice capability and end-to-end quality of service. However, ATM hardware must provide an increasing array of capabilities to meet carrier requirements.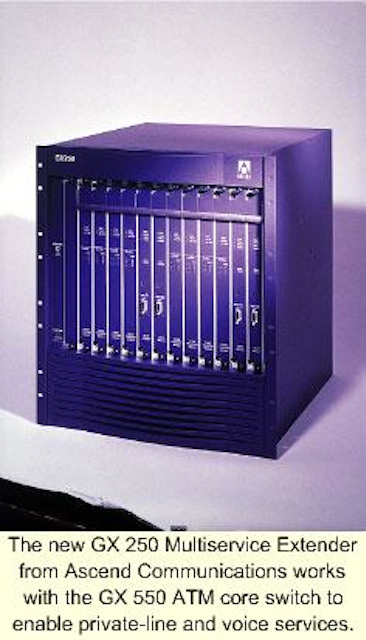 The new GX 250 Multiservice Extender from Ascend Communications works with the GX 550 ATM core switch to enable private-line and voice services.
The GX 250 is designed to streamline the network, reduce the costs and complexity, and migrate time-division multiplexed (TDM) traffic onto the ATM core. The carrier-class GX 250 and GX 550 combination integrates the capabilities of Synchronous Optical Network (SONET) add/drop multiplexers and digital crossconnect systems (DCSs). The GX 250 grooms, monitors, and tests DS-3 (44.736-Mbit/sec) private lines, eliminating DCS equipment, and the GX 550 directly connects to dense wavelength-division multiplexing architectures with its OC-48 (2.5-Gbit/sec) interface, eliminating the need for SONET equipment.
"There's literally billions of dollars worth of legacy TDM equipment still out there," says Fiore. "But the TDM network is getting congested because of the explosive Internet growth. It just wasn't designed to handle that. So we're bringing the traffic onto the next-generation network while eliminating SONET and DCS equipment but not sacrificing the value-added capability that equipment brought to the picture."
Industry analyst Chris Nicoll of Current Analysis Inc. (Sterling, VA) views the GX 250 as a positive step for Ascend because the company gains interface expansion capabilities for its core GX 550 switch. He believes Ascend needed to provide greater port aggregation and fan-out capabilities on its GX 550 without taking up expensive slots in the chassis.
"While we would have preferred the initial release to support channelized interfaces, the GX 250 does provide the desired fan-out capabilities at this time," says Nicoll. "Ascend also needed to address customer demand for circuit switching to ATM functionality to bring private-line applications into an ATM network. Although applications are clearly moving toward Internet protocol [IP], private lines still represent a sizable revenue opportunity for service providers."
The impact on the industry will also be significant, Nicoll believes, as Ascend's new GX 250 will impinge on the market served by aggregation switch providers whose systems aggregate lower-speed ports onto higher-speed interfaces.
"Vendors in this market are poised to take another hit with Ascend's release of the GX 250," says Nicoll, "just as they did when Cisco finally released the channelized interfaces on its router products. These vendors' value propositions are based on their abilities to enhance the value of expansive switch ports. The GX 250 takes direct aim at this value proposition."
Although Nicoll and the Current Analysis team believe Ascend should have launched the new product with the channelized cards expected later in the year, the GX 250 does meet an existing market requirement for aggregating lower-speed circuit-switched services onto an ATM core network. In a typical installation, a GX 550 would be surrounded by several GX 250s.
A key benefit of the GX 250 is the extremely tight integration into the Ascend Navis management system. The GX 250 does not actually appear on the Navis screen. Clicking on a high-speed GX 550 port for configuration or troubleshooting will open the GX 250 screens. Problems on the GX 250 are alarmed on the affected port on the GX 550.
"Some operators may not like having the GX 250 one level down and not on the top screens," says Nicoll. "But we like how Ascend has chosen to integrate this unit and keep the management screens uncluttered."
Williams Communications Inc. is currently deploying 70 GX 250s with existing GX 550 switches in approximately 50 points of presence on its nationwide network, with more installations planned.