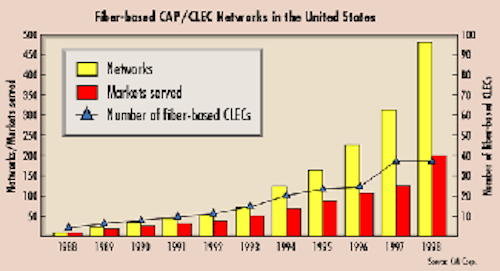 The competitive local-exchange carrier (CLEC) industry in the United States is expected to experience a 42% compound annual growth rate (CAGR) over the next five years, says Newport, RI-based Kessler Marketing Intelligence Corp. (KMI), a market research firm specializing in fiber-optic technologies. (Lightwave's parent company, PennWell, also owns KMI.) The industry will increase from $4.4 billion in 1998 to $25 billion in 2003 in the United States, according to the report, entitled CLECs in the United States and Canada: Market Developments and Fiberoptic Systems Deployment.
CLECs fall into three broad categories--fiber-based, nonfiber based, and wireless. Fiber-based CLECs deploy their own fiber to provide service and include carriers' carriers that provide fiber to other CLECs. Distinctions aside, however, all CLECs drive fiber deployment, even those using digital- subscriber-line (DSL) or wireless technologies. Most nonfiber-based carriers must lease fiber, while those using DSL technology drive bandwidth demand, increasing fiber deployment beyond the local loop. The three major wireless carriers all deploy varying volumes of fiber in their local networks.
The Telecommunications Act of 1996 marked the beginning of switched local competition in the United States, and competitive access providers (CAPs) shifted their focus from dedicated access service to both dedicated and switched access. The term "CLEC" has gradually replaced "CAP" to reflect the change in the market.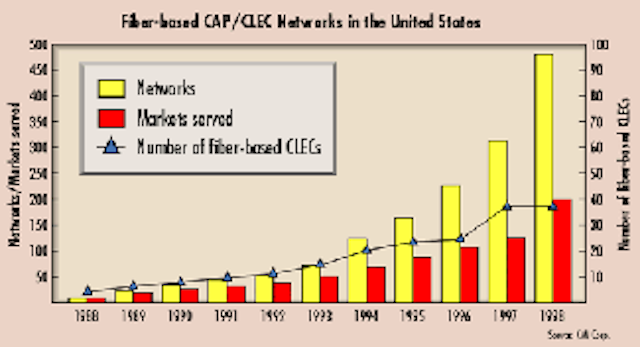 In the United States, 5.9 million fiber-km of fiber-optic cable was deployed through 1998. More than one-fourth, or 1.7 million fiber-km, was installed in 1998. According to KMI, the annual installation of fiber in the United States will increase by more than 60%, or a CAGR of more than 10%, to 2.8 million fiber-km by 2003. The primary drivers include new builds, network expansions, and increasing fiber count.
The CLEC market in the United States has grown significantly. At year-end 1996, there were 25 fiber-based CLECs serving 107 markets with 225 fiber networks. By 1998, 14 new fiber-based CLECs had entered the market, while the merger of MCI, WorldCom, and Brooks reduced the number of CLECs by two. By year-end 1998, 37 fiber-based CLECs were serving 198 markets with 480 fiber networks.
In Canada, the CLEC market is developing more slowly. Opened to competition in 1997, only four of the 24 companies that applied for CLEC licenses have received approval from the Canadian Radio-television Telecommunications Commission (CRTC). Three of the companies are fiber-based and the fourth is a reseller. By the end of 1998, the three fiber-based carriers had deployed 217,000 fiber-km in Canada. CAPs can still provide private-line service without getting CLEC licenses in Canada.
KMI's report identifies the primary market strategies used by CLECs based on services offered and geographic regions served. It is available by calling (800) 343-4035 or (401) 849-6771, fax: (401) 847-5866, or email: info@kmi corp.com.