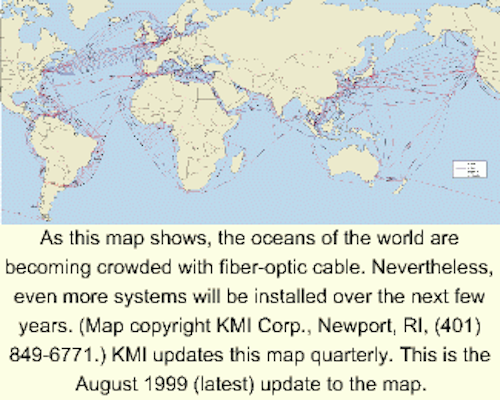 The economic rule-of-thumb for most markets is that as prices decrease, demand increases. When prices increase, demand tends to decline, each a direct result of the other. So what happens when the rule is broken by explosive demands and decreasing prices that seem to have little or no effect on each other? Basically, you'll have one very healthy market. Such appears to be the case with the undersea fiber-optic cable market, a segment of the telecommunications industry that is flourishing, according to two industry forecast and analysis firms.
Pioneer Consulting in Cambridge, MA, and Newport, RI-based KMI Corp. publish annual forecasts for the undersea fiber-optic cable markets. (Lightwave's parent company, PennWell, also owns KMI.) According to both 1999 forecasts, submarine cable deployment is flourishing and is expected to continue to enjoy prosperity for the foreseeable future.
"We forecast a compound annual growth rate [CAGR] of transoceanic demand of more than 100% from 1999 to 2004," says Michael Ruddy, senior analyst at Pioneer. "There will be much higher levels of spending on submarine cable in the near future because of today's increased demand. There will be at least 15 new transoceanic systems, each greater than 8000 km, entering service between now and the beginning of 2001."
Despite the huge demands for capacity, prices may also be dropping due to the impact of evolving technologies. Dense wavelength-division multiplexing (DWDM) has made a huge impact on the deployment of undersea cable systems, and continues to reduce the cost per bit. "Even though the DWDM systems are more expensive right now because of the high costs of equipment, you get much more capacity than the cost per bit is falling," says Stacey Yates, KMI's senior analyst for the submarine cable industry. "That means circuit prices can also fall, resulting in a lot more available capacity. As a result, we'll likely see even more increase in demand."
The demand for global connectivity being generated by data, the Internet, and new technologies that improve communications in terms of quality and pricing, is prompting undersea cable-industry players to roll up their sleeves and get busy. According to both reports, the huge demand is responsible for planned investments in undersea cable systems of around $30 billion over the next five or six years. KMI's assessment is based on systems that have been announced to date (see Figure). Pioneer bases its similar findings on a combination of likely systems, and what capacity demand can support.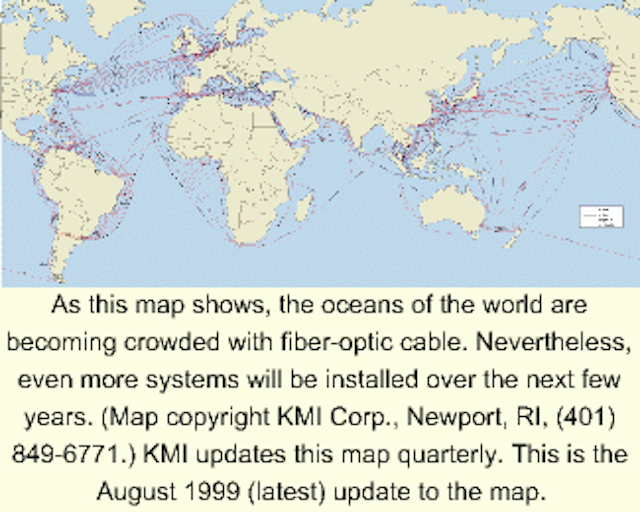 As this map shows, the oceans of the world are becoming crowded with fiber-optic cable. Nevertheless, even more systems will be installed over the next few years. (Map copyright KMI Corp., Newport, RI, (401) 849-6771.) KMI updates this map quarterly. This is the August 1999 (latest) update to the map.
"The $30 billion investment equates to about 670,000 route kilometers of fiber," says Yates. "This can be further broken down into 258,000 route kilometers in the Pacific Ocean and 207,000 in the Atlantic. The Atlantic portion wasn't that big until the last six systems were announced, causing the Atlantic market to spike impressively."
By comparison, in 1998 worldwide undersea fiber deployment was only 400,000 route kilometers over a 12-year period, worth about $17 billion. The forecasted six-year market is expected to be almost twice the historical 12-year market--twice the size in half the time. In terms of actual fiber, Pioneer forecasts that 5 million fiber kilometers will be placed under the sea from 1999 to 2004.
"This compares to a cumulative total of just over 2 million fiber kilometers deployed by the end of 1998," says Ruddy. "The market for submarine fiber is fueled not only by the increasing deployment of new cable systems, but also by higher fiber counts, particularly in regional, unrepeatered systems. Most submarine cable operators opt to have their cables installed with the highest number of fiber pairs possible, since the cost of the fiber is so small relative to the overall system cost."
Through 1999, about 3.8 million fiber kilometers will be installed, with another 3.9 million already announced for deployment through 2003...and a strong likelihood of more new system announcements. Actual production capacity for undersea fiber is currently estimated by KMI to be 190,000 route kilometers per year, and forecast to increase to about 210,000 route kilometers by the end of 1999.
Geographically, both reports indicate the bulk of new undersea fiber-optic cables will continue to be deployed in transatlantic and transpacific routes. According to KMI, the transpacific market edges out the transatlantic in terms of planned route kilometers, particularly for serving the west coasts of the United States and South America, along with a growing market in Southeast Asia.
Several previously under-served markets are being eyed by investors as potential candidates for new undersea cables for several reasons. Having witnessed the increasing popularity of the transatlantic and transpacific routes, some investors are seeking out new opportunities in other areas. Links between North and South America, for example, are on the increase with several major systems entering service over the next two years. Pioneer's Ruddy points out, however, that it could be difficult to justify the increased investment in these systems without increased investment by domestic carriers in Latin America in broadband access technologies. KMI's Yates agrees that Latin America is on the right track.
"Latin America is definitely one market that's on the radar screen as 'up and coming,'" says Yates. "There are lots of new systems going in these areas, such as SAM-1, MARCOS-1, SAC, and transatlantic systems that go into South America, like Columbus-3, Atlantis-2, MAYA, ARCOS-1 and several festooning systems. So that under-served region is about to be served." Africa is also slated to receive a major capacity boost over the next few years, although there is a lot more speculation regarding the current need for two recent projects serving the continent. The Africa-One system will ring the African continent, promising global connectivity to "every African country" via a link with the Global Crossing system. However, some analysts believe that in light of another similar system--SAT-3/WASC/SAFE--it may be too much too soon.
Still, when a continent that lacks basic quality telephone service in some of its still-developing countries is targeted for telecommunications connectivity in the form of expensive undersea networking, one has to wonder if the submarine cable market has yet to reach its peak.