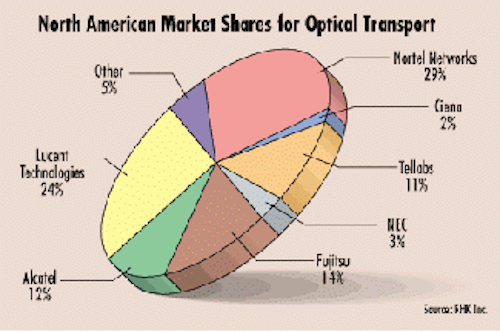 Nortel Networks and Lucent Technologies dominated the North American optical transport market in 1999, capturing a combined 53% or $12.3 billion, according to a new study by telecommunications market-research firm RHK Inc. (San Francisco). The report also includes performance analysis of other important transport vendors, including Alcatel, Tellabs, NEC, Ciena, Hitachi, Siemens, Cisco Systems, Sycamore, and Tadiran.
According to RHK, the optical transport market encompasses wavelength-division-multiplexing (WDM), Synchronous Optical Network (SONET), and digital-crossconnect-system (DCS) equipment. The market grew 56% in 1999 and is expected to increase steadily through 2000, driven by the dramatic growth in carrier traffic.
This growth has resulted in expanded network build-outs, particularly by interexchange carriers; increased reliance on DWDM equipment with greater wavelength capacity; and continuous demand for SONET and DCS equipment.
"While DWDM equipment was the star of the show in 1999 with an impressive 85% growth over 1998, SONET gear and DCSs continued to show strong growth, with 62% and 23% increases, respectively," asserts RHK director of optical networking Dana Cooperson. "As transport networks continue their evolution to intelligent optical transport networks, we expect continued strong demand from service providers for a wide array of equipment."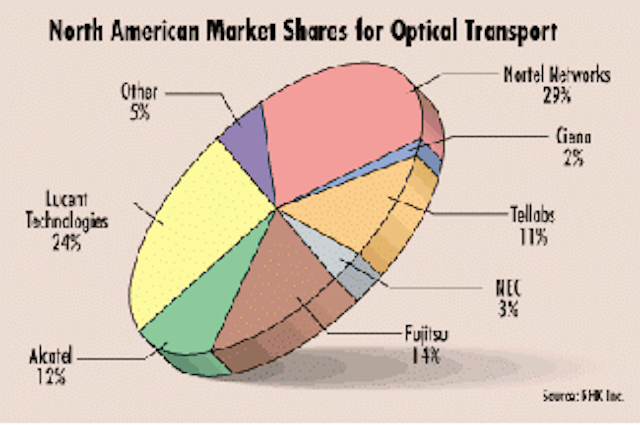 Nortel captured 29% of the optical transport market on the strength of its WDM and SONET equipment. Nortel shipped its OC-192 equipment ahead of competitors, thereby securing most of the large contracts. Lucent held a 24% market share, up from 22% the year before.
RHK expects Lucent's share to improve in 2000, propelled by its new OC-192-based transport products. Capturing 14% of the total market in 1999, Fujitsu became the second-largest supplier of OC-192 equipment in North America, coming in behind Nortel. Alcatel held the number four spot, claiming 12% of the market on the strength of its DCS equipment. RHK believes Alcatel's position will improve this year, since it has introduced new SONET, DCS, and WDM products.
Analysis of the WDM market can be found in RHK's new report, "WDM and Optical Networks: Market Share," while results of its SONET and DCS research is included in a separate report, "SONET and DCS: Market Share." For more information, call (650) 737-9600 or visit the company's Website at www.rhk.com.