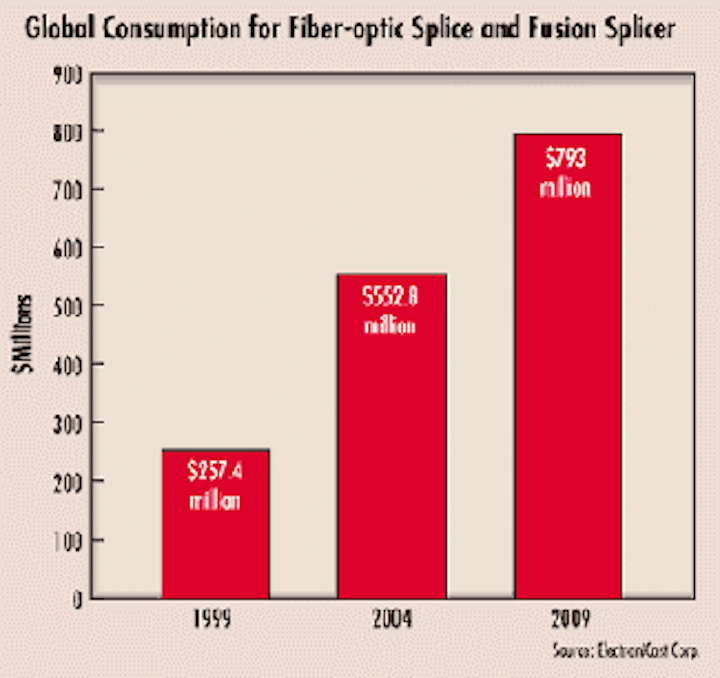 The worldwide consumption of fusion-splicer products reached $257.4 million in 1999 and is expected to experience slow but steady growth over a five-year period, to reach $793 million by 2009, according to a new study from ElectroniCast Corp. (San Mateo, CA). In 2004, the beginning of the forecast period, consumption of fusion-splicer products will total $552.8 million, a result of rising quantity growth partially offset by a continuing decline in average price (see Figure).
Last year, North America captured the largest percentage (45%) of the worldwide consumption of fiber-optic fusion splicers.
By 2009, this figure will have decreased slightly to 43%, but the value will have increased to $341.7 million. Europe held a 24% share of the worldwide splice consumption value in 1999; this number is expected to decline to 19% or $151.5 million by the end of the forecast period. The Japan/Pacific Rim market will increase from 28% or $72 million in 1999 to 33% or $262.2 million by 2009.
According to the report, core alignment and core cladding are the two major fiber-optic fusion-splicing technologies.
When using the core alignment technique to complete a fusion splice, two methods are employed: local injection and detection (LID) and lens profile alignment. Cladding alignment by fixed V-groove or video imaging involves core-to-core aligning, which results in a higher-precision fusion-splicing operation.
While core-to-core and cladding techniques often result in a quality fusion splice, "not all optical fibers are manufactured exactly identical," explains Peter Jewett, research analyst at ElectroniCast. "Therefore, differences in the actual fiber diameter, coatings, and curl cause the cladding method to be less efficient then the core-to-core method. Splice loss and return loss specify which technique is most appropriate for a specific application," he adds.
The report, "Fiber-optic Fusion-Splicer Global-Market Forecast," provides a geographically segmented, 10-year forecast of fusion-splicer consumption. It is divided into five major application categories: telecommunications, premises data networks, cable TV, military/aerospace, and specialty. Within each application, the market
is further divided into various fusion- splicer types. For more detailed information, visit the company's Website at www.electronicast.com, or call (650) 343-1398.