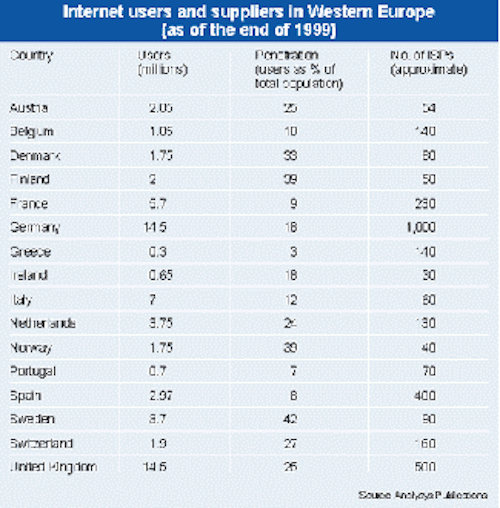 The number of Internet service providers (ISPs) in the 16 major markets of Western Europe grew to 3,000 in 1999, a 33% increase over the previous year, according to "ISP Markets: Western Europe," a new online service from telecommunications strategy consultancy Analysys Publications (Cambridge, UK). This growth was propelled by a 75% increase in Internet subscribers (now at 34.5 million) and a 69% increase in Internet users (now at 64.3 million).
Analysys analysts expect Internet use to increase, propelled by the declining price of telecom services and personal computers. The introduction of subscription-free services will also lead to an increase in subscribers, as will the impending launch of unmetered Inter-net-access services.
But despite a substantial increase in the overall number of ISPs in 1999, analysts expect that ISPs will have major obstacles to overcome in the future. "The economics of the Internet industry have changed dramatically," asserts Dr. Philip Lakelin of Analysys. "Within the dial-up market, revenue from Internet access is starting to disappear. Companies are being forced to absorb the cost of free-access provision and regard it as a marketing cost for other revenue-earning services such as advertising and e-commerce. Within the business market, margins for basic access are rapidly declining, and ISPs are having to work hard to open up new service sectors such as applications hosting and content management."
Also propelling market evolution is the introduction of new technologies such as xDSL and mobile Internet access as well as the liberalization of European telecommunications networks. According to the report, the current market is considerably fluid, with an almost daily emergence of new business models and "cross-sectoral" partnerships.
Whatever shape the market takes, ISPs must be flexible and imaginative to be competitive. Asserts Lakelin, "If ISPs are to survive in the current environment, they will need to work quickly to build competence in new areas and form the right partnerships. They need to take risks and innovate continuously in an area where the rules of engagement are not set."
"ISP Markets: Western Europe" is an online subscription service that examines the rapidly changing ISP environment. It contains profiles of the top 50 ISPs as well as a directory of approximately 1,500 major ISPs and backbone operators.
The service also profiles the 16 major Western European Internet markets and examines the individual market structures and emerging players in each country. Updated on a quarterly basis, the service is fully interactive and includes tools that enable the user to benchmark core statistical data for specific countries and players. For more information, call +44 (0) 1223 341300 or send an e-mail to ispmarkets@analysys.com. For a free trial, visit www.ispmarkets.analysys.com.