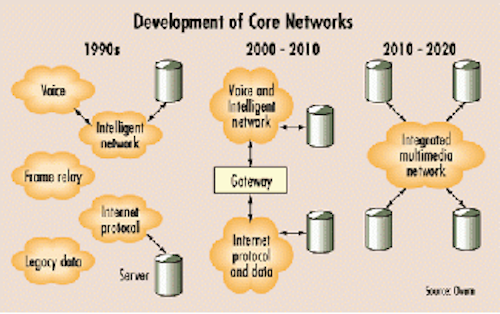 According to a recent study by independent research and consulting company Ovum Inc. (Boston), the telecommunications market will experience dramatic changes in the near future that will force incumbent telecommunications companies to develop next-generation networks. These changes include:
Technology turning network bandwidth, once a scarcity, into a commodity.
Increasing competition in all areas of the telecommunications business.
Falling prices as a result of regulation, competition, and technology.
The Internet and, more generally, IP pushing communications into the next generation, with packet-switched technology rendering circuit-switched networks obsolete.
The necessity for large investments to meet users' demand for broadband access.
Mobile telephony poised to overtake fixed telephony, once the source of most telecommunications providers' profits.
These changes will force a shift in the telecom industry away from vertical integration, with many companies attempting to operate at all levels of the supply chain, to horizontal integration, with a small number of operators controlling one or two levels of the supply chain. Ovum analysts predict that this vertical in tegration will be "messy" and depend on two key factors: how successfully telecommunications companies "ride" the wave of demand for data and to what degree national regulation prevents the full impact of competitive market forces in the industry.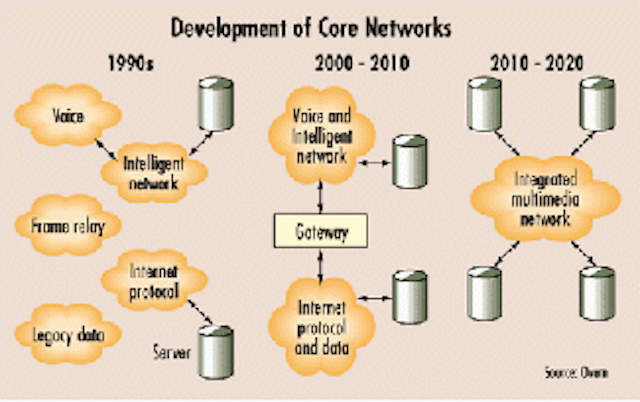 Ovum's report, "Global Telecoms and IP Markets," details how technology, networks, and services within the telecom and IP markets will evolve through 2004 and beyond, covering every region and 50 countries worldwide. A key factor driving this evolution is the global demand for bandwidth, expected to experience a 90% annualized growth rate over the forecast period to reach a projected 7 Tbits/sec by 2005. Driving the demand for bandwidth will be the burgeoning e-commerce markets; business-to-consumer e-commerce transactions will reach $358 billion by 2005, while the business-to-business e-commerce market is expected to exceed $2.1 trillion. This level of growth will only happen with increasing broadband access.
According to Ovum analysts, by the end of the forecast period, broadband access worldwide will grow to 355 Tbits/sec as a result of Multiprotocol Label Switching (MPLS), which will enable IP access to core ATM networks. By the first quarter of 2005, 92% of IP-access bandwidth will be MPLS-enabled.
Consumers will have their choice of broadband access options, including digital subscriber line (DSL), which will utilize copper access lines to provide broadband access, and cable modems, which will utilize cable-TV access networks. In the early 2000s, the cable modem installed base will be significantly greater than that for DSL; however, this situation is expected to reverse, with the DSL- installed base projected to be 2.6 times larger than that for cable networks by the end of the forecast period. Worldwide, 52 million DSL connections will be in place by the beginning of 2005.
To survive the market changes brought on by IP, competition, technology, and regulation, network operators will be forced to upgrade their networks to provide platforms for integrated voice, data, and video applications. The Figure illustrates Ovum's projections for network development in the coming years. By the mid-2000s, IP and data networks will be combined and provide internetworking with voice and intelligent networks. By the end of the decade, integrated intermedia networks will be in place, integrating the voice and intelligent networks into IP core networks.
For more information or a copy of Ovum's report, call (800) 642-6886 or visit www.ovum.com