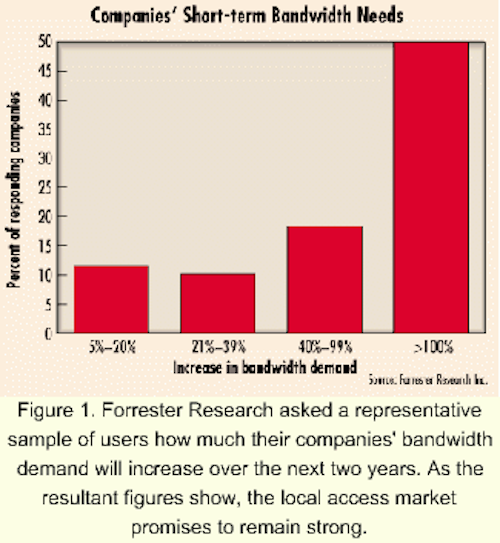 A passive-optical-network architecture can enable a carrier's carrier model in the local access space.
Vincent T. Lucarini
Quantum Bridge Communications
The recent onslaught of service providers in the local market has given business customers an abundance of options for local access. A telecommunications alphabet soup of competitive providers-application service providers (ASPs), integrated communications providers and Internet service providers, MSOs, SANs, and A through Z LECs-have recognized the enormous market presented by access services (see Figure 1).
Without the right access infrastructure, however, the success of these new service providers may fall short of the promises made in their business plans. The problem is that the existing local infrastructure just wasn't built to accommodate today's exploding bandwidth needs, let alone those of tomorrow's e-economy. While DSL technology makes a great last mile band-aid for the residential and small- office/home-office (SOHO) market, it has significant limitations that prevent it from satisfactorily serving the business customer's long-term needs. For example, the rate of bandwidth offered by a DSL service is inversely related to the distance that service can be provided to the customer location. T1 and T3 services offer little flexibility in terms of bandwidth increments (1.5 Mbits/sec or 45 Mbits/sec and nothing in between) and in terms of provisioning time ("You can have your T1 in six months").
Passive optical networking (PON), the light-speed on-ramp to the all-optical network, delivers the promise of a high-bandwidth future by maintaining tremendous reach and service flexibility while keeping prices and time-to-market low. Looking ahead, as the need for speed continues to surge, PON has the potential to scale to virtually limitless capacities as wavelengths are added. Now every service provider can enjoy the benefits of a fiber-rich plant without necessarily owning the fiber facilities. How could this be?
Figure 1. Forrester Research asked a representative sample of users how much their companies' bandwidth demand will increase over the next two years. As the resultant figures show, the local access market promises to remain strong.
Enter optical access wholesaling: the answer for both the non-facilities-based service provider interested in growing its local market share now, as well as for the carrier's carrier looking to expand its portfolio of profitable services. As opposed to private-line and DSL wholesale models, which relied on retailers peddling port connections, optical access wholesalers can offer dynamically partitioned "pools" of bandwidth that can be allocated and modified in real time based on the carrier's exact needs in each office park or "opportunity cluster."
Optical access wholesaling levels the local playing field by enabling (1) facilities-based incumbent providers to offer retail services to end users as well as selling bandwidth pools to carriers who are serving other end users; (2) facilities-based carriers to enter the business of selling "pools" of bandwidth to service providers; (3) non-facilities-based bandwidth wholesalers to buy bandwidth like a commodity and re-sell it to service providers; and (4) non-facilities-based CLECs and ASPs to compete for customers by buying "pools" of data from any of the above three. Optical access wholesaling allows non-facilities-based service providers to turn services on quickly and inexpensively, while at the same time allowing facilities-based wholesalers to most profitably and efficiently leverage their existing first-mile infrastructure.
While it is an attractive venture, the challenge of building and maintaining an infrastructure capable of supporting optical access wholesaling should not be taken lightly. These future networks need to be intelligent, extremely secure, bend-over-backwards flexible, and highly scalable. To make this possible, network architects must factor in a number of hardware, software, and management issues that are critical to the success for all parties involved-the wholesaler, the retailer, and the end user.
Architecting an intelligent optical access network relies on the network's ability to differentiate between the wholesaler, retailer, and business customer and to allow each user the appropriate level of visibility, security, and service within their portion of the network. The wholesaler should be allowed to see the entire PON to allocate bandwidth, ports, and services to retail customers; manage the network; collect data; and plan for future growth. Meanwhile, the retailer requires partitioned control to provision services, conduct administration and maintenance, and control service billing across its pool of bandwidth. Finally, the end user should have visibility into his portion of the network to monitor performance levels and self-provision new services. Accommodating these needs means building an intelligent optical access wholesaling network with a powerful network-management system and customized Web interfaces that interact gracefully with the network and its users (see Figure 2).
As small and medium-sized businesses grow and relocate, large businesses expand and merge, and e-commerce traffic seasonally fluctuates, service providers must react quickly with flexible network resources that can shift along with their customers' ever-changing needs. Since a business user's bandwidth needs may vary from kilobits to megabits to entire wavelengths, the optical access network must be able to allocate bandwidth dynamically at the speed of light. In this case, a real-time provisioning system could reduce time-to-market for services from months to minutes, or even seconds. In the wholesale model, the retailer relies on another service provider's network to accommodate that churn, necessitating a system that can easily provision and modify bandwidth on a per-port basis.
One of PON's inherent advantages is its virtually limitless ability to scale. Since passive components are fiber-based and therefore infinite in their capacity, they don't require upgrades to increase bandwidth. As such, the wholesaler can grow its network granularly to meet the needs of services ranging from kilobits to dedicated lambdas, without performing expensive and time-consuming overhauls in the outside plant. Also, the shared nature of PONs allows different, geographically dispersed customers to share a unified infrastructure. This shared resource allows network infrastructure to be built opportunistically to meet demand as it develops, rather than the traditional (and costly) method of building out an entire network in anticipation of demand that may never materialize.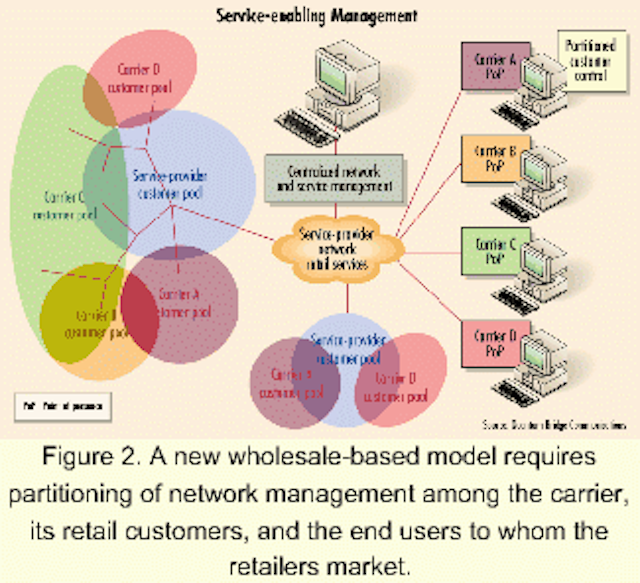 Figure 2. A new wholesale-based model requires partitioning of network management among the carrier, its retail customers, and the end users to whom the retailers market.
Because a PON is a shared network, powerful security mechanisms must operate to ensure that retailers and business customers have access only to their portion of the wholesale network. These security measures must authenticate individual users, isolate specific data streams, and prevent crosstalk between customer partitions. To this end, the wholesale network must employ stringent authentication tools and powerful encryption schemes that protect the network on every level.
Once the necessary components are in place, a network capable of supporting optical access wholesaling has the potential to unlock a vast array of new revenue opportunities for the wholesaler and retailer alike. PONs hold the potential to help optical access wholesalers deliver a new wave of profitable bandwidth services to their service-provider customers. Meanwhile, retailers that can take advantage of optical access wholesaling will be able to serve customers and begin earning revenues quickly and affordably while building up the capital base needed to build facilities of their own-if they choose to do so. In either case, optical access wholesaling via PONs is anchored by the need to supply the flexible bandwidth services businesses crave to compete in the e-economy.
The key lies beyond T1 and T3 services, in a new era of affordable, flexible on-demand offerings that can be provisioned and changed quickly enough to keep pace with today's business needs.
By handing off appropriate amounts of network control to retail customers, optical access wholesalers can help service providers deploy, grow, and maintain a highly successful business model while reducing management overhead and operational costs. Accomplishing this means a profitable whole sale network should make the "third party" all but transparent to the business customer, removing much of the human intervention that hinders flexibility and rapid service deployment today.
The wholesaler, for instance, could offer its customers the ability to self-provision a "pool" of bandwidth within a certain range based on a specific pricing scheme. Through a partitioned customer control interface, the retail service provider could meet its customers' specific needs with dynamic "just in time" bandwidth services, purchasing only the bandwidth it can resell, with additional resources just a click away. Furthermore, because it has access to statistical data from all retail customers on its network, the wholesaler can monitor trends in the entire network and plan for churn. During times of light usage, the wholesaler may even broker excess bandwidth to other carriers. Self-provisioning also reduces management overhead and eliminates the costly and time-consuming truck rolls that stand between the service provider and instant profits.
While optical access wholesaling via PON has the potential to produce more customized and profitable bandwidth services, the true importance of this model may lie in the innovative voice and data services that retailers can layer on top of the bits and bytes. For in stance, as Inter net telephony be comes more of a reality, optical access wholesalers may offer service providers the ability to route ATM voice traffic to the public- switched telephone network and Internet Protocol traffic directly to the Internet, creating a more efficient means of supporting legacy systems.
Optical ac cess wholesaling may also open up tremendous opportunities for ASPs that do not wish to build and maintain their own facilities but need to rely on bandwidth services that can flex with the needs of complex, mission-critical applications.
No matter what the future holds, bandwidth will undoubtedly reign supreme as the hottest commodity around, making the all-optical network an absolute necessity. Because of the barriers to entry in the ultra-competitive local market, facilities-based service providers will continue to have the edge by deploying technologies that allow them to win customers quickly and efficiently.
However, with the help of the optical access wholesaler, competitive service providers can now offer flexible bandwidth services with ease. By eliminating prohibitive capital costs and reducing time-to-market, optical access wholesaling gives non-facilities-based service providers the opportunity to lead the way with innovative offerings that challenge conventional methods of delivering bandwidth and beyond.
Vincent T. Lucarini is manager of global strategic marketing at Quantum Bridge Communications in North Andover, MA. For more information regarding optical access networking, visit the company's Website at www.quantumbridge.com.