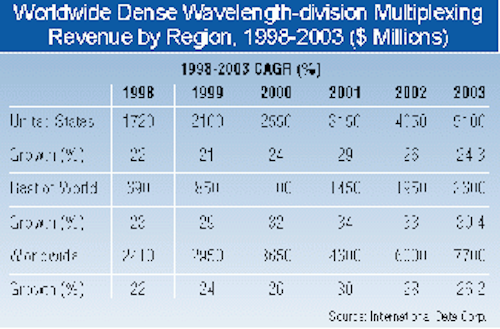 Wavelength-division multiplexing (WDM) is not only an alternative to laying new fiber, it is the basis of a future network architecture, a means of long-term capacity expansion, an alternative to Synchronous Optical Network (SONET), and the basis for next-generation optical networks. This is the impact of WDM, according to a new report from International Data Corp. (IDC--Framingham, MA) entitled DWDM Systems: 1998 Market Review and Forecast.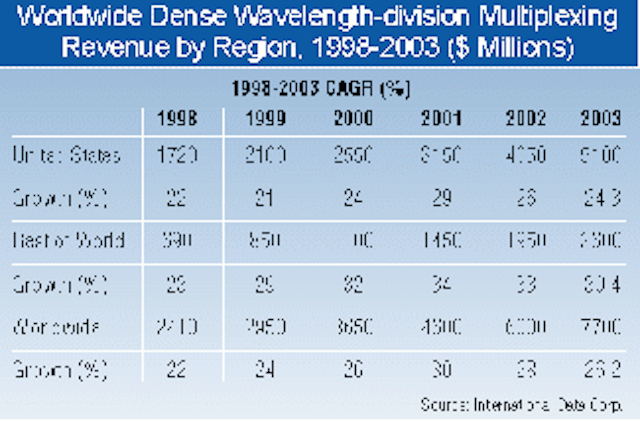 The report indicates that as optical networking becomes increasingly important, spurred by a great need for bandwidth capacity in the public-switched telephone network (PSTN), dense WDM (DWDM) will become critical as the best means of lighting new fiber, upgrading capacity in existing networks, or creating super-capacious backbone pipes in new "greenfield" buildouts. Additionally, new network approaches such as Internet protocol (IP)-over-DWDM promise to eliminate costly and unnecessary network layers from existing and new infrastructures. This approach takes advantage of DWDM's ability to be both protocol- and bit-rate-independent.
In general, IDC sees a strong and steady pattern of sustained growth for the DWDM market in all major segments during the next five years. IDC's forecast for worldwide DWDM growth shows the market more than doubling between 1999 and 2003, based on movement of total worldwide revenue from $2.9 billion to $7.7 billion. The overall compound annual growth rate (CAGR) in the worldwide market from 1999 to 2003 will be approximately 26%.
IDC views DWDM as an attractive solution for both incumbent players and service providers building data-centric, next-generation networks. Market demand for these systems will primarily be fueled by capacity demand as network applications and usage continue to expand upward. The demand is primarily application driven, which is to say that upward and exponential growth will continue, even if the Internet does not continue to add larger numbers of users or if the choke points in local-access technology are addressed by increased deployment during the forecast period. IDC notes, however, although unlikely, a significant and sustained dropoff in demand would clearly have negative implications for this market and would slow, but not squelch, its long-term viability.
Market inhibi tors for DWDM are primarily aggregate per-wavelength cost and potential adverse conditions affecting market expansion. The much-debated over-capacity issue is one of these inhibitors. Although it is recognized that fiber buildouts could easily exceed network demand for a limited period of time, IDC does not see over-capacity as a severe limiting factor in terms of DWDM equipment growth during the forecast period.
Key assumptions of the report include a continued increase in Internet and data traffic throughout the forecast period, the movement of DWDM from long haul to other key segments of the market, a stimulation in U.S. growth by the metropolitan market beginning in 2001, and a shift in long-haul market emphasis from the United States to Asia/Pacific and Europe.
For more information on this and other reports from IDC, contact Cheryl Toffel at (800) 343-4952 ext. 4389, ctoffel@1dc.com, or visit the company Website at www.idc.com.